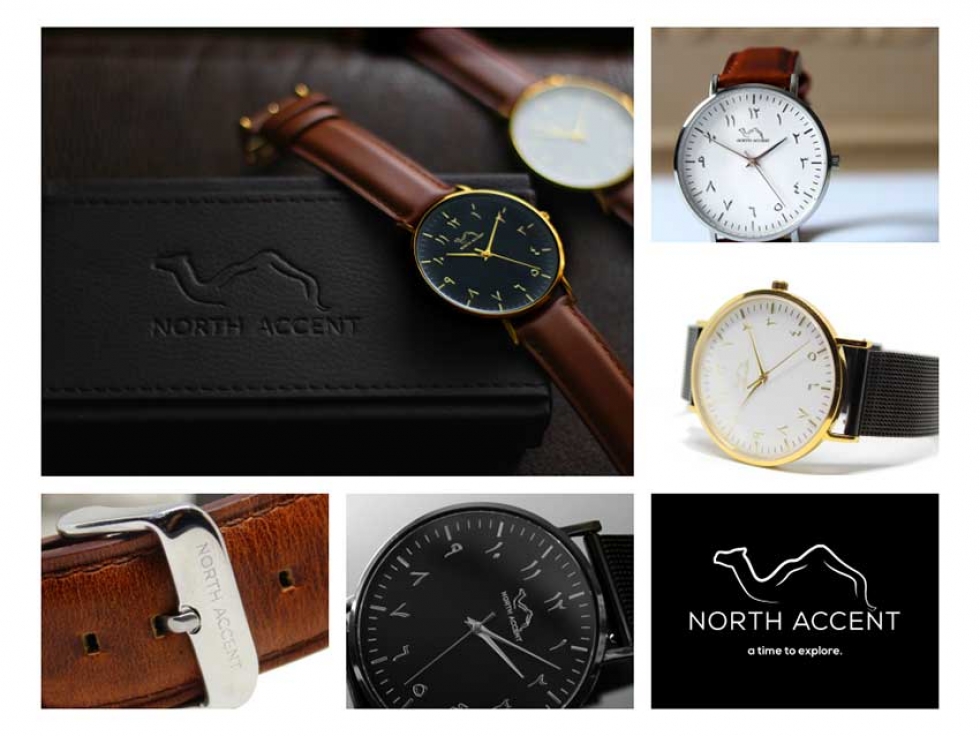 17
Aug


2018
North Accent Finds Balance in Faith, Culture, and Style with Unique Watches
Written by Staff Writer
Mubeen Patel is the founder of North Accent, a watch company distinguished by their Arabic-Indic numeral dial. He was born and raised in Oshawa, Ontario, where his family immigrated to from India in the early '80s.
He only moved out of Oshawa about 2 years ago. He has a Bachelors of Commerce degree and currently works full-time at a 9-5 job until North Accent takes off inshaAllah (God willing). At the moment, he spends a good portion of his evenings and weekends running all of the operations and functions for North Accent with help from his wife for conventions and trade shows.
Muslim Link interviewed Mubeen Patel about North Accent, what it represents, what lessons he's learned as a new entrepreneur and what he hopes to achieve.
How did you develop the idea for North Accent?
The seeds for the idea behind North Accent were planted pretty early in my life, and it came from a theme that always presented itself in different ways while I was growing up. Being a second-generation immigrant, a visible minority, a Muslim, a South-Asian who had very little influence of South-Asian culture, and growing up in a city with little to no diversity in its earlier days, definitely presented the challenge of finding a balance in life with regards to identity, culture, and assimilation. Generally speaking, people find themselves identifying with certain lifestyles, social circles, and icons that they can relate to who share similar stories and pursuits as them, as a means of developing a sense of self-awareness. For me personally, it was harder to figure out where I fit in and who I identified with, except through a few interests and hobbies that I had growing up. Culture in general plays a big role in identity but, when you're raised in a position to sort of create your own culture, it's a lot harder to find that balance, and I think many people still struggle with that today.
In an ironic plot twist to life, Alhumdulillah (praise God), I think this very challenge was the source from which North Accent was born. North Accent represents the coming together of different cultures and lifestyles in a seamlessly harmonious fashion. It brings together the different inspirations and influences of one's life into a timeless piece of cultural fashion, where you see how uncomplicated and simple it can be to represent your identity and still relate to the environment that you live in. And it only took me 25 years to figure it out, though I'll admit that there are still many things in life that I could take back to the drawing-board to figure out.
So North Accent came together in the summer of 2017. I had just finished a contract job and I had a some time off while I looked for another job. I was always interested in the idea of starting a business and doing some kind of investing but, I never really knew where to start. Or even how to start. But, during this time off, I spent a lot of time online looking at other businesses and ventures, and I realized that a lot of people grew up in a similar position as me, looking to live a balanced life in Canada/America, with regards to identity and culture. Growing up in Oshawa, I didn't realize just how many Muslims there were around Toronto. I also started to realize more that one of the first connections that people create when developing identity is through their appearance, ie. general fashions and apparel. I'm not into fashion apparel so much but, I've always been interested in watches. They're very classy, watch-making is a very fascinating craft, and they're one of the few accessories that men have a wide variety to choose from when it comes to styles. I've always liked watches but again, one of the challenges I faced was finding a watch style that I could identify with and that I thought suited me well. So, while going through my watches one day, it occurred to me that creating a watch with an Arabic-Indic numeral dial is what would suit me best. And I guess that was the beginnings of North Accent.

Why did you choose the name North Accent?
Choosing a name was a lot harder than I anticipated. I must have brainstormed at least 20-30 different names before coming to North Accent. I didn't really know what to name the watch brand, but I had some criteria that I wanted it to match. I knew that I wanted to make it simple, I knew that it had to be relatable, and at the same time it had to be somewhat inclusive to appeal to as large of an audience possible. I eventually decided on North Accent.
I used "North" as an identifier of its Canadian birthing. Toronto got its "north" branding in the last few years through our sports & entertainment culture, and I thought that it was very appropriate. It's generic yet distinctive. Then "Accent" refers to a few things. To accent something is to accentuate or spotlight a certain feature of an item and in the case of the watches, the Arabic-Indic numerals are the accent. An accent piece is also an item that stands out and is something you wish to emphasize, and North Accent's distinct design deserves that attention. Finally, we most commonly use accent when referring to the manner in which someone speaks. Living in a region with so much diversity, we come across many different accents and language, each one being unique to that person. Our watches play on that unique mode of communication, through its design and variety of styles, allowing the wearer to express their choice of North Accent watch.

How did you go about designing and manufacturing your products?
Designing the watch was a process of several months, going back and forth with different watchmakers to find the right style and quality of manufacturing.
The designs for North Accent had to highlight the Arabic-Indic numerals, as it was the distinguishing feature for which people would want the watch. With that in mind, I wanted to keep the design minimalist and classy. I wanted the design to be an easy transition from regular watches to our distinct design, without being too bold or clashing with modern Western fashion. A minimalist design not only highlights the Arabic dial but, it's also attractive to people who don't typically wear watches due to complex styles that watches can have. It's also attractive to watch enthusiasts, who appreciate the more classic stylistics of a watch, and in this case, the unique Arabic design feature.
Keeping the watch lightweight & comfortable was also a priority, again because I wanted to appeal to a large audience. From experience, I knew that bulky and heavy watches were a turn-off for many people who appreciated the look of a watch but, didn't want to deal with the weight and hassle of it. Creating a slim watch was important to complement the direction in which general fashion is going, as well as to make it versatile enough to wear for all outfits and occasion.
Finally, quality was the one thing that I didn't want to compromise. We're becoming too accustomed to purchasing cheap fashion items and falling victim to the trend of fast-fashion. It isn't sustainable and it's quite wasteful, and as a consumer I think you never really feel satisfied with your purchase. I didn't want North Accent to fall into that same category, so I made sure to use premium components. All of our watches are made a scratch-proof Sapphire Crystal glass, that I believe is absolutely essential when it comes to buying a watch. It keeps your watch face looking literally crystal-clear and free from all scuffs. Next, the movement is a handmade Swiss movement imported from Switzerland for manufacturing. This is a feature that you typically only find in luxury watch brands, because of the associated costs. Swiss movement has a reputation for its quality and craftsmanship, and I think that's important for an item like a watch, which itself is a classy accessory. We also use pure stainless steel for the housing and bands, because it's anti-corrosion and feels better than using alloy. Finally, our bands are all genuine leather. We started with using a calfskin which is very smooth and has a nice sheen to it, and I'm slowly transitioning into full-grain leather, which is much softer and is some of the best quality leather available for use.

What challenges have you faced introducing your product to the market?
A big challenge in general that people face is keeping up with consumer habits and the shifting in fashion trends, which are influenced by factors beyond one's control. There is always innovation and new fashions coming out, and it can be a challenge to compete in what is currently a niche market for Arabic-Indic watches, though my vision is to move into the mainstream. And with the advent of Smartwatches, analog watches are slowly becoming obsolete, though many people still appreciate the craft and style of a traditional wristwatch.
Along with that comes the challenge of marketing and finding the right avenues to properly position and present your product. It's very easy to get lost among of all of the other brands and products that are competing for the consumers' attention. In the world of fast fashion, people are often looking for bargains and deals to satisfy an immediate need. Although our watches are priced very fair for the features and components that we use, many first-time watch buyers and other general shoppers are reluctant to spend $100-$150 on a watch, simply because they're used to buying store-brand items for half the price, not realizing the quality trade-off and the limited-batch production we have.
Based on your experience so far, what advice would you give to other aspiring entrepreneurs?
I'm not sure that I'm in a position to give advice really. I've only experienced my version of entrepreneurship, which may or may not be applicable to other people who wish to pursue business. However, I do think that some very important things when considering any kind of venture is to understand yourself and know who you are, understand your environment and the position you're in, and understand the context in which you plan to start anything.

Why would your products make a great Eid gift?
For starters, watches are a great gift for both men and women because it's something that people of all ages and backgrounds can appreciate. It's classy, it's versatile, it's unique to our identity, and it's a quality timepiece that comes in a well-packaged, presentable leather box. We're also having a 10% off sale with free shipping in Canada and US, so it's as good of a time as ever to get a North Accent watch.
You can also purchase select styles of our watches at Modah in Mississauga and from the Aga Khan Museum gift shop in downtown Toronto. Both locations are also great places to visit, for more shopping and cultural influence.

Is there anything else you would like to add?
My main goal with North Accent is to leave behind an iconic mark of cultural fashion that really reshapes the way we look at society and how we fit in. I want to influence a generation of people who want to maintain their identity and see the value that their unique upbringing has, in the face of pressures to conform to North American and Western societal expectations. I think it's very possible to bring these worlds together and live productively in the West in harmony with people of all backgrounds and cultures, without compromising who we are and where we came from. I want people to explore new ideas, new designs, new fashions, and use the influences of their life and their upbringing to invent new things that enrich our outlook on life. A watch may be a very small step in this direction but, the message it gives is timeless.
Follow us on Instagram, Like us on Facebook, sign up for our email subscription to get notified of all announcements, and feel free to reach out to me anytime via email. You can contact me at This email address is being protected from spambots. You need JavaScript enabled to view it.
This article was produced exclusively for Muslim Link and should not be copied without prior permission from the site. For permission, please write to info@muslimlink.ca.