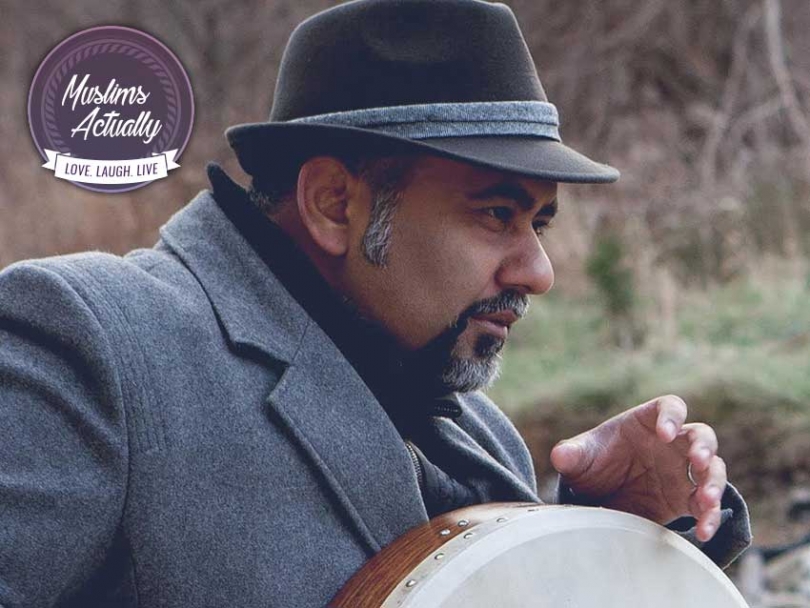 Nader Khan is a Indian Canadian singer/songwriter of nasheed and "world music", an arts educator and social activist.
19
Jan


2017
Nader Khan is a Indian Canadian singer/songwriter, arts educator and social activist. Over the last 20 years, he has toured and performed across Canada, USA, South Africa, UK, the West Indies, Australia, Malaysia, and Singapore in solo performances, and on tours with other internationally renowned artists and scholars. Nader has spearheaded various social justice initiatives that promote local and international relief efforts through Islamic devotional music, arts, youth engagement, and inspiration. In 2013, Nader established #ShareTheProphet, bringing together service and devotion by channeling 100% of sales revenue from future albums into humanitarian causes. His second album, Water was released in May 2015 to widespread critical acclaim. 100% of the album sales of Water will be going to WaterAid Canada. Nader is an Ontario Arts Council Arts Educator, delivering workshops on drumming, Islam and music as well as social justice in schools throughout the Greater Toronto Area. 
The following is an interview with Nader Khan.
Where were you born and raised?
I was born in Hyderabad, India.  I grew up there during the first eleven years of my life, spending most of my summers in Riyadh, Saudi Arabia where my father was working.  We moved there when I was eleven, and I spent the next 6 years there, graduating from Grade 12 at seventeen and immigrating to Canada in September of 1993.
What did you study?
At University of Toronto I did a Specialist programme in Management and Economics, and graduated with a B. Comm. in 2000.
What do you do for a living?
I am the Creative Director, a Songwriter/Recording Artist at First Spring Records, where we seek to connect devotional music to various causes around social justice and service to humanity.
At First Spring Arts, I am an Arts Educator, where I teach drumming, singing, and fundamental principles of devotional music, connecting students of all ages with the rich tradition of art within Islam.
What are some initiatives you have been and are currently involved with and why?
Some of the initiatives that I was involved in fundraising for were: 
– The Feed ME Campaign — I ran a fundraising and awareness campaign under SeekersHub Toronto in 2012, in support of The Mississauga Food Bank
– WaterAid Canada — we are channeling 100% of sales of my recent album towards a WaterAid project in Zambia, to provide clean water and sanitation awareness and education to 50,000 people in 7 villages
– Syrian humanitarian crisis — I was on a 3-day tour in May 2016 with SKT Welfare, where raised just over $1 Million towards the Syrian humanitarian crisis
We haven't yet finalized the charitable cause that my next album's proceeds will be going towards.  The album is currently in its pre-production phase, and we will insha'Allah make a decision about the cause soon.
It was important to me for my music and my songs to be beautiful in content and composition but also a means through which humanity is served, suffering alleviated, and Prophetic mercy and character are shared and exemplified (ﷺ). I wanted my work to be a means of connecting hearts to the Prophet (ﷺ) above and beyond the content and its immediate impact on the listener.
What inspired you to get into Islamic music and continues to inspire you to keep this passion alive?
Music and singing is something I grew up with.  I can't imagine a life without singing or a vocal melody of some sort – every time I have a cough or a sore throat and I'm unable to recite Qur'an or sing for a few days, it's a frustrating experience.  My singing was of a more … "mainstream" nature until my spiritual journey took a positive turn, and what I was listening to and seeking inspiration from altered drastically.  I've tried to reflect my own journey as transparently as possible in my work, and hope to continue to do so – I think that's the best way to stay authentic as an artist.
As an artist how do you manage to earn a living and still keep your music alive?
It isn't easy, I'll tell you that, especially for an independent Muslim devotional artist.  My manager Dr. Bano Murtuja does a stellar job – without her support, what I do would not have been sustainable.  My album sales are connected to various causes or are directed towards supporting future productions.  It's the live performances and the teaching that help pay the bills.
So many people have loved your music, how do you maintain such a strong connection to your spirituality and your humility?
To be honest, I'm uncomfortable with "glory and glamour" and try to deflate that at almost every opportunity I get.  I think as an artist if I lose the sense of realness and a living connection with people who listen to my work, it will eventually affect the authenticity of what I do and how people will connect with it.  This ultimately works against my intention of connecting hearts to The Prophet (ﷺ).
This is what I have learnt from my teachers about humility:  Humility is not a function of denying the blessings one has been endowed with, and it does not mean that one chase obscurity when "struck" with fame. Humility is in recognizing that God is the source of any "ability", assigning any praise and appreciation to Him, and being grateful for being the means for a small manifestation of His beauty.
I try as much as possible to stay faithful to my own path, and reminding myself of these lessons as often as possible.  It isn't easy, but Zikr helps.
Poverty, Food security and Homelessness seem to be key causes that you stand up for, why are these causes important to you?
My own experience with homelessness (I experienced it for a short period of time, while holding down a full-time corporate job in Dubai) goes a long way in fuelling my support for these causes.  But I think there are two primary reasons why I gravitate more towards these causes:
Firstly, according to the injunctions of the Beloved of The Merciful (ﷺ), feeding people, quenching their thirst, and helping shelter them is a weighty thing with Allah.  Doing this out of sincere concern for the wellbeing of the needy, is a reflection of the sincere concern that The Prophet (ﷺ) has for them.
Secondly, we're living in times where our young ones are sincerely seeking to connect with our spiritual tradition in a manner that's relevant to the realities where Allah has placed them. Service to others and sincere concern for their wellbeing is one of the most effective means of exemplifying the Prophetic character (ﷺ) and the merciful path of Ar-Rahman.  
What advice do you have for young people interested in music, arts and spirituality.
I'm in the process of writing something that covers this subject in more detail, but I'll leave a few bullet points here for your readers:
Study the masters of your chosen (and any related) devotional art form(s), regardless of their faith.  If we don't study how the masters have expressed themselves, we have no standard to measure ourselves against, or to approximate towards.  Apprenticeship is a great way of doing this effectively.
Don't seek fame or obscurity.  Seek God, and respond to the fame or obscurity He sends your way with gratitude.
Seek technical excellence in your field.
Seek out and actively travel your own spiritual path through your art form.
Understand your strengths and play to them as you develop new skills.
Consult with others who are better than you, bounce ideas off of them and listen to their feedback without getting defensive.
Draw from other cultures and traditions, but keep your work relevant and authentic to your own social and cultural context.
I learnt two important lessons about devotional singing from the recent assassination of the Pakistani devotional singer Ustad Amjad Sabri.  Your readers may translate them as appropriate for their own chosen art form:
Sing songs that you want to die on.
Sing them as if you may never live to sing again.
Where do you see yourself in 10 years?
It's difficult to say anything with surety about what is to happen in the next 10 minutes, so 10 years is all the more difficult.  What I hope to accomplish by then, would include releasing at least three more albums, each of which are connected to various charitable or social justice causes.  I also hope to have a positive influence on the artists of tomorrow, and open doors for them that I had to figure out for myself.
This article was produced exclusively for Muslim Link and should not be copied without prior permission from the site. For permission, please write to info@muslimlink.ca.