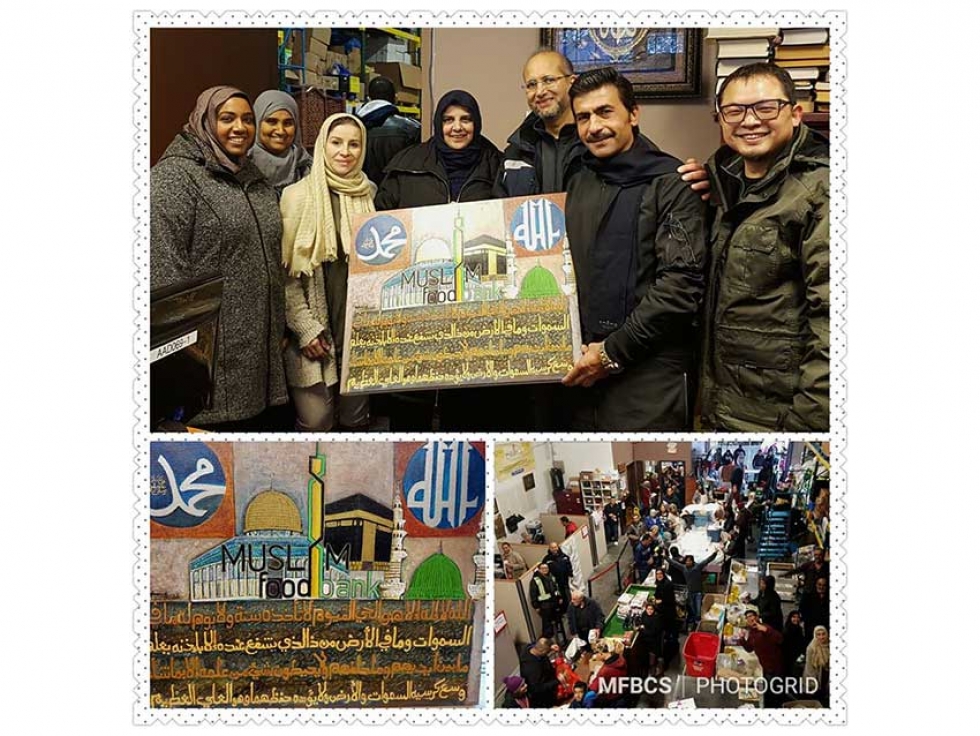 Muslim Food Bank & Community Services (MFB) staff and volunteers display a gift from a Syrian refugee artist in appreciation of the centre's work.
MFB
18
Dec


2017
How a Muslim Food Bank Caseworker Helped Lift a Newly-Arrived Baha'i Refugee Family's Spirit
Written by Muslim Food Bank
Muslim Food Bank & Community Services (MFB) is a charity based in Surrey, British Columbia that provides a diversity of services to Muslims and refugees in the Greater Vancovuer area.
Muslim Link has been given permission to publish the true story of how one Baha'i refugee family was supported through MFB's Aspire Program which pairs volunteer caseworkers with families in need in order to help them navigate social services in BC.
*Please note that all names have been changed out of respect for confidentiality.
Farhad Ahura was 28 when his life turned upside down. A judge in his hometown of Isfahan found him guilty of gathering people in his home and preaching Baha'ism. His punishment was going to be death by hanging. Baha'ism is a religion that was founded in Iran by Bahaiullah in 1863. Bahaiullah claimed to be the manifestation of God on earth. The Iranian government has deemed proselytizing this faith a punishable crime. Farhad knew this but hoped that the government wouldn't get a wind of his doings.
On a cold winter's day, Farhad managed to get released from prison on bail. That night, Farhad, his wife Aarizu and their six-year-old son walked miles to find a safe haven. The first month of their escape was the toughest. Little did Farhad know that his flight was going to last six long years which would take them first to Turkey, then to Canada. In Turkey, Farhad volunteered and helped interpret for Iranians like himself.
Farhad and his family moved to Canada thanks to Canada's refugee asylum program. Soon after their arrival, they visited the Muslim Food Bank to receive help with figuring out the first steps in their new home country. In the initial meeting, a Persian speaking caseworker, Parvin Rouhani, allowed Farhad and Aarizu to pour their hearts out. Farhad detailed the struggles he and his family had to endure over the past several years. It was clear to Parvin that this family suffered from a great deal of trauma and the best way she could help them was by providing emotional support.
"It was really hard for them to find themselves," Parvin recalled. "Speaking about their past brought tears to their eyes."
The first year in Canada was bittersweet for Farhad. On the one hand, he was celebrating his wife's pregnancy. On the other hand, he was told by skin specialists in Vancouver that the skin deformities that were dismissed by Turkish doctors were in fact cancer. Though Farhad had sleepless nights worrying about his health prospects, he requested Parvin not to tell Aarizu about his condition because he didn't want to worry her.
To help with her pregnancy, Parvin connected Aarizu with Sheway, a support organization for pregnant women which provided Aarizu with prenatal vitamins as well as a gift card. Parvin helped interpret for Aarizu and drove her back to her home.
Parvin also answered many of Farhad and Aarizu's questions ranging from weather-appropriate clothing to checking bus timing to even how to cross the street. Sometimes Parvin answered questions they hadn't even asked.
Parvin went the extra mile to bring out a positive flare within this family. She often spoke to Farhad and Aarizu about ways to de-stress themselves by using nature as a means of therapy.
"I didn't just help them with integration and life skills, I also helped them adopt a positive outlook on life," Parvin said. "I said to them that just having an open mind will ensure that you receive what the universe has in store for you."
One of the most memorable experiences for Parvin was when she was in the car with Farhad, his wife and their 12-year-old son. Emotions were high as Farhad recounted the battles they fought to get to this point in their lives. Parvin wanted to break the ice so she asked Farhad to sing. Farhad used to sing in Persian and Turkish before life took a toll on him. At first, Farhad was hesitant but after Aarizu insisted, he started his serenade.
"I'd never experienced anything like that before," Parvin recalls. "Believe it or not, all of us, including Farhad, broke down hearing him sing."
Though Farhad is still fighting his cancer, he is now hopeful that life will give him and his family another chance.
These are real stories where our volunteers have an impact on members of our community helping them progress in their lives.
To learn more about Muslim Food Bank & Community Services visit here