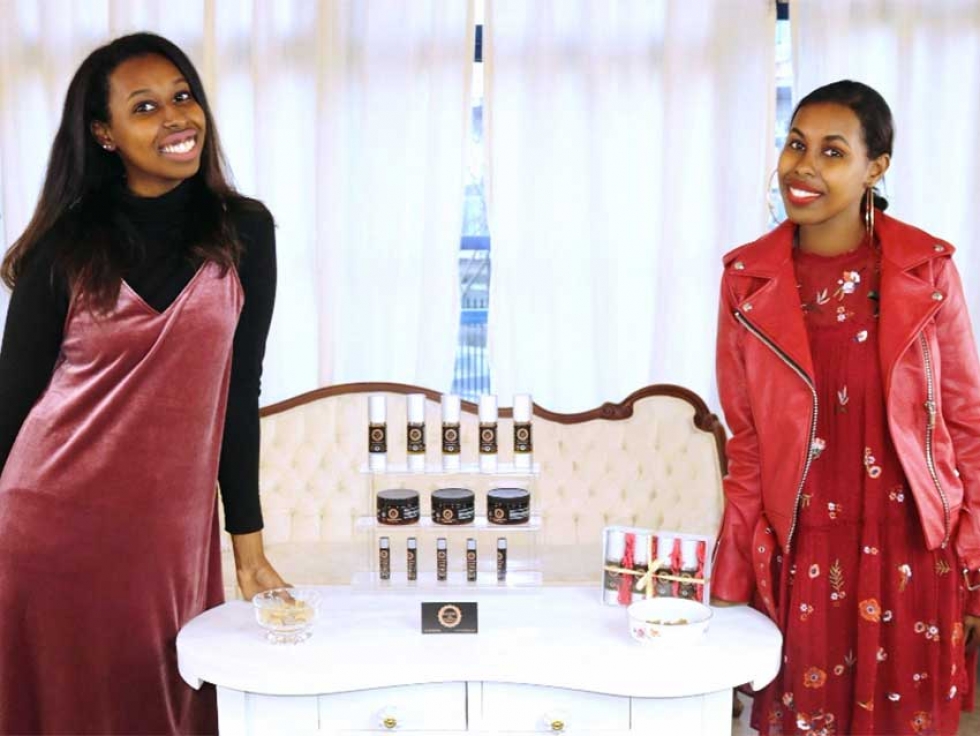 Somali Canadian sisters Ilhan and Iman show off some of their family's Rasmi Natural Skin Care products in Vancouver.
11
Mar


2018
Making Natural and Halal Skin Care Products: Introducing Rasmi
Written by Chelby Daigle
Somali Canadian Iman Abdullahi is the marketing coordinator for Rasmi Natural Skincare, a family business based on the natural skincare products made by Iman's mother.
Muslim Link interviewed this Vancouver-based entrepreneur about why she wanted to bring a halal certified skincare produced, made with ingredients sourced from East Africa, to the Canadian market.
How did your family come up with the idea for Rasmi Natural Skincare?
The idea of Rasmi Skincare came from my mom and her love for organic products. My mom went to study skincare. During her studies, she discovered ​that ​the ​products ​we ​were ​using ​all ​had toxins, artificial ​ingredients ​and ​mineral ​oils ​in them; ingredients which are ​all harmful for our bodies. 
Her passion for organic products showed when she introduced her soaps to us. She made some handmade soaps and placed them in the washroom without telling us. I remember this lavender and orange aroma coming from this colorful bar of soap. This colorful bar of soap I did not remember ever seeing before. The soap was too good to be true, and I ditched the perfume that day because of it. When I saw my mom that day, I asked her what brand the soap was and she replied with: "Oh that? It's the natural soap I made for the family." My sisters and I were not only shocked, but oozing with excitement. We encouraged her to make some more products for the family.
My mom then made some batches of body butter that had a lovely Frankincense musk.  We were so in love with the body butters and got our friends to sample them as well.  It wasn't long until they were all asking for more.
Three years prior to launching Rasmi Skincare, we experimented with the products my mom made and stopped buying skincare products as we started to strictly use her products. Our skin thanked us for it when we noticed the improvements in our skin and so we encouraged my mom to start selling the products.
My mom really liked the word "Rasmi" since it means 'official' and had cross-cultural meaning as it translates in Arabic, Swahili and Hindi. My mom loved the idea of having a name that has different meanings in different languages.
Your products are certified Halal? Why was that important for you and how do you go about getting a producted certifed as halal?
My mother's friend asked her a question that we could not forget: "are your products halal?"  My mother shook her head and said, "no, they aren't." Just like that, the excitement that painted our faces instantly vanished.I remember the look of disappointment on that woman's face that I couldn't shake off the whole day. We realized that there were not many halal certified skincare products available. We realized that we needed to create products for those who wanted natural and halal skincare options.
You make products halal by not using ingredients that come into contact dogs, alcohol, pigs or any animals that were not slaughtered in a halal way. Moreover, you have to have your product officially certified as halal by a Muslim association to make sure everything is completely halal. We had our projects certified by ISNA.
What makes your product different than what is already on the market?
Our product is different since the combination of 'natural' and 'halal' is uncommon in the beauty industry. All of our products are also cruelty free, as well as halal certified and natural. Also, we make our products REALLY affordable. Our face oils have 16 oils which would market anywhere from $80-$150 in beauty stores. I think that is the first thing people notice when they see our prices. We tend to hear,"This is way too cheap!" from our customers, especially from customers who are aware of the prices of natural face oils and body butters. We purposely made our products affordable because we want people with a tight budget to still be able to afford our products.
Explain to us what is involved in producing your own beauty products?
Lots of research is involved in producing our products as well as experimenting. We think of ourselves as the 'lab rats' in our production since we are always experimenting on ourselves.
What is it like going into business with your family?
We sometimes have conflicting views on our vision with packaging or designs, but we always compromise and find the perfect balance. I prefer working with family since we have already established personal boundaries; we know what to expect with each other. Also, there is A LOT more flexibility in regards to working with family… I wouldn't have it any other way.
Based on your own experience, what advice would you give to other young entrepreneurs?
I would tell other young entrepreneurs to make sure to have a healthy support system first. Going into the business world is difficult, so it's good to have other people to lean on like family or friends. Also, don't doubt yourself and give yourself room to make mistakes and learn from them.
You partnered with the Islamic charity IDRF for your Sold-Out launch event in October in March in order to raise funds for Rohingya refugees. Why did you decide to make your launch a fundraiser for this cause?
Coming from a marginalized community that faces discrimination and our parents being refugees, it is important that we stand in solidarity with initiatives that support other refugees. We strive to be an ethical business so having our launch event also that also supported an important cause makes sense to us. It fits with our desire to brand ourselves as a community-oriented business.
To learn more about Rasmi Natural Skin Care visit the website or Facebook Page.
This article was produced exclusively for Muslim Link and should not be copied without prior permission from the site. For permission, please write to info@muslimlink.ca.