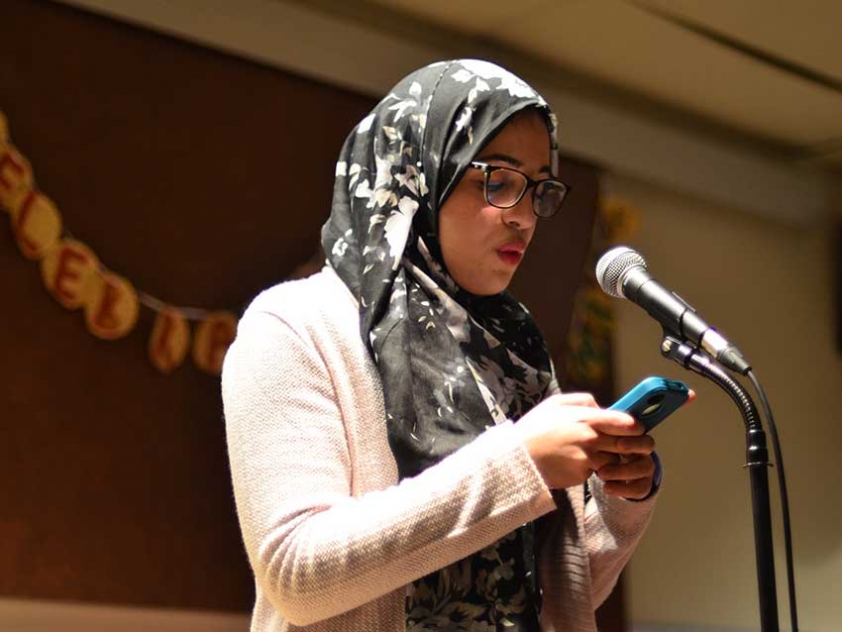 Hidayet Abbad performing her poem at Sanad Collective's Letters to the Beloved Awards Ceremony at the University of Ottawa
Courtesy of Sanad Collective
13
Mar


2015
Letter to My Beloved (pbuh) by Hidayet Abbad
Written by Hidayet Abbad
Ottawa's Sanad Collective ran a competition which challenges both children and adults to write personal letters to the Prophet Mohammad, peace be upon him. Algerian Canadian Hidayet Abbad won first prize in the adult category with this poem.
Love with its majestic wings,
Settled in my rib cage,
And ever since,
Unwaveringly sings
Your life's memories.
And reason, with its innumerable pages,
Is a never-ending book I befriended
In those moments of unwanted solitude.
Dear beloved,
Can anyone not love you,
If not the case that they don't know you?
You stood firm at night,
Prayed for us when others slept
With faith stronger than Steele,
And a heart softer than pure gold.
I have fallen in love with you,
Entirely and so selfishly
That I saw my own soul transform,
Trying in vain to resemble you
To be a light in the middle of darkness,
To be enlightened in an age of ignorance,
To be kind when they gift you harshness
But it plunged me in awe and reverence
Of God, the Most Beautiful, who sent you
As a mercy to the worlds and made you
The seal of a victorious legacy.
So, tell me, please tell me,
How did you remember to Love
When death met your wife, parents and those dearest to you
How did you remember to forgive
When cruelty humiliated and dismembered your uncle
How did you remain steadfast
When they stoned you until your feet bled,
And refused you the right to speech
Then belied you, and defamed your name
After having known you as most trustworthy.
How did you remember them, us, me
When you were pleading for forgiveness?
As though ummati was the only anthem your heart knew.
With pain echoing prayers to the Most High Most Gracious.
Who gifted us you,
With all your greatness.
Let me please see you,
Because I miss you,
Because even white bread is bitter
When I remember that you lived on dates and water
Because you taught me by example
To heal the wounds of hardships
With sincere devotion and worship
You showed me bravery not in battle
But in letting compassion escape your eyes
To burrow tunnels down your cheeks
So forgive me, my stained heart
For uttering, with my mouth, this declaration
While at times my own limbs acted otherwise
I am drowning in strife
Your life was graceful art
Full of beauty that could not be contained
And with these weak hands
I try to take a hold of little bits and pieces.
Like A piece of love for humanity here
And a smile in charity there
In hopes that one day,
I could just sit, and contemplate the original
In the middle of gardens of flowing rivers and springs
May God the most merciful bestow upon you His peace and blessings
You can list to the audio of Hidayet performing her poem
.
This article was produced exclusively for Muslim Link and should not be copied without prior permission from the site. For permission, please write to info@muslimlink.ca.