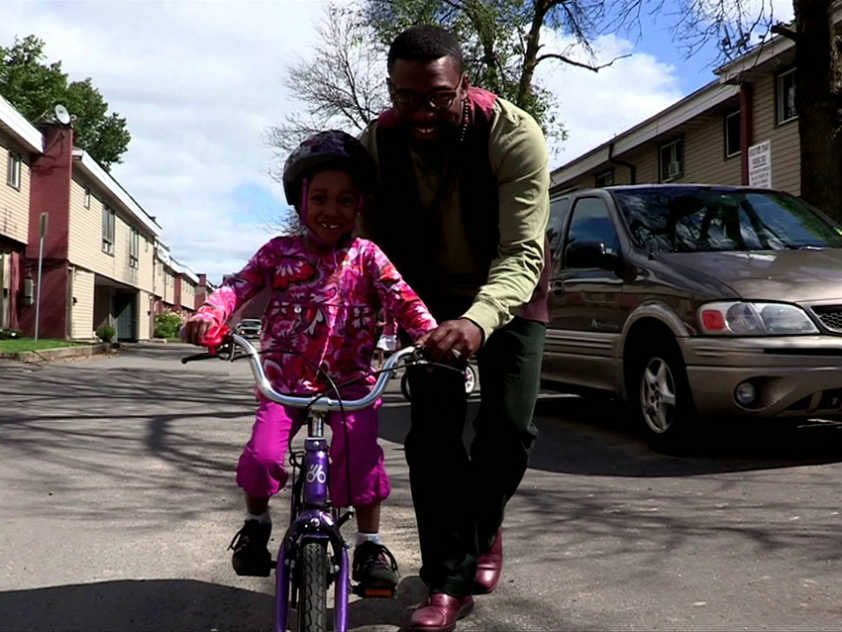 Jamal Rogers and his daughter HUSNIYAH, taken from the video of the same name.
Craig Conoley/ Director/ Dan Rascal Productions
19
Jun


2014
Husniyah: A Poet's Reflection on Fatherhood
Written by Jamaal Rogers
Jamaal Jackson Rogers is a Muslim poet who uses the spoken word to inspire his audiences to achieve their passions and pursuits. His mix of rhythm and poetry has been welcomed on international stages and his topics are based on spirituality, community, and family.
Much of his creative inspiration comes from being a father of four children and he dedicated a poem to his second child, HUSNIYAH, when she learned to ride her bike. Through his love for his children, the poem represents what many fathers are faced with: HOW DO WE BEGIN TO LET GO OF OUR GREATEST CREATIONS?
Some days, I remember to thank the Lord that He made me a father of two beautiful daughters
And some days, I'm just thankful the Lord gave me the financial leeway to buy my daughter a bike
And one day, I found out she could ride it
She rode her bike with such courage that she could be any ten year old boys ride or die chick
After numerous falls and countless calls of, "Daddy, don't let go"
She finally let go of her insecurities and pedaled as fast as she could as if her life depended on it
And it did.
Because a child's life is marked by their ability to conquer their world
Growing from a baby to a young girl, my daughter doesn't only want to dress up in diamonds and pearls
In fact she tries super hard to do this thing called a pirouette which I think is some sort of ballet twirl
You see children are driven towards a greater sense of independence
From their first stages it is written in their biological pages to understand themselves, their surroundings, and how to manipulate their environments
And they continue to gain greater ground of how the world is really at their fingertips if they only knew how to harness it, garnish it
And then proceed to varnish it so that it shines like a trinket given from an elderly relative or a locket passed down from grandparent's pockets
And a parent's job is to never let their child become one who is ignorant
Of the simple fact that life has many challenges but with patience, persistence, love and faith she could go anywhere, do anything
And the expansive earth will be her escape so no matter where she travels no one could call her an immigrant
And from watching my daughter blaze up and down the lane way with such determination
It only took me a few considerations before I decided to make like Beyonce Knowles and take her beyond her goals with an upgrade to a new used bicycle with a slightly larger frame, and had no training wheels
And when I brought that bike home, hoping that it was the right size
I walked upstairs, woke her up, took her outside, and yelled, "Surprise!"
You should have seen the look in her eyes
She gave me the biggest missing front tooth smile about a mile wide
It's a feeling that can't be compared to none
Except for the time when the Urban Legends slam finals was done, she jumped into my arms, crying, whispered in my ear
"Daddy, you won."
You see, the reality is that I will be a father for the rest of my life
And along with my wife we have both found profound joy in providing our children with their universal rights
The right to be loved, the right to be hugged
The right to eat sweets, the right to muddy feet
The right to be fed, and the right to a warm bed
The right to play tea
And the most important of these; the right to be free
Free as the glee that spreads across your glowing face,
It's a scene that I've seen from witnessing the vastness of the seas and gazing up into never ending space
It is why I named you Husniyah, a name that means "Youthful Beauty"
So that anywhere you go your enchanting presence will remind people to be young at heart and to live with grace
A name, that accentuates your inner beauty as a strong willed woman, with a heart like an oven, yet still a hijabi
A name with dignity so that whenever flagrant men step to you it will be their duty to treat you like royalty
And even though I missed many stages of your creeping, crawling, walking, running, jumping days
I hope that in some small way, I have made it up to you by being by your side when you earned your stripes on your bike
Because some days, I remember to thank the Lord that He made me a father of two beautiful daughters
And on some days, I'm just glad the Lord gave me the financial leeway to buy my daughter a bike
And I pray, that you continue to live free
With no human ever stealing your shine
Cus my beautiful daughter, it doesn't matter who you run off with in your lifetime, the memory of you, riding your first bike, will always be mine.
To view the video for Husniyah on YouTube click
This article was produced exclusively for Muslim Link and should not be copied without prior permission from the site. For permission, please write to info@muslimlink.ca.