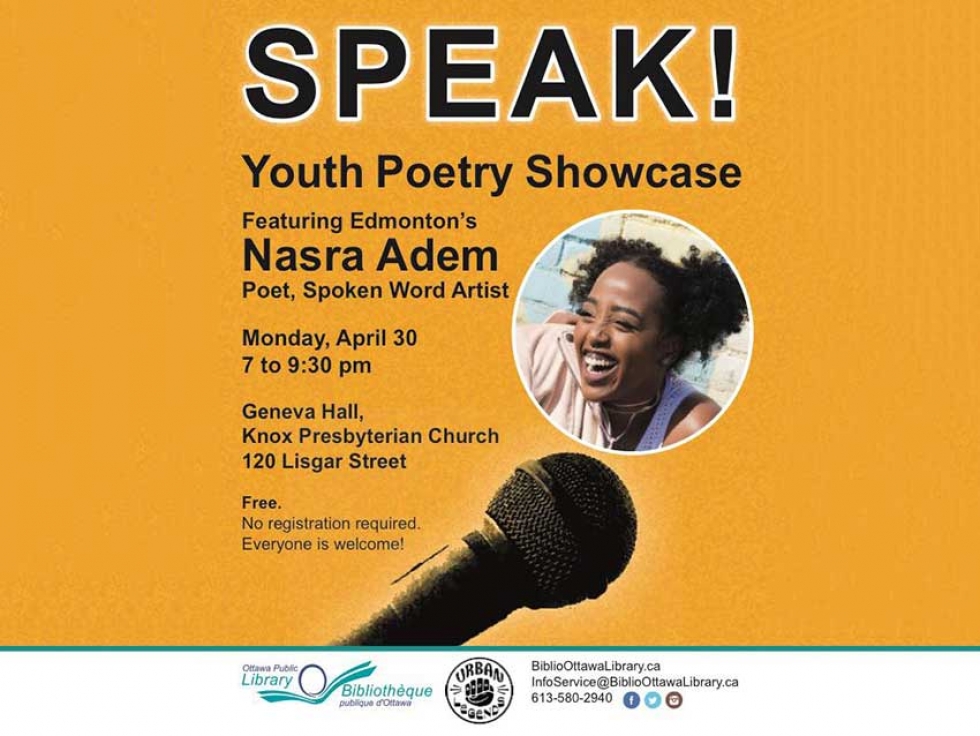 Nasra Adem, will be in Ottawa on Monday, April 30 at 7pm as part of the Youth Speak Ottawa showcase.
29
Apr


2018
Check out Edmonton's former Youth Poet Laureate Nasra Adem in Ottawa Monday
Written by Chelby Daigle
It's a bit of a homecoming. Nasra spent her childhood in Ottawa. When she was interviewed for Muslim Link in 2014, Nasra discussed growing up in Ottawa. ""I went to W.E. Gowling Public School where the majority of the school was Somali and Arab". It was easy for Ethiopian-Canadian Nasra to fit in to the multicultural environment of Gowling, but when her family decided to move to the more promising economic opportunities of Edmonton and to place Nasra in French Immersion, things changed. "I went to an All White school when I got here for junior high so that was a big culture shock," they explained.
This culture shock would take Nasra on a painful journey of self-discovery. "At 13, 14 you are already trying to figure out who you are," she stated, "I started speaking differently, my language was different, my taste in art and music changed." Nasra went from being "loud and out there" with a "big personality" to listening to an inner voice telling her "You can't do that! No! No! Quiet! Quiet! You need to be small!" "I was Black and I used to wear hijab as well," they explained, "I already felt like I was being loud enough with my skin colour and my religion so I repressed my personality for a while, like for a couple of years, and it was awful. It took so much effort to hide."
Nasra credits the "small, humble, but growing" Spoken Word poetry scene of Edmonton with fostering their confidence as a performer. And today, they are one of its brighest lights.
Nasra was appointed as the City of Edmonton's Youth Poet Laureate from 2016 to 2017 and is the 2017 recipient of the Mayor's Emerging Artist Award. They are the director of Black Arts Matter, an interdisciplinary theatre festival for Black artists.
In their role as Youth Poet Laureate, Nasra did a lot of work in schools. As they share in an interview with rabble.ca, "Going into the schools, it's incredible. I have a lot of energy and there's this beautiful, visceral feeling of seeing young people see themselves. I walk in there with this fancy title and it's like, "Yo, I gotta be here huh?" There's nothing like watching a bunch of Somali girls, who could be my cousins, really excited when I show up. I see how deeply invested the students are in each other. The solidarity among the students in classrooms is BIG. And I'm chilling with them and bringing my reference points, talking about music and lyrics. Then, we have these natural conversations that occur because you're there and you honour where they are."
As Muslim Canadian Naketia Valerio writes in her profile of Nasra for FLARE Magazine's 12 Days of Feminists Series, "Adem is an important part of the social justice and arts communities in [Edmonton]—a city that is finally starting to embrace her as she is: black, femme, queer, Muslim and neurodivergent."
Earlier this year, Muslim Link and Inspirit Foundation asked a number of young Muslims to share a 1 minute reflection on the impact of Islamophobia leading up to the anniversary of the Quebec Mosque Shooting. In her reflection, Nasra states "Some of the ways I have seen Islamophobia impact myself and my Oromo-Somali community have been through  surveillance, incarceration, police violence, anti-Blackness, and exclusion within the Muslim community and an on-going list of mental health issues. Some of the ways I'm inspired by how my people are healing from these impacts are all rooted in their devotion to community. Muslims are beautiful to each other during chaos, and it is beautiful to see the connections being build and strengthened at a time when the world would rather we sever the ties. My art is at the root of how I combact Islamophobia..."
Nasra has recently published their first book of poetry, "A God Dance in Human Cloth", Nasra explores their attempts to reconcile the often contradictory parts of their identity. As she explains in her interview with rabble.ca, "It's a lot of reckoning, reconciling. It's about the last three, four years of spiritual and emotional work I've done to find out where that voice went that was swallowed up. What made me, what un-made me. My sexuality, the intimate intersections with growing up in a Muslim household, coming from the places that I come from. My father's side is very religious, my grandfather is an imam, all my uncles have memorized the Qu'ran. I really loved Islam. As I was coming to my art, it was not a place that supported me so I was very confused and I had crying fits with God: You don't want me to do this?!Once I started this other thing [dance, poetry], I realized it made me feel the way I had about Islam. Creation is creation. It was before religion. I was dealing with my anxiety, finding out I had ADHD, the medication caused me to gain weight quickly and it was difficult to manage all the changes. I prayed hard. I embodied that on stage. Spoken word gives you the time to speak, to move the way you say. The title came from a freestyle I was doing during a photo shoot. It became a caption. I thought yeah, this is kind of how I feel about myself: a God dance in human cloth. It's about understanding the way I move and flow. The poems are ones I've done over the last three years like, I Am a New Brand of Shiny and Victory -- which is about my name. They are bold affirmations. The book is closing that chapter of discovery. I have chosen myself in all forms, in all ways."
Whether or not you agree with how Nasra is reconciling their identity, no one can deny that this young talent's impact on Canada's arts and social justice scene is only going to grow.
Check out Nasra's collaboration with Alberta Treasury Board Financial, a commercial celebrating Alberta's entrepreneurs.
Follow Nasra on Facebook here
This article was produced exclusively for Muslim Link and should not be copied without prior permission from the site. For permission, please write to info@muslimlink.ca.