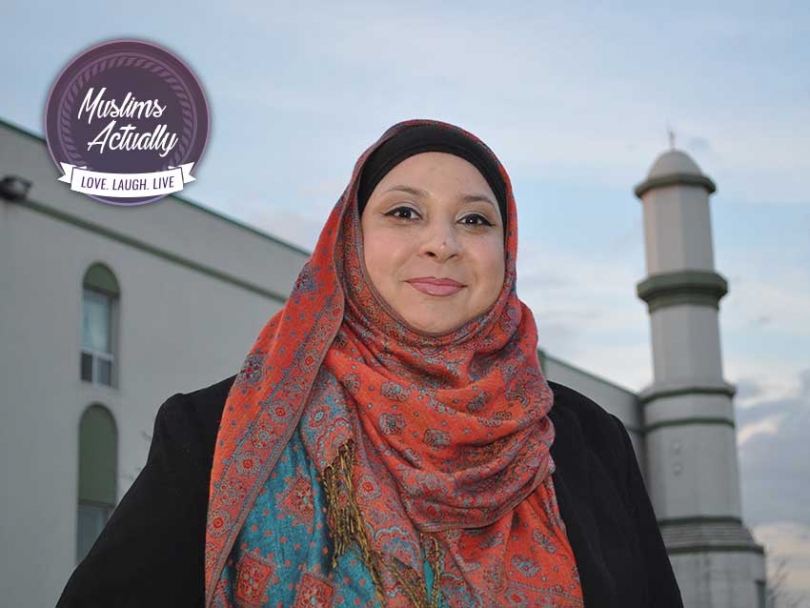 Interview with Indian Canadian Muslim community activist Farheen Khan
07
Jan


2017
Muslim Link interviewed Indian Canadian community activist Farheen Khan. Khan is an published author who has written about her personal experiences with Islamophobia and spousal abuse. She ran in the 2015 Federal Election, the only woman wearing hijab to do so for the entire campaign. She is also the founder of the Muslims Actually blog which has now been incorporated into Muslim Link's website.
Tell us about the influence of your family background on your organizing with Canadian Muslim communities
My parents arrived to Canada from India in the early 70's. Since that time, my father in particular had a vision of having a mosque in Mississauga. He shared this vision with some of his friends and they worked hard for many years until they finally established the first mosque in Mississauga known as the Jami Masjid Mississauga. I will never forget the first day when my father got the keys to the empty warehouse with bare walls and a concrete floor. I remember seeing his eyes twinkle and the smile on his face. This particular experience certainly played a role in my life. Realizing at very young age that when you have a vision and your share it with likeminded individuals, that with hard work and dedication anything is possible.
You grew up in subsidized housing. What are some aspects of this experience, both positive and negative, that you think help inform your current activism?
We lived in subsidized housing for a number of years and were considered a low income family despite my father's community activism organizing. When I was 16 my father became very ill and ended up being bed ridden for a number of months. In seeing him ill and realizing that I was the eldest child living at home—I felt a responsibility to care for my family financially. What began as a one year break from school ended up leading me into a variety work positions that have kept me in the workforce until today. The positive side is that I have lived-experience and understand issues of poverty, food insecurity, newcomer settlement, lack of affordable housing, and precarious employment. The negative side is that I still have yet to complete my formal education, which at this time is more of a milestone that I would like to achieve for personal reasons.
You wrote a memoir exploring your experiences with Islamophobia in Canada. What are the type of responses you get from both the Muslim and non-Muslim community when you share about your personal experience with Islamophobia?
Writing a memoir is never easy. It takes a lot of courage and puts one into a vulnerable situation. My decision to share my experiences of Islamophobia and the impact that it had on my personal life was simply to ensure that people, both Muslim and "non-Muslim" communities understood that there is a direct relationship between the kind of negative messaging and stereotyping that is often portrayed in the media and the backlash that is experienced by Muslims in general and in particular towards Muslim women. I don't believe that my experience of being attacked in broad daylight in an elevator, as traumatizing as it was for me, is the worst experience a Muslim woman has had to deal with in her life time. I do however feel that by sharing my story, I will ignite and inspire other women to share theirs. I'm a firm believer that the only way to truly challenge Islamophobia is through education.
You also speak publicly and have written about your personal experience with spousal abuse. Why is it important for you to be open about this experience?
In my second book, I speak about my experience being in an arranged marriage where I discovered that it was immigration fraud. The relationship was emotionally, financially, and psychologically abusive. Again, my reasons for sharing this experience was simply to educate people about the impact such situations have on women. I also believe that it's important for families to understand that this immense pressure that women are socialized with: to "be married at a young age" can cause so many challenges. Some women get lucky, but there numerous women that I could name that end up situations like mine or even far worse. I wanted women in general to understand the impact of spousal abuse and the need to value ourselves, care for ourselves, and ultimately reach out for support when we need it. In that book I also talk about my weight loss journey of losing nearly 200 pounds and how my determination was fueled largely from the experience of dealing with leaving that abusive situation.
What advice would you give to Muslim women interested in writing a memoir but concerned about how telling such personal stories may affect how they are perceived by both Muslims and non-Muslims?
That's a tough question. In my life I have learned that you will always have people who support you and there will also always be people who will oppose your position and make it known. In my case I decided that educating the community was more important than the backlash I would experience from family, community, and so forth. I think it depends on your personal comfort level and the reason for which you are writing your story.
You have ran in the 2015 Federal Election and were the only Muslim woman who campaigned while wearing hijab. What lessons have you gathered from this experience?
At some point, I will share some of my experiences in my third book and there are many. For the purposes of this interview, let me just say this—running in the election was a decision I made to represent the Muslim community as a visible Muslim woman in what in my lifetime was the most anti-Muslim, hateful campaign that has been run by a sitting government. Running in an election requires immense amount of focus, determination, stamina, and an ability to have a 100% public profile for the duration of your time running for office and, if elected, during your time in office. There will be many times when you will be asked to make a decision that will challenge your conscience. In those moments, I reminded myself that win or lose, I was accountable to the divine and that at no point was I willing to comprise my belief systems to win. Some would argue that winning requires us to do anything and everything in our power. That's not how I ran my campaign. I realized also that we have stereotypes and double standards that women in politics and even more so visible racialized women have to challenge when running both within the Muslim community and in broader society.
After the election, you started the #MuslimsActually campaign and blog. What prompted you to start this initiative? How was it received?
During my time in politics, I was surrounded by media, in fact the day I was nominated there were 17 media channels that interviewed me. Their interest was to see "the reaction of the Canadian people" and there were many times when the reaction was positive at the doors and then the story would not air, as it was not "controversial" enough. That to me was unacceptable and I was determined to start to shift the narrative that the media was projecting about Muslims during the campaign and thereafter.
So when the campaign was over, I had already started to contemplate what my plan of action would be when the attacks in Paris took place. At that time, I decided to launch the Muslims Actually.com site, as a way to share "positive images of Muslims and their stories" through social media. I was lucky that I had developed and continue to have good relationships in the media and often receive coverage, so getting the word out about the blog was a little easier. 
Muslims Actually Profile Series will now be continuing as part of Muslim Link's website. Why are you excited about the evolution of the blog and what do you hope for the series in its new incarnation in 2017?
I'm really excited that Muslimsactually.com will now have a new home at Muslim Link. I believe that Muslim Link is doing great work in educating our community as well as diverse communities about Muslims and I truly believe that moving forward Muslims Actually profiles and their stories can continue to play a role in challenging those negative stereotypes about Muslims in society today and in this current political climate.
What projects are you currently working on?
These days my primary focus is my work with the International Development and Relief Foundation (IDRF) as the Director of Fund Development and External Affairs where my goal is to engage young professionals in the Humanitarian Aid and Development work that we do around the world. In addition, I am writing book #3 and looking at the production of a play which will include the experiences of Muslim women and the impact that Islamophobia has on their lives. I call it the Hijabi Diaries.
Also from time to time I have run women's community workshops and wellness walks under the name of Azeeza for Women. Azeeza means "cherished, honoured and loved". Now I'm going to be piloting a Women's "Inspire Wellness" retreat in the summer of 2017. Details for that will follow and can be found on my Facebook page or my website.
Where do you see yourself in 10 years?
To be honest, I don't know where I will be in 10 years. Where I would like to be could include the followinng: becoming an elected official in the federal government or leading an international development organization or foundation, or establishing and running a social enterprise that supports the empowerment of women and girls locally and globally. Somewhere along the line, I hope to have a family, be a mom and continue to be a mentor to other younger women and activists that are looking for direction and /or guidance.
Is there anything else you would like to share?
We all experience obstacles in life; the difference lies in how we choose to respond to them. I believe that challenges are learning experiences that are preparing us for something even greater.
This article was produced exclusively for Muslim Link and should not be copied without prior permission from the site. For permission, please write to info@muslimlink.ca.