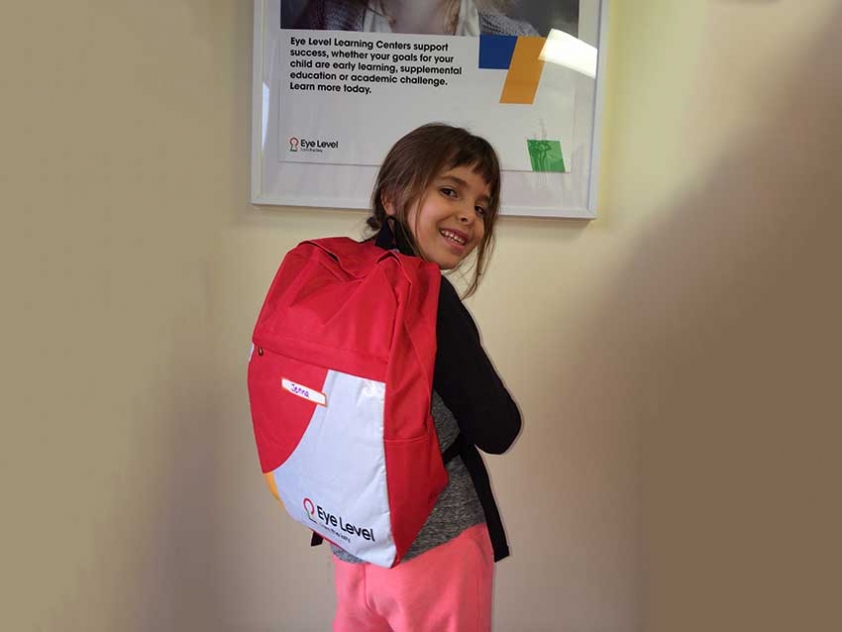 Student Jenna Abu-Jarad sports her Eye Level backpack.
Courtesy of Eye Level
29
October


2015
Eye Level: A New Way for Students to Master Math and English in Ottawa
Written by Chelby Daigle
When Korean Canadian Caroline Sohn decided she wanted to leave the corporate world to become her own boss, she discovered Eye Level, a supplementary education franchise developed in South Korea which teaches over 2 million students worldwide. A graduate of the University of Toronto's Rotman School of Management's MBA Program, Caroline has taken up the challenge of opening Ottawa's first Eye Level Learning Centre, located in Barrhaven.
"It's always been a dream of mine to run my own business," Caroline shared, "But, I wanted to pick a business that I had some passion for."
As the mother of young children, she has seen the challenges they face navigating the public school system. "I have had to become a real advocate for them to ensure that they get what they need," she explained. She sees the Eye Level Learning Centre as a source of support for parents seeking to establish a solid foundation for their children in Math and English. "We believe children learn best when they are learning at the pace that is most comfortable for them," she explained.
Offering services for students aged 3 to 16, Eye Level is sought out by parents who are either concerned that their children are falling behind or worried that they are not being challenged enough. "Not having enough homework is a common complaint," Caroline said. She currently has students working with Eye Level to study for the Waterloo Math Exam and prepare for the International Baccalaureate Admissions Test. "We are able to cater to a range of students' needs," Caroline explained.
Caroline feels that Eye Level helps to address some of the issues arising from how Math is currently taught in schools. "When I went to school there was a real focus on basic thinking Math," she explained, "But there has been a shift in public education and now schools focus more on application and critical thinking. But I feel they are asking students to run before they can walk. They are not really giving students the tools to master critical thinking confidently. At Eye Level, we help to give students those tools and then complement it by developing critical thinking skills."
Eye Level offers a global math curriculum.  "What our students are learning here they are also learning in Hong Kong," she explained. "When I compare it to the standard Ontario Math curriculum it is definitely advanced."
Adil Ebrahim has been impressed by the Eye Level Math curriculum his son, Aaban, is studying. "I think that if a kid is good in Math, they are good in everything," he said. Adil had tried other educational programs before but did not find them challenging enough. "I want to challenge my son so that he can go into a gifted program," he shared. So far, Eye Level is offering Aaban that challenge but most importantly, he is actually enjoying learning. "He looks forward to going there," Adil said. He credits Caroline for creating a learning environment that feels more like a community centre where students and parents alike feel welcome. "We have a good relationship with Caroline. She is very open and honest. If you feel comfortable with someone you work with them better," he shared.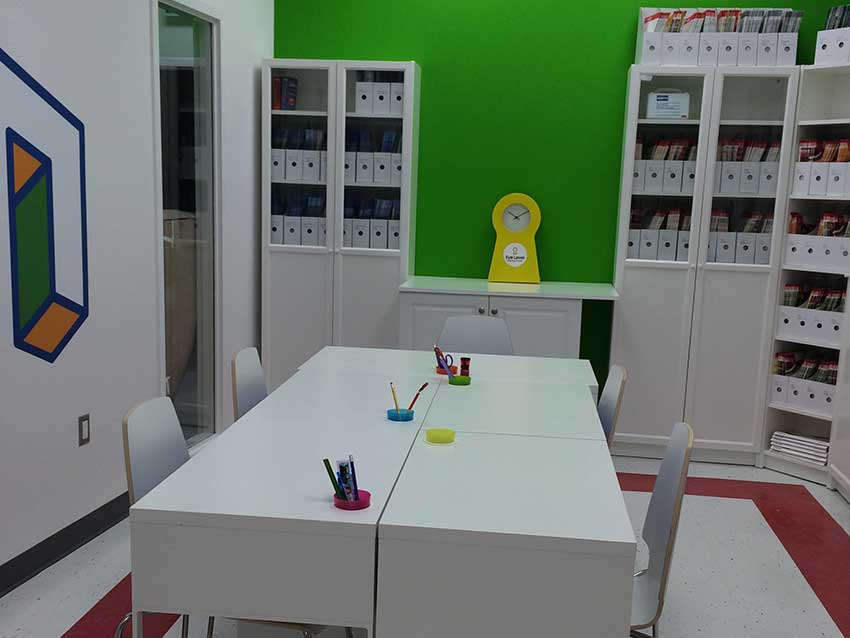 Eye Level also offers a comprehensive English program. "We focus on reading, writing, listening, and speaking," Caroline explained.
Huda Abu-Jarad enrolled her daughter, Jenna, in Eye Level's English program and really likes how the learning materials are designed. "Every lesson comes in one booklet, so it is not overwhelming for children," she explained, "They only see the amount of work they need to do for that week. The format is fun, colorful and easy to understand."
She appreciates Eye Level's student-centred philosophy which she feels is demonstrated by how the instructors treat children. "They truly understand they are working with children," she explained, "By that I mean, speaking with them at their level, getting to know their students, what they like and don't like in order to tailor the lesson to each child's needs. They don't judge or reprimand. In contrast, they are very encouraging and eager to make the lesson as fun as possible."
The centre has also supported her as a parent. "The owner and instructor took the time to listen to my concerns and what has failed previously with my daughter and that has made all the difference," she shared.
A core part of the Eye Level philosophy is developing confident, self-directed learners. "We encourage children to be motivated to learn by themselves. They are taking ownership for their own learning. When a student feels like they have mastered a subject, they become more confident and you can see how that confidence spreads to how they learn every subject."
Huda has certainly seen her daughter become more confident and motivated to study since beginning with Eye Level. "My daughter never liked homework," she shared, "For once, she actually loves to do her homework. She reminds me that it is time to work on it. It's only about 3 pages a day or 15 minutes. She loves the challenges, the puzzles and impressing her teacher."
Despite the daunting task of starting a new business and introducing a new brand of supplementary education services to Ottawa, Caroline is grateful for the opportunity Eye Level has given her to be an entrepreneur while making a difference in children's lives. "When you see how confident the students become, it is really very gratifying."
Parents like Adil and Huda are also grateful that Caroline has brought Eye Level to Ottawa. "I'm certain we made the right choice by enrolling Jenna in Eye Level," she shared, "I'm glad I ran into Caroline. She is committed and eager to do everything possible to make Eye Level the number one place to go to in Barrhaven and she is definitely well on her way.
This article was produced exclusively for Muslim Link and should not be copied without prior permission from the site. For permission, please write to info@muslimlink.ca.