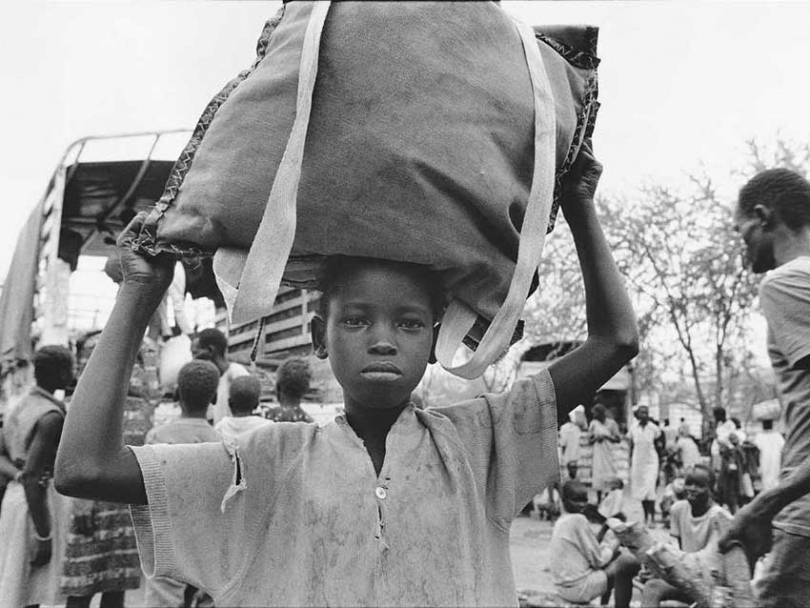 A scene from the documentary, Lost Boys of Sudan. After surviving a harrowing trek across hundreds of miles of desert, an estimated 11,000 "lost boys" crossed the Sudan border into Kenya and were taken to Kakuma refugee camp, where they spent the next nine years waiting for an end to their country's civil war.
Photo credit: http://interactive.wxxi.org
24
July


2011
When tragedy strikes, we the fortunate few want to reach out and help.  In our rush to get aid to affected areas, we forget the phrase, "There's a sucker born every minute".  A prime example is the earthquake and tsunami that took place in Japan a few months ago.  Within hours of the disaster, researchers at the computer and internet security company Symantec reported more than 50 domains with the names "Japanese tsunami" or "Japan earthquake".  Dummy email addresses and domains requesting money raced to cash in on the tragedy.
Sometimes, sadly, it isn't simply advantage-takers and scam artists that let donors down. As I sit and listen to Simon Atem tell his story of how an Alberta-based charity with seemingly good intentions let him down, the young man in his early twenties sounds more like a lost boy.
Simon is literally one of the "lost boys" of Sudan, who trekked for their lives across Sudan with thousands of other children, in search of safety. He was only seven years when he watched soldiers shoot and kill his uncle. Simon was visiting his relatives, a day's walk from his home village of Aweng in southern Sudan, when militia suddenly stormed the area and opened fire on civilians. Simon's uncle was killed while he was still holding his hand, fleeing a scene of tyranny and destruction.
After his uncle's death, Simon walked and ran for days through dense bush, sleeping in trees and surrounded by wild animals, with nothing to shield him from the thorny foliage that tore at his skinny frame and left him with scars. On the fourth day, he found other groups of wandering boys. This group of an estimated 11,000 displaced or orphaned males, later became known as the "lost boys" of Sudan. Together, they trekked approximately 100 miles a day with no shoes, clothes, water or food. They ate wild fruit and dead animals to stay alive and drank their own urine.
His journey over the next few years took him from his village in Southern Sudan to a UN refugee camp in Ethiopia, then back to Sudan, and finally to a UN refugee camp in Kenya. In 2003, the Canadian government approved his visa.
"In order to get into Canada, I had to say I was 21 years old, but I was really 15.  I was helped by individuals from CIDA (the Canadian International Development Agency) and YOUCAN (a national non-profit youth peace organization) to move to Calgary to attend high school there.  Getting to complete my high school education was probably the biggest joy I felt since I had arrived in Canada," Simon tells me.
It's hard to tell what Simon is thinking and feeling.  He is cautious and quiet.  His eyes don't reveal the excitement of a person who has succeeded.
But Simon has succeeded.  Arriving in Canada alone with no family and no formal education, he has managed to put himself through high school. He has also managed to make people aware of the plight of the lost boys of Sudan. With the help of former classmates and teachers at Father Lacombe High School in Calgary, Alberta, using every means possible "" from bake sales and dinners to an annual run -- to fundraise, Simon has managed to collect over $70,000 and is looking for additional funds to build a school in his former village in Sudan.
"They went with me to Sudan for a few days, accompanied by a reporter, and they left me there to look for contractors to carry out the project. They said they would wire the money to Kenya, and that it would be wired to Sudan after that. The money never reached me, and I waited many weeks."
Although his experience has taught him a lot, Simon relates how disappointed he was when he was let down by a charity who offered to help him.
"The president of a children's charity approached me and promised me they would help me build the school.  They went with me to Sudan for a few days, accompanied by a reporter, and they left me there to look for contractors to carry out the project.  They said they would wire the money to Kenya, and that it would be wired to Sudan after that.  The money never reached me, and I waited many weeks," Simon says.
Simon refuses to provide the name or any other information about the charity.
"I'm still hoping they will do the right thing and send the money to me in Sudan to complete the school," he says.  "If it wasn't for the support of my school and YOUCAN, I don't know how I would have continued."
YOUCAN ""a student-run organization that encourages youth to create peace in their communities and their hearts""has been the silver lining in Simon's story. The organization has been instrumental in helping Simon achieve his goal.
"We have trained Simon and are hoping he now possesses the skills he needs to build the school," says Dave Farthing, YOUCAN's Executive Director.
"He isn't just leaving with good intentions, he's armed with the paperwork, the plan and the contacts to set in motion his dream," says Mr. Farthing.  "Simon is no longer focused on the charity that let him down, his focus is making a difference in an area that desperately needs it."
Although a man now, Simon still looks like a boy dressed in man's clothes to me, but he is not lost anymore.  He has found a purpose after coming to Canada, and his eyes do light up when he speaks about the school he will build.
"If we build this school," he says, "At least 2 or 4 kids from that school will be future leaders.  They might become leaders in the school itself, or of the whole country.  There is no limit to the potential there is."
Dr. Aisha Sherazi is an Ottawa-based writer.
This article was produced exclusively for Muslim Link and should not be copied without prior permission from the site. For permission, please write to info@muslimlink.ca.