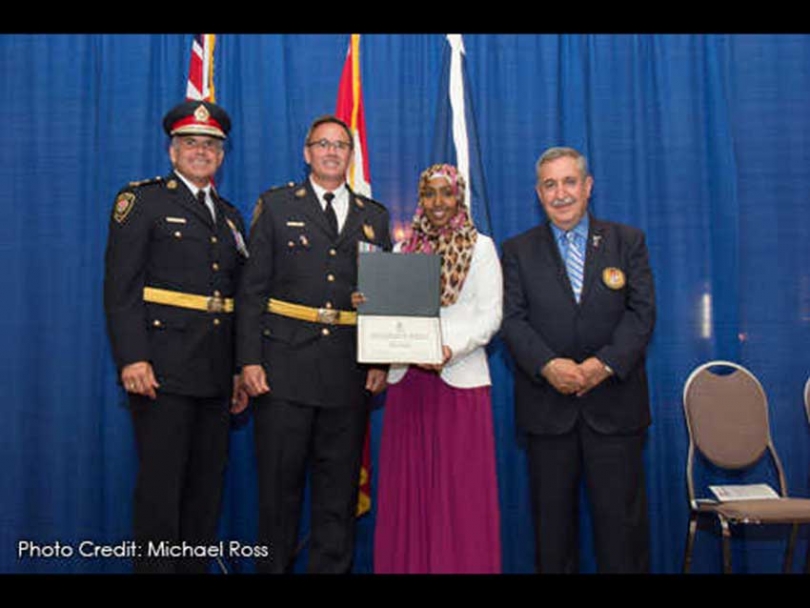 Photo Credit: Michael Ross
05
July


2013
Urge Ibrahim: Could she be Ottawa's first hijabi police officer?
Written by Chelby Daigle
For the second year in a row, a Muslim woman has been awarded a special scholarship from the Ottawa Police Service in order to pursue a career in policing.
Urge Ibrahim was presented with the Thomas G. Flanagan S.C. Scholarship by Chief Charles Bordeleau at the Ottawa Police Service's annual Community/Police Awards on June 18.
The Ottawa Police Services Board and the Ottawa Police Service (OPS), in partnership with the Community Foundation of Ottawa, provide $1500 annually to a racialized woman or Aboriginal woman who expresses an interest in joining the OPS.
The Scholarship honours the memory of the late Thomas G. Flanagan S.C., a former award-winning Ottawa Chief of Police who stressed the importance of community engagement. Last year, Batoul Masri, a student in Algonquin College's Police Foundations Program received the scholarship. This year's winner, Ms. Ibrahim, 21, currently studies Criminology at the University of Ottawa. She has been interested in a career in policing since her high school days.  Ms. Ibrahim's parents, Oromo from Ethiopia, came to Canada in order to raise their children in a safe country with lots of opportunity. But like so many immigrants who come to Canada, they faced financial hardship.
Ms. Ibrahim grew up in the social housing neighbourhood of Heatherington  and attended Ridgemont High School. She says her interest in community work arose from a fear that her home's address would deter people from hiring her.
"My friend told me that because I came from Heatherington, no one would hire me, so I decided I better make sure my résumé looked really great, she explains.
Ms. Ibrahim began volunteering with YOUCAN, an organization that provides conflict resolution training for youth. She soon found that she had a passion for conflict resolution and youth empowerment.
While working with YOUCAN, she had the opportunity to interview inmates in Collins Bay, a medium-security prison in Kingston, Ontario, to see if they would qualify to participate in some of YOUCAN's programs. Inmates she interviewed were convicted of crimes such as assault and robbery.
"I discovered that there is a big gap between what I am learning in university and reality," Ms. Ibrahim admits.  "I've never been to a place where I felt more welcome than the prison," saysMs. Ibrahim. Some prisoners just need to hear that they are not total screw-ups in life in order to commit to not reoffending,"
Ms. Ibrahim is also a Court Support Volunteer with the Elizabeth Fry Society, an organization which provides assistance to women involved in the criminal justice system. She helps women who have come into conflict with the law navigate a criminal justice system that is often difficult for people to understand.
Recently, while volunteering at the Court House, she saw a former student from a series of YOUCAN workshops she facilitated last year in public schools.
"[He ] had a lot of trouble being engaged in school, paying attention, listening to the teacher. But in my program, he was one of my best students. When I went to speak to his teacher about him, she said to me "˜Well, he comes from a low-income neighbourhood so he thinks he's a gangster.' I just looked at her and I said he is a really great kid with a lot to offer and a lot of potential. I tried really hard to keep the funding at that school so that I could keep working with him and his classmates but the funding was cut and now a year later I see this young boy in court." Ms. Ibrahim is clearly upset as she continues to speak.
"That's totally heart-breaking! I'm not saying the program could have saved him. What I am saying is that he didn't have the support that he needed from that school."
Ms. Ibrahim says she wants to have a career where she feels she can help provide the proper support and role modeling young people often need. She says she feels that a career in policing just might be the avenue she should take.
Ms. Ibrahim knows that her hijab could be a barrier to her pursuit of a policing career. She has been in discussions with the Ottawa Police Service's Human Resources Section, who, according to Ms. Ibrahim, are exploring the possibility of creating a hijab that could be worn safely by police officers.
"They are studying the uniform hijabs that have been developed by the Metropolitan Police in London," says Ms. Ibrahim. However, she also knows that another barrier she may face is from Muslim community members who do not feel it is appropriate for women to be police officers.
As a member of the Ottawa Police Service's Youth Advisory Committee (YAC), Ms. Ibrahim is already involved in helping make the OPS more responsive to the needs of Ottawa's diverse communities.
We have been doing Youth Chat Sessions, going into different communities, administering surveys asking about their relationship with the Ottawa Police," Ms. Ibrahim explains, "our goal is to strengthen the relationship between youth in the city and the police."
On top of all her volunteer work, Ms. Ibrahim works part-time as a Child and Youth Worker with South-East Ottawa Community Health Centre. She has also become something of an expert on scholarship applications. "So far, all of my tuition has been covered by scholarships. I was asked to present a workshop about scholarship applications at Brookfield High School and the students really appreciated it. "
Whatever career she finally decides on, it is clear that Ms. Ibrahim is a young woman whose compassion and commitment to youth empowerment and crime prevention is already having a positive impact on our city.
To learn more about the Thomas S. C. Scholarship visit: http://www.ottawapolice.ca/en/community/diversitymatters/tgfscholarship.aspx  
This article was produced exclusively for Muslim Link and should not be copied without prior permission from the site. For permission, please write to info@muslimlink.ca.