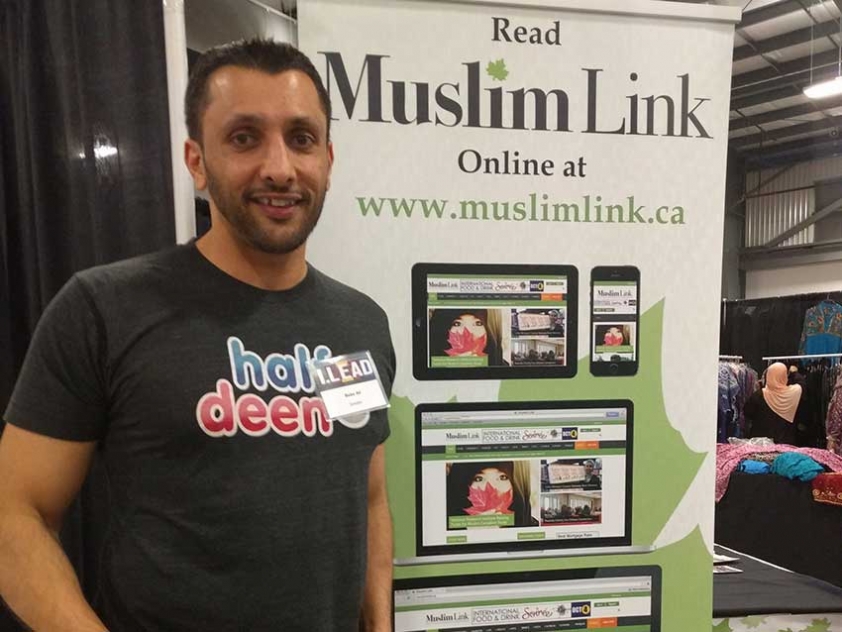 Baba Ali at the Muslim Link booth at the 2016 I.LEAD Conference
Courtesy of Mohammad Dourou
28
April


2016
Baba Ali: "The Problem Is Not Getting Married, It's Staying Married"
Written by Chelby Daigle
Muslim Link ran into popular comedian Baba Ali at this year's I.LEAD Conference. Although well known for his comedy and children's programming, Baba Ali also works on the very serious issue of Muslims and Marriage. He runs the matrimonial site "Half our Deen" aimed at helping Muslims find the right match. We interviewed him about why he set up the website and the challenges he is seeing among Muslims when it comes to having healthy marriages.
Why did you start the matrimonial website "Half our Deen"?
Fifteen years ago, I was looking to get married and I had a hard time finding my other half. I come from a convert background so I couldn't go to my parents and the local community didn't have anything so I did the "unthinkable", I went online. I say the "unthinkable" because back then it was taboo. Today 1 out of every 4 relationships starts online. When I went online, I wasn't sure which website works so I put my profile on all of them. I was very specific about the type of sister I was looking for and I was hoping for one response. I got 17 responses. Right there I realized that the online issue is also the offline issue. People are just telling you what you want to hear. So how do I filter out the people who are just telling me what I want to hear from the real person who does match with me? So I came up with my own system. I came up with a series of questions that I sent to all 17 girls and based on their answers I could find the right sister. The questions were very unique because they didn't have right or wrong answers.
What type of questions did you ask?
I will give you one of the questions. "Do you think the world needs more justice or more mercy?" If you say justice that tells me you're more fair. If you say mercy that tells me you are more forgiving. Which one is correct? Well, Allah's name is the most just and the most forgiving so they are both right. So both answers are right. That's why when I'd ask the sisters they would go "This is hard". Because "easy" would mean cookie-cutter answers that sound politically correct. But there is no politically correct answer therefore you are more likely to get the truth. So you can ask a question like "When you get mad, how do you communicate?" What's the right answer? The sister doesn't know what I want. So, I was able to filter them out from 17 girls to one girl and that's the girl I married and we are still married today. Then my friend asked me for those questions and I gave them to my friend and he got married with those questions. So it grew from there.
We also do live events. But we don't do interviewing. Everyone who comes to our events is a member of our website so if you want to learn about their age and other details you can look them up on the website. At our events, we do activities, fun activities. People play games together. You are able to naturally learn about the other person through team-building activities. You will see if they are funny, if they are creative, if they are competitive, if they are cheating. I will learn way more about you playing a game together than by interviewing you. Interviewing people is just like a job interview and a job interview is not you. Your real you was not you when you were being interviewed. Your real you came out the first week you were working and people saw your personality. 
There are so many Muslim matrimonial websites now and so many community matchmaking efforts but it seems that Muslims are still finding it hard to find spouses in a halal way. Why do you think that is?
The problem is not getting married, it's staying married. People are scared to get married because they are scared to marry the wrong person. What I am trying to do with "Half our Deen" is help you get married to the right person so you don't get divorced two years later. Why do our parents' generation stay married for 20 to 30 years whereas our generation stays married 2 to 3 years? How many people do we all know right now who are divorced? This is a problem in the Muslim community but no one is discussing it. When is the last time you heard a khutbah (sermon) about intimacy or about trust in a marriage? These are vital issues that we go talk to our imam about yet we don't hear one khutbah about it. But that's the thing, our scholars didn't go study in Medina so they could answer a husband and wife question. They were studying fiqh (Islamic jurisprudence) and Islamic history. They aren't therapists! They just know about his rights and her rights. Imagine if you go to a lawyer. Same thing, they can tell you his rights and her rights. But how does that help you? So when we go to our imams, they can only tell us our rights, they are not family therapists. Some of them, alhamduillah, are now learning how to do counselling but that's not why they became an imam. They would have become a psychologist if that's what they wanted to do. But this is really a huge need for the ummah (Global Muslim Community) but we don't address it. So we go out, marry whoever we want to marry, it lasts 2 to 3 years, we go to the imam and we get a divorce. And then we are wondering what just happened?
Parents also play an important role in choosing a spouse for their children. But this also presents challenges. What are your thoughts on the role of parents?
Parents want success for their kids but sometimes they are confused. They think "Well, I married someone from back home so you should marry someone from back home." Here's where the confusion is. Why did your parents' marriage work out? Because they come from the same culture. But if you tell someone raised in Canada to marry someone from back home, it's not the same culture. They are Canadian! So, if I'm Somali or Pakistani but I grew up in Canada, I can marry someone from Somalia or Pakistan and we both look the same but we don't come from the same background. We don't have the same culture. So, if you want me to marry someone really from the same culture, then you need to find me someone who also grew up in Canada so a Somali Canadian or a Pakistani Canadian so we can relate to one another. 
On your website and on your podcast you talk about some of these important issues that are affecting Muslim marriages, but you also tackle some taboo subjects. Why?
Yes, I am talking about taboo subjects. I did a podcast with Sister Haleh Banani about infidelity among practicing Muslims. Practicing sisters and brothers who go to the masjid (mosque) for fajr (early morning prayer) and they are being unfaithful! We need to talk about this stuff.
To learn more about "Half our Deen" visit the Website and Facebook Page. You can also check out Baba Ali's podcast here.
This article was produced exclusively for Muslim Link and should not be copied without prior permission from the site. For permission, please write to info@muslimlink.ca.