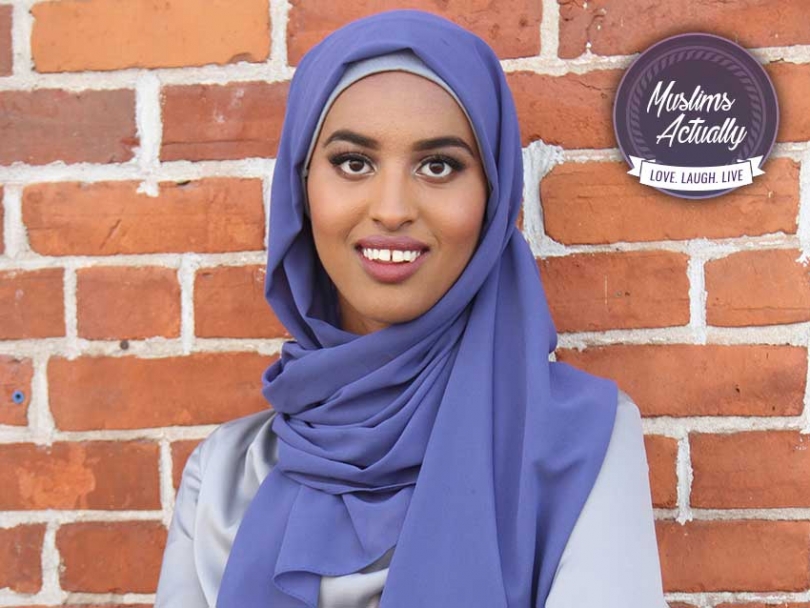 Asha Siad is an award-winning Somali-Canadian journalist.
Haneen Alhassoun
04
Feb


2017
Asha Siad is an award-winning Somali-Canadian journalist and documentary filmmaker. She has reported for Shaw TV, CBC News and Frontiere News. She is the co-founder of Borderless Films, an independent production company.
She co-produced Living at the Border, a web documentary that shares the realities of African migrants and asylum-seekers in Italy. The project won the Amnesty International Canada Media Award for Best Online Journalism in 2014.
Asha received the Images and Voices of Hope 2015 Award of Appreciation for showing a commitment to constructive change and amplifying hope through media. In 2016, she was honored by the Alberta Council for Global Cooperation as one of the Top 30 young people working towards a just and sustainable future.
Asha's latest documentary film for the National Film Board of Canada called 19 Days explores the human side of the refugee resettlement process. She was recently in Mostar, Bosnia and Herzegovina providing multimedia journalism training to Bosnian youth and empowering them to share their own stories through the Mostar Summer Youth Programme.
Tell us about yourself
I was born in Mogadishu, Somalia during the civil war. My family came to Canada in the early 90s as refugees. I was two-years-old at the time. My uncle sponsored 15 members of our family and we have made a home in Calgary since then.
Why did you decided to pursue journalism as a career?
When I was a child, I loved to read; I had always dreamed of becoming a writer. I remember spending evenings and weekends at the public library in Calgary. At that time, I was surrounded by narratives from around the world and was exposed early on to books that touched on social and political issues from places that seemed a world away for a child. I found this to be interesting because I could relate to the stories. I was fascinated by how writers could engage their readers and invite them into a world they may not quite know. I developed a firm understanding that stories have the ability to create connections. I thought I would end up studying literature and pursue a career in education.
In the summer before I entered my last year of high school, my family went on a vacation to Dubai. My father is one of the best travellers I know, he has always had the ability to explore places as if he were a local instead of a tourist.  This allowed me to see perspectives and spaces that tourists might not have noticed or have had access to. We met migrant workers from Southeast Asia who shared their stories with us. They told us about the harsh living conditions, exploitation and abuse they faced. That was the moment I decided that I wanted to pursue a career in which I could share their stories with the hope of broadening the dialogue and creating an impact. Journalism, documentary filmmaking and storytelling seemed to be the best platform to accomplish this.
Was your family supportive? Did you encounter any barriers pursuing this career as a woman of colour?
My family was very supportive. It is important now more than ever for women of colour and Muslims, to continue sharing their narratives. Whether it be on mainstream or independent platforms, this presence is vital to ensure a more balanced and positive representation of a population that is often overshadowed by negative news. The barriers I face as a minority led me to produce stories that otherwise would not have been told. I remember meeting with a young indigenous man in Calgary when I was working on Reserving Identities, a special Shaw TV report that explored the experiences of indigenous youth in Canada. We met at a coffee shop to discuss the project and he asked me if I was part Aboriginal. I replied no and asked him why, he said "why else would you be interested in my story?" His answer revealed to me the amount of work that journalists in Canada must do in order to share stories that represent everyone. I have always made it my mission to share untold stories that inspire people to expand their world. I am driven to produce media and journalism that goes beyond informing and challenges the spaces we inhabit as media professionals and consumers.
Why have you focused a lot of your work on the stories of refugees?
Having the opportunity to meet people from all walks of life and share their stories is one of the biggest rewards in this field.  I have covered a wide range of stories from the silence surrounding breast cancer in ethnic communities to following the lives of everyday Canadians attempting to start a new beginning. My focus on the stories of refugees stems not only from my personal relationship to the discussion around refugees but also the need to expand the dialogue surrounding migration in the world today.
Although I came to Canada at a very young age, I was able to witness the challenges my parents faced as refugees to a new country. I felt a strong connection with the stories of refugees and this allowed me to understand their perspectives. Additionally, there is little opportunity to gain an understanding of these individual's realities through mainstream media. Therefore, I want to continue highlighting the multiple narratives of refugees.
My most recent project for the National Film Board of Canada, 19 Days, explores the human side of the resettlement process. It sheds light on the complex realities faced by families from Sudan, Syria and Burundi during their first few weeks in Canada. This observational documentary shows that refugee experiences cannot be reduced to one simple story. It poses the critical question of what it really means to integrate, and it advances a discussion around how we can create inclusive and supportive environments for vulnerable populations.
Watch Asha Siad's documentary 19 Days below (It may take few moments for the video to load from YouTube)
How do you work to gain the trust of your subjects?
My time in both mainstream and independent media, in the field and in the newsroom,has taught me that in order to tell the human story, we as journalists must be able to connect with our subjects. When a journalist takes the time to immerse him or herself into the subject's world, the outcome provides a compelling story. Gaining trust is key to successfully capturing your story. Once we do this as storytellers, we begin to see individuals who face tragedies as survivors instead of victims, their story becomes a source of inspiration for our audiences and communities. Our approach begins to change if we have the ability to be empathetic.
Why was it important for you to establish your own independent production company?
My sister Roda Siad and I founded Borderless Films in 2012. Our mission is to engage and create social change through creative storytelling. We wanted to create a space where we could produce impactful work that educates, inspires and builds bridges over borders. A challenge many filmmakers and journalists face is continuing the conversation once a story or film has been published/released. Our experiences thus far have taught us that completing a project is only just the beginning. Our goal has been to produce projects that not only actively contribute to the conversation but also advance it. We have shared and screened our projects with NGOs, universities, community centres and conferences across the world from the Czech Republic to Japan. This approach has allowed us to reach audiences in an innovative way and ensure our work is accessible.
Since then, we produced Living at the Border, an interactive documentary that documents the realities of African refugees in Italy. We were awarded the Amnesty International Canada Media Award in 2014 for our outstanding efforts to increase Canadians' awareness in the understanding of human rights issues. We are currently working on two projects that will build on our passion for using media to explore untold narratives in order to create understanding.
Do you feel that multimedia journalism like yours can ensure that more stories that don't make headlines get coverage?
Yes, I believe multimedia journalism allows our audience to not only gain deeper insight into an under-reported news story, but also an experience through different forms of storytelling. In the past few years, I have carved a niche for myself in providing innovative platforms for under-reported stories to reach mainstream audiences. My visual storytelling has introduced audiences into the world of indigenous youth in Alberta, who use art as a way to heal from intergenerational trauma. Through documentary photography, I have shown audiences how refugees in Italy attempt to seek acceptance and forge a sense of belonging by building makeshift communities. I strive to amplify hope and illuminate the darkest of places through storytelling.
What role does your faith in Islam play in your work as a journalist?
Faith plays an incredible role in storytelling and it is something that is often grouped under the subject area of religion in the media. But it goes much deeper. When I was conducting interviews in Italy and visiting makeshift communities built by refugees, I witnessed how important faith was to these individuals. For most of the individuals we met, their faith, whether Christianity, Islam or Catholicism, gave them strength, resilience and hope to overcome the hardships they faced travelling through the Mediterranean Sea to Europe. Their faith also gave them patience to deal with their current challenges and it also allowed them to coexist peacefully. We went to Salaam Palace which translates to "peace palace" in Arabic. It is one of the most well-known examples of a makeshift community. The palace was a former university and is home to 800 refugees from Ethiopia, Eritrea, Somalia and Sudan.  It is an intricate world created out of necessity; the residents of the palace co-exist peacefully despite their religious differences. They created a place of worship in the palace. This experience inspired me to look deeper into faith. When approaching stories pertaining to faith and religion, I have consciously made a decision to share stories of solidarity rather than division through my work.
What advice would you give to young people of colour who are interested in pursuing journalism as a career?
The advice I would give to aspiring young journalists of colour would be to take initiative, create your own opportunities and be persistent. Develop a focus on a subject area, this will give you the chance to dig deeper, uncover untold stories and create a niche for yourself. Connect with storytellers who are producing journalism you admire, you'll end up finding a community of passionate journalists to inspire your work and give you support. Overall, be innovative and take advantage of the multiple platforms that you can use to share and produce your stories. Always believe in the work that you do and strive to produce stories that go beyond informing.
What are you planning to do next?
I am currently working on two projects that align with my focus on migration. This past summer I had the chance to work with an incredible project called the Mostar Summer Youth Programme (MSYP). This unique initiative brought together youth from the region and internationally to gain new ideas and unlock their passion for education.  My multimedia storytelling class "Stories from Mostar" challenged students to use diverse forms of media to share the multiple narratives of Bosnia and Herzegovina in a way that will inspire understanding and create awareness. I also a taught a spoken word poetry/creative writing class called a Love Letter to Mostar. We are releasing an anthology by MSYP students titled A Love Letter to Mostar. This collection of poetry and stories is essentially a love letter to a region that is unknown to many people outside of the Balkans.
As one of my students said: "There are many sad stories about people in Mostar, and they should be told; but sometimes we forget how many beautiful people surround us. There are plenty of stories about friendship and love that overcome all the negative effects the war brought us. I think it is important to tell the story about the changes in Mostar that happened after the war, all changes - the good and the bad." Our hope is that this book is an invitation to learn more about the Balkans, its history and its people. Visit the Mostar Youth Platform to learn more! 
To learn more about Asha Siad and her work visit her website here.
Watch Asha Siad's TEDx Talk about storytelling (It may take few moments for the video to load from YouTube)
This article was produced exclusively for Muslim Link and should not be copied without prior permission from the site. For permission, please write to info@muslimlink.ca.