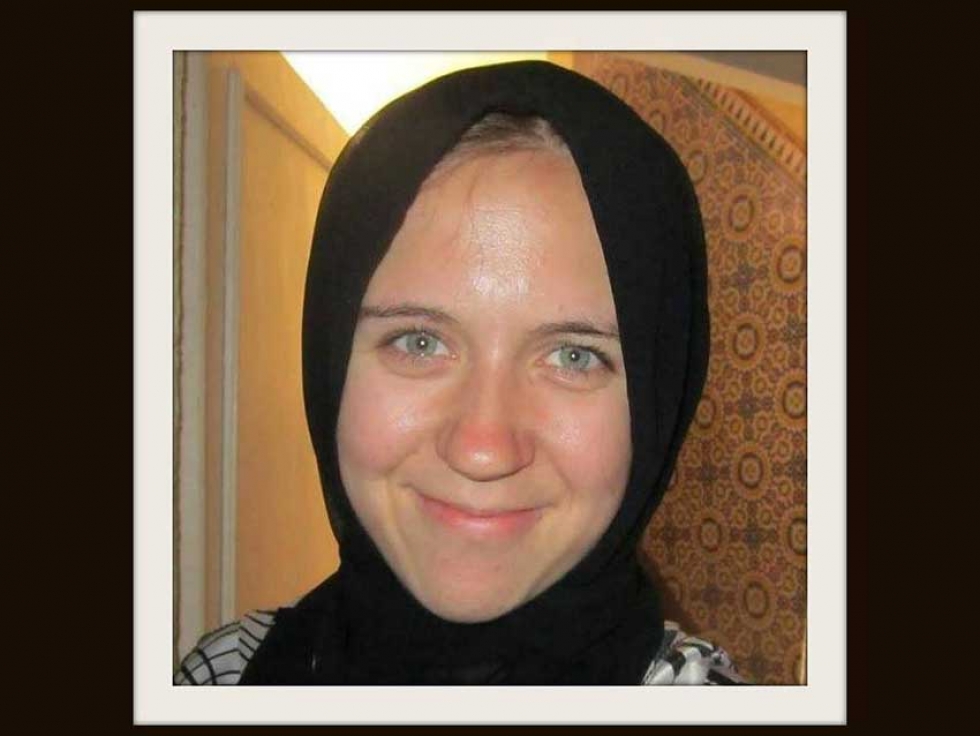 Anne Marie Lavallee shares with Muslim Link about her experience with Brain Arteriovenous Malformation (AVM) and its treatment
01
November


2017
Understanding Arteriovenous Malformation (AVM): One Muslimah's Journey
Written by Amira Elghawaby
October was Arteriovenous Malformation (AVM) Awareness Month. According to the Toronto Brain Vascular Malformation Study Group: "An AVM is a tangle of abnormal and poorly formed blood vessels (arteries and veins). They have a higher rate of bleeding than normal vessels. AVMs can occur anywhere in the body.  Brain AVMs are of special concern because of the damage they cause when they bleed. They are very rare and occur in less than 1% of the general population."
The risk of bleeding with AVM increases as a person ages. The typical age of discovery is between the ages of 20 to 40. Bleeding can often result in stroke, resulting in permanent disability and even death. There are treatments to reduce the risk of bleeding. The cause of AVM is unknown but it is believed to develop in utero and affects all races and genders.
Muslim Link took the opportunity to interview a young member of Ottawa's Muslim community Anne-Marie Lavallee, about her experience as someone with AVM in order to help our readers better understand a condition which, although rare, can have a serious impact on the lives of those who live with it.
What has been your experience with AVM?
Anne-Marie: I have had two cerebral aneurysms that were surgically clipped, as well as a brainstem AVM that I had surgically removed.  Although I was told that my AVM was inoperable, I had already suffered from three haemorrhagic strokes, and my brain would not have been able to handle another one.  So I took a big risk to have the AVM operation. Now I am in pain every day from nerve pain, which is one of the worst kinds of pain. I still cannot walk and although I may never walk again, I still have hope and faith for the future. I suffer from depression on and off, which is normal when you've been through trauma. I often feel alone. I moved into supportive housing located about an hour outside Ottawa. I can't do a lot on my own anymore, and although I do need help, I am not complaining because it could be far worse – and after all, I am alive.
Could you further explain the impact of your operation to remove the AVM?
Anne-Marie: The operation was a success in that the AVM was removed, but the after effects were quite horrendous.  I had to learn everything all over again – how to eat, talk, move, etc.  I even completely forgot how to pray.  I had to learn all over again and, in fact, I am still learning.  My vocal chords have been damaged, so it is a struggle for me to talk.
What has surprised you during this difficult journey?
Anne-Marie: How strong I am.  Even though I have people around who are supportive of me, they cannot always be there. I completely understand this. I really needed my family but they were not there. I felt very alone, like no one understood. When people say "I know how you're feeling", I know they mean well, but I still wonder to myself:  "How?  How can you possibly know how I'm feeling? After all, I don't know how you're feeling, so how can you understand what I'm experiencing?"  No two people are the same. Everyone feels differently.  I would never compare my pain to others.  But I do know that I have the strength to endure this fight. My strength is what surprises me most.
If you wanted people to know three things about AVM, what would they be?
Anne-Marie: I only want people to know one main thing about AVM, and that is how dangerous it can be. I am one of the fortunate ones in that my AVM was successfully removed and I now have the opportunity to continue to heal and recover. However, not everyone is as fortunate.
What has helped you get through this health challenge?
Anne-Marie: It's not what has helped me but who:  Allah!!!!  As well as Amina and Jannah, two lovely sisters who have been there from the beginning. I love these ladies very much. Through my Muslim community, I have met so many wonderful sisters and brothers.  There are also many I have never met who helped through funding for physiotherapy and praying for me. I want to thank everyone from the bottom of my heart. This health challenge is not over yet. I believe I can continue to recover with the help of Allah.
Why do you think AVM awareness is important?
Anne-Marie: Many people do not know about an AVM. It is rare, affecting only 1 percent of the population. It can affect anyone. It is important to raise awareness to help others to understand or to help others who might be suffering from an AVM. More awareness = more funding for research.
What are you looking forward to doing as you continue to recover?
Anne-Marie: Inspiring others to not give up, no matter what battles they may be facing. My life changed a lot in just one day.  I can no longer do the things I love, and that saddens me so much.  However, I have been blessed with a lot of patience and I am focusing on acquiring new hobbies, new interests, and new things to love.  Changing my focus to this new way of life is not easy, but it is not impossible.
Anything else you would like to share?
Anne-Marie: I realize that it is human nature for people to be afraid or uncomfortable around things that they don't understand.  I am honestly the same way, but I have since realized that having a disability doesn't make you different.  A little understanding can go a long way in removing fear and doubt of things that we don't understand or that are unknown to us.  Have you ever stopped to think how the person who seems "different" is feeling?  No, probably not.  Yes, sometimes I am sad and I cry…..and that is OK; I am only human.  If God didn't want us to show our feelings, he wouldn't have given us feelings and the ability to express them.
To learn more about AVM and to find resources to support those living with the condition or its consequences visit Burgundy for Life here
This article was produced exclusively for Muslim Link and should not be copied without prior permission from the site. For permission, please write to info@muslimlink.ca.