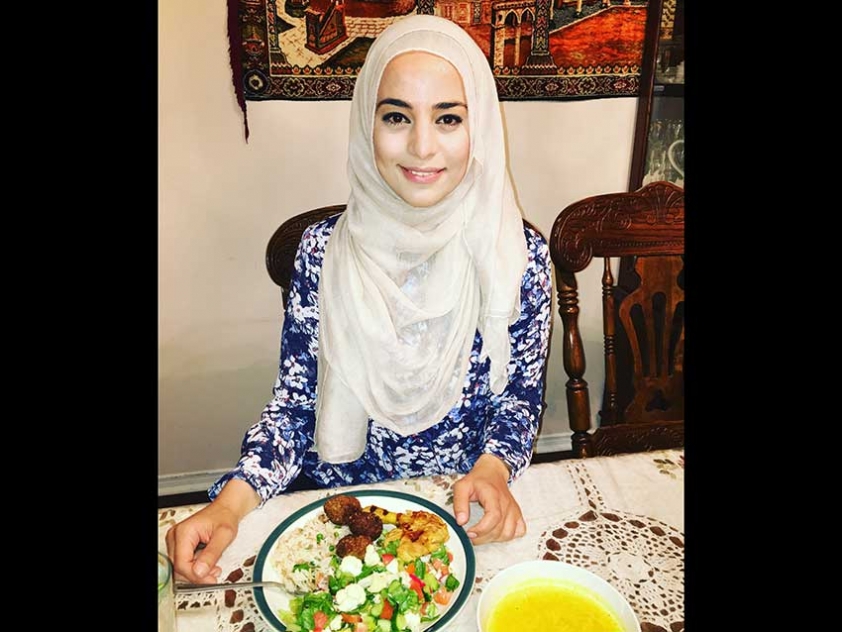 Registered dietitian Rawan Suleiman eating a healthy traditional Palestinian iftar meal.
16
June


2016
Advice from a Muslim Dietitian on How to Eat Healthy during Ramadan
Written by Rawan Suleiman
Ramadan, the time of year when we fast all through the day and then treat ourselves with traditional favourites that are often fried, high in calories, and laden with sugar and fat. It can be a challenge to eat healthy when confronted with a plate of crispy fried samosas, oh-so-sweet halwa, or flaky qatayaf at iftar (meal to break the fast).
Rawan Suleiman, a registered dietitian shares strategies on how we can eat healthy in Ramadan.
************
Whether spiritual, intellectual, or health-related, Ramadan is the perfect time to focus on bettering ourselves. Let's utilize this holy month to its fullest and work on setting goals we would like to achieve. Experts have said that it takes 21-30 days to make or break a habit. The key for this Ramadan, in terms of health, is to ensure we get the most nutrients from foods and stay well hydrated.
The following are general healthy eating tips that can become habits that we can integrate in our daily lives well after Ramadan:
Suhoor: Keep suhoor (the meal before you begin your fast) as simple and nourishing as possible. This meal is important as it will help keep you full and energized until iftar, the meal with which you break your fast. Aim for whole wheat options and drink milk or water.
Here are some delicious suhoor ideas to keep you going this Ramadan:
Peanut butter and banana on whole wheat toast with a glass of milk
Hummus with whole wheat pita with a side of sliced cucumbers and sweet peppers
Yogurt topped with fresh or frozen fruits and granola
Quick-cooking oats with sliced apples
Leafy greens with an olive oil and lemon juice dressing topped with hard boiled eggs on a whole wheat English muffin
Iftar: Iftar time—use the plate method to ensure you get all your nutrients:
Break your fast with dates and a glass of milk or milk alternative. You can also enjoy a bowl of hearty soup.
For the main course: Fill half your plate with at least 2 kinds of vegetables. Fill a quarter of your plate with rice, roti, pasta, couscous or other grain products. Fill a quarter of your plate with meat, chicken, fish, lentils, paneer or other meat alternatives.
Snacking: You can enjoy a nutritious snack between Iftar and Suhoor such as a smoothie. Feel free to get creative and pair fruits and vegetables of your liking.
Here are ingredients you can combine for a quick, nutritious smoothie:
Half a cup of mixed frozen berries
One cup of milk ( add more milk for preferred consistency)
A handful of spinach or kale
A teaspoon of honey
Keep Hydrated: The best thing to drink during Ramadan is water. A reusable water bottle is always handy to carry with you to the mosque. Try to drink less sugary and caffeinated drinks such as iced cappuccinos, energy drinks, and soft drinks.Limit fried and sugary foods.
As we do not have a lot of time to eat, let's choose more nutritious choices to make sure we get all the vitamins and nutrients we need in the short amount of time we have.
You can treat yourself to samosas, pakoras, qatayef, baklawa and other traditional Ramadan treats once in a while without overindulging.  Remember, fasting all day does not mean you can eat unhealthy food without the usual consequences! You still have to watch what you put into the body Allah has blessed you with.
Fasting with Diabetes: Some people are exempt from fasting due to pregnancy, medications, and other health conditions.  It is recommended you talk to you doctor and follow their advice. For people with diabetes who would like to learn more about fasting during Ramadan, Diabetes Central Ottawa is a service offered to the community free of charge. This service will pair you with Certified Diabetes Educators that will be able to assist you. You can go online at diabetesottawa.ca or call 613-233-9487 and ask to be referred.
A friend of mine once said that, as Muslims, we should utilize Ramadan and make our spiritual 'new year's resolutions' during this blessed month. Insha'Allah, these tips will help us stay healthy.
May Allah (SWT) accept our fasts and our prayers during this holy month. Wishing you all a blessed Ramadan.
This article was produced exclusively for Muslim Link and should not be copied without prior permission from the site. For permission, please write to info@muslimlink.ca.