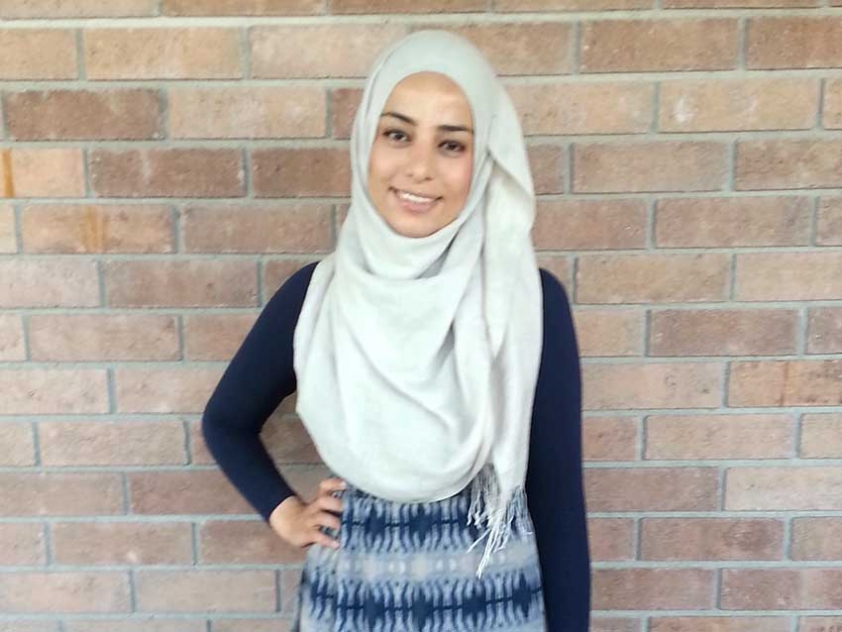 Palestinian Canadian Registered Dietitian Rawan Suleiman discusses the health benefits of returning to homemade ethnic food.
Courtesy of Rawan Suleiman
05
Nov


2015
Rediscovering Falafel: How Eating "Ethnic Food" Can Keep You Healthy
Written by Rawan Suleiman
Palestinian Canadian Registered Dietitian Rawan Suleiman discusses the health benefits of returning to homemade ethnic food.
I was five years old when my family emigrated from Jordan to Canada. New to the surroundings, the language and the people, cooking traditional food was my mother's way of keeping us connected to our roots, to what we knew and to find comfort during this adjustment period. My mother would send us to school with lunches typical of what we ate at home and what she grew up eating. Labaneh, zaatar and hummus stuffed pita bread sandwiches were our version of PB&J.  And in Mid-1990s Montreal, most of my friends came from all around the world, so we didn't come across PB&J sandwiches very often. Instead, they had lunches that expressed their cultural background. Being different was a similarity we all shared.
I remember this one day, during lunchtime when I had unraveled a falafel pita sandwich with all the fixings. I was excited to have a bite of my favorite kind of sandwich. My friends and I went about our usual lunchtime chatter as we ate our lunch and then prepared to go outside to play. Before I could push my chair back from the table, the lunch supervisor asked me to stay while the other kids went out to play. I was surprised because I didn't understand why she singled me out. She then told me that I couldn't go play with the others because there were crumbs of falafel on the floor. She gave me a broom and yelled at me to pick up the "mess" I made. I had to stay seated at the table, arms crossed and my head down until lunchtime was over.
I was a mild mannered child and never got in trouble, so when that happened I was very emotional and sad. When the day was over and I finally went home, I ran to my mother, hugged her legs and said in tears: "Don't make me falafel sandwiches ever!" Surprisingly enough, my mother stopped making falafel. This healthy blend of chickpeas and fava beans was replaced by a conventional bologna and ketchup sandwich. As the years went by, we went without the taste and comfort of falafels.
When we moved to the National Capital Region, our Palestinian social club had a friendly "Falafel Competition". My mother who loves to cook found the motivation to make falafels once again. Intrigued by the simple fact that she can make them, I asked why has she never made falafel before. She looked at me in a caring way and proceeded to tell me about that time I was withheld from recess because of the mess I made eating falafels. She shared with me that it hurt her to see me that upset over a silly sandwich filling, so she spared us the re-occurrence by not making them anymore. The comfort she found in making falafel was overpowered by the experience I had during lunchtime when I was five years old.
It was at that moment I realized what we choose to eat goes beyond the satisfaction of our taste buds. Our food choices shape us socially and are reflective of our identity. When we are made to feel excluded and isolated due to an aspect of our culture, one's natural response would be to change or eliminate it. In my lunchtime experience, my mother didn't want me to feel isolated and excluded, so falafels were no longer made.
Growing up, I've always been in the kitchen with my mother, taking part in making meals. She would take the time to talk to me about the health benefits of what we were making. Her interest for food, cooking, and nutrition rubbed off on me. I went into dietetics mainly because of my mom. She fed my interests for food and nutrition, especially when it came to Palestinian cuisine. As a result, I became a dietitian who encourages traditional foods as they have greater health benefits, especially when they are homemade. 
In Canada, within two to ten years of arrival, immigrants' health status decreases. This decrease in health is not only due to the change in eating habits; many other factors come into play such as language barriers, difficulty navigating the health care system, access to cultural foods in grocery stores, discrimination, and so forth. Processed foods typical of the "Western Diet" are readily accessible. When the foods you are familiar with are not offered at your local grocery store, you will make due with what is available and affordable. Most likely the foods you select will be processed. By doing so, traditional dishes are no longer made. As we incorporate newly found processed foods, we find that traditional foods become less appealing, especially to second-generation immigrants. We are eliminating nutritious food options that connect us to our heritage and that keep us healthy.
Ethnic minorities are at higher risk of developing chronic diseases such as diabetes and heart disease, which can be prevented by eating a healthy diet. Shifting back to healthy, traditional homemade meals, no matter what your cultural background is, will help improve your overall health status and reduce your risk. Thanks to globalization, you can now find lentils, cassava, coconut milk, halal meats and many more ethnic foods at your local grocery stores. So get in the kitchen, whip out one of your mother's or grandmother's recipes and cook a traditional meal!
My mother graciously shared her falafel recipe with us. Feel free to adjust the ingredients and the quantities to suit your taste. I love recipes because you can always find a way to tweak it and make it your own.
Depending on the size of the falafel, this recipe makes about 70 falafel patties. You can make as much or as little as you need and freeze the remaining batter.
Here are a few health benefits of falafel to keep in mind:
A source of Fiber: Falafel can help lower bad cholesterol, feed good bacteria found in your gut, and regulate your hunger.
A source of Iron:  Iron is a mineral essential for blood cells and helps transport oxygen from your lungs to the rest of your body. Add some parsley to your falafel sandwich and the Vitamin C it contains will help you absorb that Iron.
A source of Vegetarian Protein: Wrapped in a whole-wheat pita, a falafel sandwich becomes a complete source of protein. 
Ingredients:
2 cups of cooked Fava Beans
½ cup cooked Chickpeas
½ cup fresh parsley
¼  cup  Fresh coriander
5 small onions
3 cloves of garlic
2 tablespoon of flour
½ tablespoon of baking soda
½ tablespoon of baking powder
1 tablespoon of salt
1 tablespoon of pepper
½ teaspoon of ground cumin
½ teaspoon of ground cinnamon
½ cup of Canola or Vegetable oil
Instructions:
1. In a food processor, combine fava beans, chickpeas, parsley, coriander, onions and garlic.
2. Pulse until well combined.
3. Add flour, salt, pepper, cumin and cinnamon. Pulse again until well combined.
4. Transfer the batter into a bowl.
5. Heat up a wok or a pan then add the oil. Here you can use as little as you need, just enough to reach about ½ inch of the pan.
6. Using an ice cream scooper, or your hands, make 3 cm balls and shape them into patties (or how ever big or small you would like your falafel to be) and gently drop them into the oil.
7. Cook each side for about 4 minutes until golden brown.
8. Remove falafel patty from the pan and place on a plate cover in paper towel to remove the excess oil.
Serve the falafel in a pita pocket with your favorite vegetables. I like to drizzle mine with tahini.
This article was produced exclusively for Muslim Link and should not be copied without prior permission from the site. For permission, please write to info@muslimlink.ca.