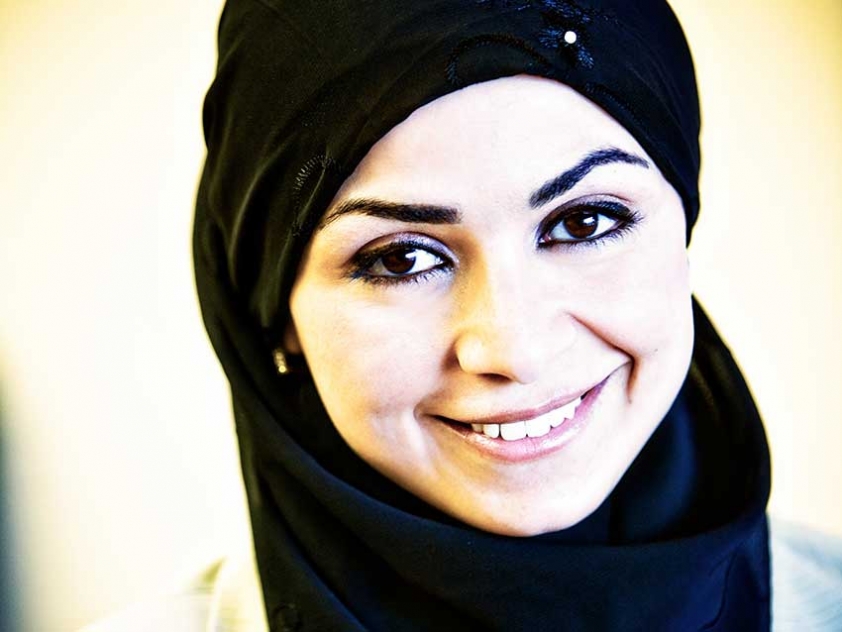 Ottawa dentist Ghada Al Sabawi gives advice on how to have a bad breath free Ramadan.
13
June


2016
Advice from a Muslim Dentist on How to Have a Bad Breath Free Ramadan
Written by Ghada Al Sabawi
Bad breath—an embarrassing experience that most of us have encountered at one time or another. Unable to drink anything or brush our teeth during the day in the month of Ramadan, bad breath can be an ever-present possibility. Ottawa dentist, Dr. Ghada Al-Sabawi, shares advice on what might be triggering bad breath and offers strategies on how to reduce the risk of having bad breath during Ramadan throughout the year.
****
Bad breath is unpleasant and can be socially isolating. It can also affect your self-esteem and even relations with family and friends.
A healthy body is reflected in your skin, hair, nails, and also your breath. It is important to note that persistent bad breath can be a symptom of an underlying systemic medical condition such as respiratory, digestive, or metabolic disease. Bad breath can also be a side effect of a medication or a result of a habit like smoking. Oral diseases such as gum disease, decaying teeth, and an oral infection will cause bad breath as well. If you regularly experience bad breath, you should visit your physician and dentist to rule out and treat any underlying diseases.
There are many factors that can worsen an existing bad breath condition or give rise to one during the fasting month of Ramadan. With the long hours of fasting in the summer heat, dehydration is inevitable.  Dehydration reduces the flow of saliva in your mouth, which decreases your mouth's natural defense against oral bacteria. As a result, your mouth's tissue cells that fall off are left for bacteria to break down into the dreaded "fasting fumes", also known as bad breath.  In addition to decomposing dead cells, bacteria break down decaying food that is left in between your teeth or that is stuck in the creases of your tongue when you haven't been able to brush or floss, resulting in even more oral fumes.
Hydration, controlling the types of food you consume, and taking care of your oral hygiene during Ramadan are essential to prevent fasting bad breath.
Here are four simple steps to follow to help achieve a bad-breath- free Ramadan:
1. Visit your dentist for a professional cleaning.
If all medical and dental diseases are ruled out, it is still beneficial to visit the dentist for a professional cleaning before Ramadan. This ensures that you are starting your fast with a clean and healthy mouth. Calcified plaque that has been fermenting around your teeth will only increase the challenge of a bad-breath during Ramadan.
2. Control the levels of hydration in your body.
The objective is to increase your hydration and decrease dehydration. Optimizing your hydration is not just about drinking lots of water. It is directly linked to eating more raw vegetables, fruits, and fiber. To minimize how much fluid you lose throughout the day, you should limit your physical activities, decrease your stress levels, and avoid caffeinated, sugary, salty, greasy, and spicy food. The iftar hours (the time when you are not fasting) are short and precious; consequently, you should plan your eating and drinking wisely to ensure a healthy, bad-breath- free fast.
3. Avoid highly aromatic food.
Certain types of food can leave smells on your breath or they can disturb your digestive system, which can result in your body producing gassy by-products with an unpleasant odour. Raw garlic, raw onions, and some spices are the most obvious culprits. If you do have meals with these types of food or spices, you should drink lots of water. However, it is better to avoid these types of meals in the fasting month of Ramadan as much as possible.
4. Optimize how you take care of your oral hygiene at home.
You should brush and floss after sohoor (pre-dawn meal during Ramadan) and before the start of the long hours of fasting. You can also consider scraping the top of your tongue and flushing your mouth with antimicrobial, non-alcoholic and fluoridated rinses/mouthwashes.
Oral hygiene is an Islamic practice and is in agreement with the Sunnah. On the authority of Abu Hurairah (may Allah be pleased with him), the Messenger of Allah (peace be upon him) said, "Were it not that I might over-burden my people I would have ordered them to use siwaak (tooth-stick) before every prayer". (Bukhari).
Wishing Ramadan-observers a bad-breath- free, healthy, and accepted fasting.
This article was produced exclusively for Muslim Link and should not be copied without prior permission from the site. For permission, please write to info@muslimlink.ca.