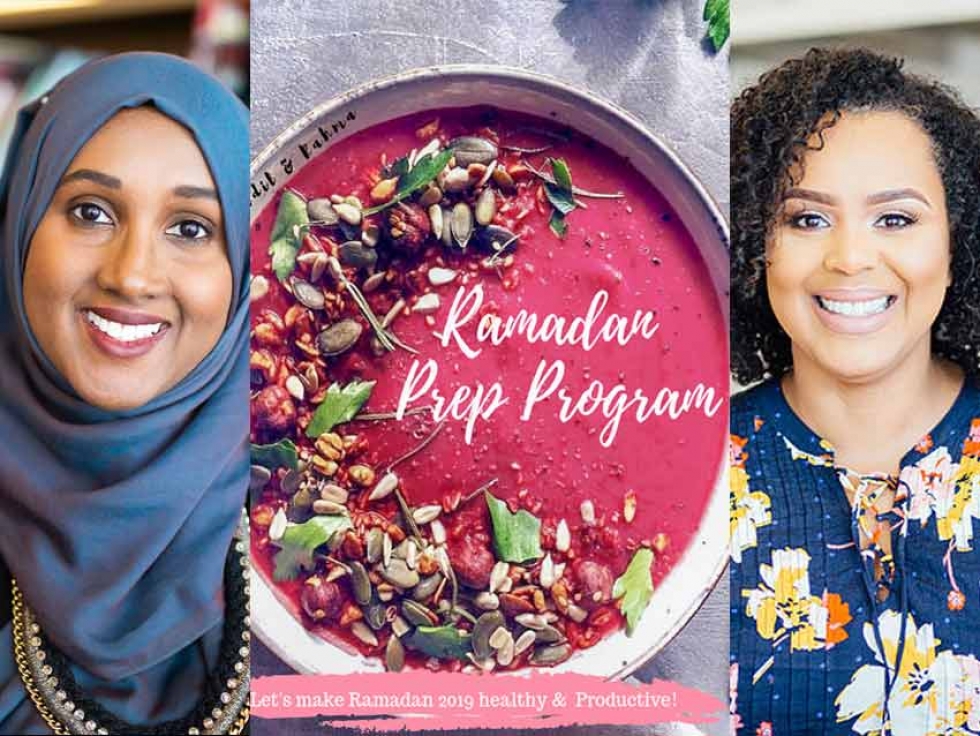 Idil Farah and Rahma Mohamed have partnered to create a Ramadan Guide for Busy Women.
01
May


2019
Advice from a Busy Mom on How Sisters Can Have Both a Spiritual and Productive Ramadan
Written by Rahma Mohamed
Whenever I think of Ramadan approaching, I get anxious, but I have never told this to anyone. Most people are expressing excitement, and here I am sitting in a pool of dread. So I have kept this feeling to myself for a long time. I know I shouldn't be feeling this way, but I can't help it: every year Ramadan comes, I begin with anxiety, and I finish with regret.
Every lecture you listen to will tell you how you should be doing so much ibadah (worship) but as mothers who work and have young kids why don't we talk about the struggle? The struggles of women having a hard time dealing with not being able to pray or fast for a whole seven days? The struggles of mothers who can't attend the night prayers and who feel left out? The struggles of running a household, raising kids and sometimes failing to connect as we should with Allah?

I know there is a blessing for all those little daily things we do for our kids, husbands, and families but how can we get rid of this feeling of regret and shame of not having done enough?
Inshallah, I want this year to be different for me and any woman reading this. This year, the goal is being productive during Ramadan so much so that no feeling of guilt or remorse will remain in the end. It's about coming prepared, able to adjust and, most importantly, live in the moment. It is about doing your best, giving your all and praying and asking Allah to forgive your shortcomings.
With this aim in mind, I partnered with nutritionist Idil Farah to develop a holistic minded Ramadan program for sisters such as ourselves who are being pulled in every direction and who desperately crave to end their Ramadan with a sense of ease and comfort.
Ramadan is a great opportunity to press the rest button and the Ramadan for Us Prep Program E-Book will provide you methods, meals and strategies to help you carve out more time to focus on worshiping Allah this Ramadan. it's about understanding be more intentional with your time and how to properly nourish your body so you feel your best both physically and mentally.
Here is a small excerpt of our E-Book:
Prophet Muhammad (ﷺ): said: "Take advantage of five matters before five other matters: your youth before you become old; your health, before you fall sick; your wealth, before you become poor; your free time before you become preoccupied, and your life, before your death." (Narrated by Ibn Abbas in the Mustadrak of Hakim & Musnad Imam Ahmad. Sahih)
What does productivity mean in Islam?
Since Islam is a complete way of life with clear recommendations for each facet of our life, being a good Muslim also implies being a productive Muslim. Ramadan is when we should be the most productive. We are called to do more than we would typically do; we must challenge ourselves to go the extra mile. But remember: "One of the greatest pieces of advice given by The
Prophet Muhammad (pbuh): was: "The most beloved actions to Allah are those performed consistently, even if they are few." [Sahih Bukhari]
We conducted a survey, and one of the first questions we asked was: what comes to mind when you think of productivity during Ramadan? What do you think most people answered?
Most people were concerned about these three things:
How can I manage my time and balance all my responsibilities?
How can I maximize my time?
How can I carve more time for worship amidst my busy schedule?
How can I manage my time and balance all my responsibilities?
During Ramadan, we should technically be spending less time cooking, less time cleaning up and less time eating. But is that the case? Do we not in fact think a lot more about food? Do we not cook extravagant dishes reserved only for this time of year? The purpose of Ramadan is to disconnect from this world and try to connect our souls more with Allah. We are asked to fast so our bodies may experience the hunger and discomfort of others who have less year round.
So the first piece of advice is to keep things simple.
Abu Umamah reported: The companions of the Messenger of Allah, peace and blessings be upon him, mentioned the world one day. Prophet Muhammad (pbuh) said, "Do you not hear? Do you not hear? Verily, simple living is part of faith, simple living is part of faith." [Sunan Abī Dāwūd 4161]
Let us not waste more time preparing and concocting elaborate dishes when our time could be spent more wisely. Balance is not always possible, but our best attempt is often enough. By organizing your tasks and preparing certain things ahead of time, you will be able to save time and allocate more of your energy and focus on your ibadah rather than the endless chores around the house. Finally, remember that, in this month, the most important things are your worship and your connection to Allah. Keep that first and last, filling your day with the rest as you see fit.
How can I maximize my time?
When you become a mother, you realize you no longer have the luxury to do one task at a time. You must combine tasks if you ever want to finish anything in a reasonable amount of time. Can you imagine cooking one meal at a time? How long would it take you if you had to wait until one meal was fully prepared before starting the next? I am sure it would be hours of unnecessary effort. We all know that the faster you complete a task, the more time you have to finish others. Well, what if you could combine tasks and multitask efficiently? This practice will enable you to maximize your time and utilize those hours where you are busy doing your daily chores.
Let me give you some examples of times where you can incorporate some ibadah amid your other responsibilities.
While cooking, you can listen to Islamic lectures or Qur'an
While driving to and from work, listen to Quran and memorize
Cleaning time can also be the perfect time to listen to Islamic lectures or Qur'an
How can I carve more time for worship with my busy schedule?
We are all running after more time: more time to sleep, to rest and to relax. The reality is, we don't have more time. We have what time God has allocated to us, and it is our responsibility to use it wisely. So how can we carve more time for prayer, soul searching, duaas and Qur'an reading?
Here are a few ideas:
Meal planning and batch cooking can save you tons of time
Cancel all extracurricular activities for the month
Ask for time off from work (especially for the last ten days)
Plan ahead of time for Eid clothes and gift buying
Order your groceries online with your meal prep list
The Ramadan for Us Prep Program E-Book also includes:
A comprehensive guide with detailed content on health and productivity tips for prior and during Ramadan.
A complete cookbook with over twenty-five healthy recipes that will save you time and money.
A one-week meal plan that will take all the guesswork out of what's for Iftar.
A full grocery list of all the recipes mentioned to help you shop like a pro.
Printable templates and worksheets for tracking your progress and goals.
Bonus content such as coloring pages and book lists for both kids and adults.
FINALLY, a private Facebook group for those seeking a virtual sisterhood during Ramadan.
If you wish to learn more about our Ramadan Prep Program, click here.
Read the article about the Ramadan Prep Program online on CBC here.
This article was produced exclusively for Muslim Link and should not be copied without prior permission from the site. For permission, please write to info@muslimlink.ca.