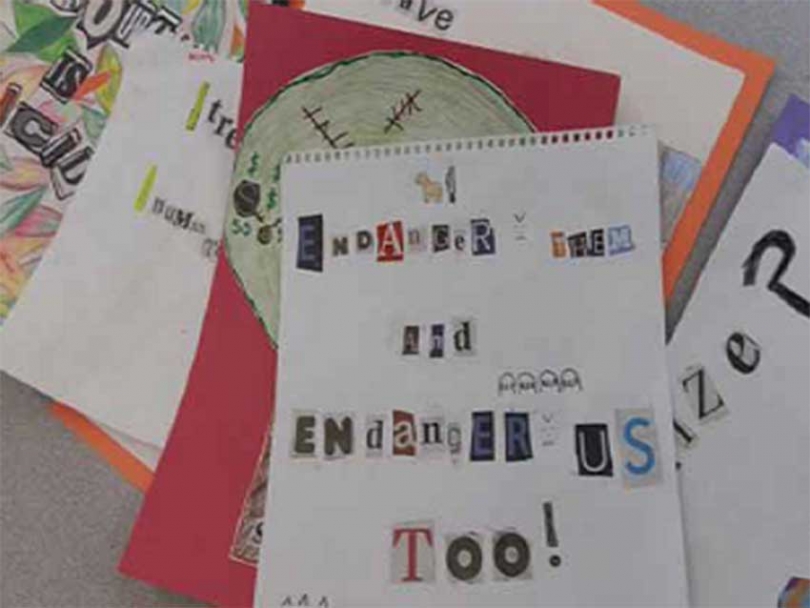 Art work by Grade 5 students at Abraar School protesting the proposed development at Beaver Pond. The students recently took a field trip to the March Highlands to explore unique biodiversity of the area.
Photo Credit: Amira Elghawaby
03
Nov


2011
A student's thoughts on Kanata wetlands development
Written by Sarah Aboukarr
For many years now local Algonquin First Nations and local residents have been struggling to win an important debate about whether one of the last green areas in all of Ottawa should remain untouched or be developed.
Clear-cutting has started on the Beaver Pond forest in Kanata to make way for development.  Members of the First Nations and local residents want it stopped and fast.
When I first heard about the Beaver Pond construction I decided to do some research. I watched a couple of videos about how important it is to preserve our few habitats for Ottawa's natural animals and wildlife. I was awed by the beauty of the Beaver Pond forest. I was angered because of what would become of it if we don't do something about it.
At the end of the first video there was the list of people to contact if we wanted to have a say in it. I felt like emailing each and everyone and telling them about how I really felt about this whole problem. I mean are they that blind to not notice that if they keep cutting down trees just because "they need to make more space because our population is expanding" we will eventually drive our whole species extinct!
If they keep this up there will be no more humans to be thankful for the extra space. Maybe they should work on making more space efficient buildings and not on cutting down our forests.
I felt so angry lying in bed an hour later. Honestly what is going through their minds when they give permission to cut the trees down and build on top?  Do the construction workers feel at all guilty when they cut down each beautiful majestic tree? Do they even know that at this rate the generations to come will live in a heavily polluted world because of the low oxygen rates because there aren't enough trees on the planet to absorb the carbon dioxide and let out oxygen? And that this will all happen because they are cutting these trees down today?
I think everyone should try their best to be as eco-friendly as possible and do everything in their power to stop this horrible event from happening. Remember, every tree counts.
Sarah Aboukarr is a grade eight student at Abraar School.  
This article was produced exclusively for Muslim Link and should not be copied without prior permission from the site. For permission, please write to info@muslimlink.ca.