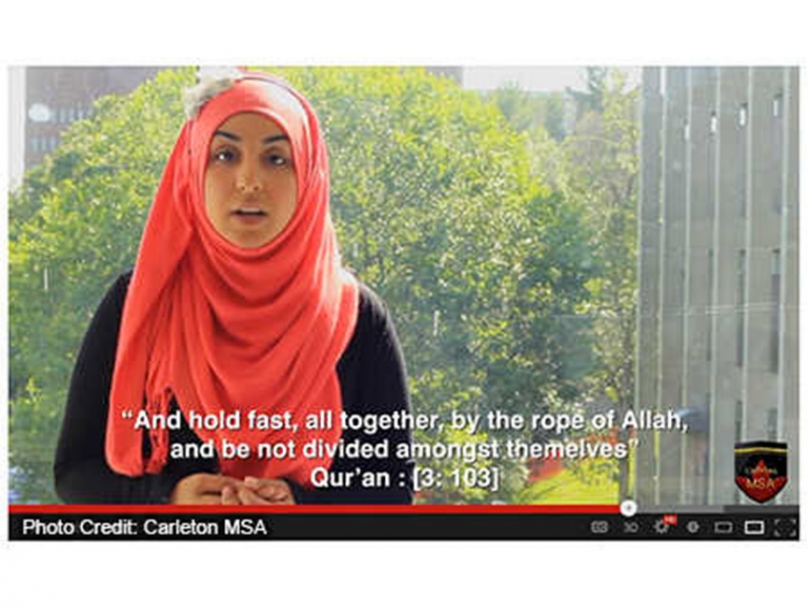 12
Aug


2013
YouTube Series offers Ramadan Reflections
Written by Layla Abdi
In an effort to help students make the most of Ramadan this year, a team of Carleton University Muslim Students' Association (MSA) members created a YouTube series called "˜Jewels of Ramadan'. The series is made up of 12 episodes, released every Monday, Wednesday, and Friday before iftar during Ramadan.
According to Iman Ghader, the series' co-director, the choice of time was strategic.
"Before iftar is when everyone wants to waste time. They go on social media to get distracted as they wait to break their fast so we thought that was the best time because more people will be online," Ghader explained. "It's better that they spend that time learning about their religion than watching prank videos," added Nouran Hashem, a writer for the series.
Each video lasts less than three minutes and offers viewers reflections on spiritual lessons of Ramadan such as the unity of Muslims, trust in God, not taking things for granted, humility and repentance which students can apply to their everyday lives. Quotations from the Qur'an and Hadith are also written on the screen so it is easy to read and refer to. "We focused on topics that related to working on [oneself]," Hashem said.
"Every Ramadan people try to learn something new, try to change. So having all these episodes during Ramadan, maybe one of them, maybe two of them, you can choose to focus on and learn something from and work on it," added Yasser Fouad, a producer and assistant director for the series.
"˜Jewels of Ramadan' is hosted by Jenan Dayfallah. "We chose her because honestly, she was the best at presenting in front of a camera," Fouad says.
"It's nice to see a sister who is not just doing hijab tutorials," Hashem shared. "For sisters, hearing from a Sheikh is different than hearing it from another sister. It makes it easier to relate to," Ghader added. Guest speakers also include Islamic Hip Hop trio "House of Halaal" members Ali Islam and JaeDeen.
The videos have reached up to 800 views so it's clear these videos are reaching a wide audience of young Muslims, which is exactly what the team hoped to achieve. "We are trying to make more students feel like the MSA is something they want to be a part of," explained Ghader.
Although the team has loved all the positive feedback, they welcome constructive criticism so that they can improve for next year. "We were so rushed putting it together this year but inshallah next year we will have more time to plan it out," Fouad explained.
The team also hopes to find other ways to use YouTube videos to help revive the MSA's YouTube Channel, spread knowledge about Islam, as well as raise awareness of the MSA's activities.
To learn more about Carleton University's Muslim Students' Association visit their website: www.cumsa.ca  
This article was produced exclusively for Muslim Link and should not be copied without prior permission from the site. For permission, please write to info@muslimlink.ca.