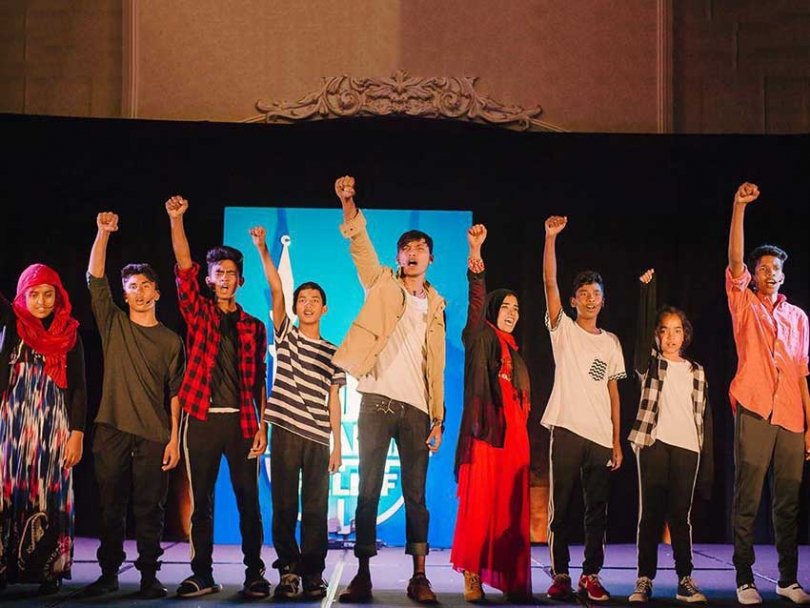 A scene from the play I Am Rohingya performed by Rohingya refugee youth in Kitchener, ON and directed by Yusuf Zine.
Innerspeak Digital Media
13
Sep


2017
What Muslim Canadians Can Do To Show Solidarity With The Rohingya in Myanmar, Bangladesh and Canada
Written by Chelby Daigle
Muslim Canadians are rallying across the country to support the Rohingya in Myanmar/Burma and Rohingya refugees who have fled to Bangladesh.
On September 13th, Prime Minister Justin Trudeau spoke with Daw Aung San Suu Kyi, State Counsellor of Myanmar.  "The Prime Minister conveyed his deep concerns over the situation in Rakhine State for Rohingya Muslims and other ethnic minorities. He stressed the particular importance of the State Counsellor as a moral and political leader.  The Prime Minister also emphasised the urgent need for Myanmar's military and civilian leaders to take a strong stand in ending the violence, promoting the protection of civilians and promoting unimpeded access for the UN and international humanitarian actors. The Prime Minister and the State Counsellor discussed the need to defend and protect the rights of all minorities. The Prime Minister offered Canada's support to help build a peaceful and stable society in Myanmar that is respectful of the rights of all ethnic minorities. The State Counsellor expressed appreciation for Canada's contribution to humanitarian efforts."
Muslim Link has compiled a number of events and initiatives in Canada that you can support if you want to show solidarity with the Rohingya people.
Listing an initiative is not an endorsement by Muslim Link of any of these initiatives or charities. Muslim Link is sharing these items for information purposes only.
If readers have questions about these events, please contact the event organizers. When possible, we have provided their contact information or links to their contact information.
If there is a Canadian-led intitiaive you would like to add to the list, please email This email address is being protected from spambots. You need JavaScript enabled to view it. and we will consider adding it.


Attend Rallies in Solidarity with the Rohingya
There are rallies taking place across Canada in solidarity with the Rohingya.
See if there is one in a city near you:
Montreal
Ottawa
Toronto
Calgary
Edmonton
Vancouver
Attend Fundraising Events
There are fundraising events organized by various Islamic charities taking place across the country.
See if there is one in a city near you:
Montreal
Ottawa
Toronto/GTA
Calgary
Edmonton
Vancouver
Amplify the Voices of Rohingya Refugees in Canada
Although not a large population, there are Rohingya refugees living in communities across Canada.
It is important to reach out to these individuals and, when possible, offer them a platform to share their stories.
Muslim Link has had the opportunity to interview younger members of Canada's Rohingya refugee community such as Ahmad Hashim Ullah from Kitchener, Ontario and Yasmine Ullah from Vancouver, BC.
If you want to see if there are Rohingya community members in your city, consider contacting the Rohingya Association of Canada or the Rohingya Youth in Canada.
A group of Rohingya refugee youth living in Kitchener, ON, worked with director Yusuf Zine to develop the play "I Am Rohingya". They were able to successfully crowdfund to cover the costs of producing a documentary about the making of the play. Now would be a great time to find a way to share this important work. 
Consider reaching out to the team currently producing the documentary to see if there is any way to help support the production process or to work with them to ensure the documentary is screened widely across Canada and beyond. You may contact them at This email address is being protected from spambots. You need JavaScript enabled to view it..
 
Sign the Petition Asking Prime Minister Justin Trudeau to Revoke Aung San Suu Kyi's honorary Canadian citizenship
This petition has over 13,000 signatures. You can sign it online here.
Why hold Aung San Suu Kyi responsible for what is happening to the Rohingya?
According to InterPares, an Ottawa-based human rights organization, that has worked in Burma/Myanmar for over 25 years:
"Burma's constitution places the military beyond control of the civilian government, but we believe the current elected government under Aung San Suu Kyi and her National League for Democracy has the public support and the political sway to rein in the military if it chooses. Malala Yousafzai, who like Aung San Suu Kyi is a Nobel peace laureate and honorary Canadian citizen, on September 3 called on her to condemn the violence. The UN Special Rapporteur on Myanmar has called on her to "step in.' 

However, the government position has already been made clear. Even before the latest violence, Aung San Suu Kyi labelled Rohingya women's reports of military sexual abuse as "Fake Rape," and accused Rohingyas of burning down their own homes to qualify for international assistance. Her government has systematically blocked humanitarian aid from reaching not only the Rohingyas, but also displaced civilians in Kachin and Shan States. This itself is a crime under international law. Soon after the latest violence began, her official web site accused international humanitarian organizations and the World Food Programme of supplying "terrorists" and even taking part in their military operations. Aid agencies had to evacuate staff, knowing that this was a governmental green light for vigilante mobs and military to attack them. Both Aung San Suu Kyi and her government have consistently denied all reports of military abuses, and are currently blocking a UN-mandated fact finding team from accessing the region. All of this amounts to direct complicity in crimes against humanity."
You can also write your MP through the portal Stop Genocide here
This article was produced exclusively for Muslim Link and should not be copied without prior permission from the site. For permission, please write to info@muslimlink.ca.