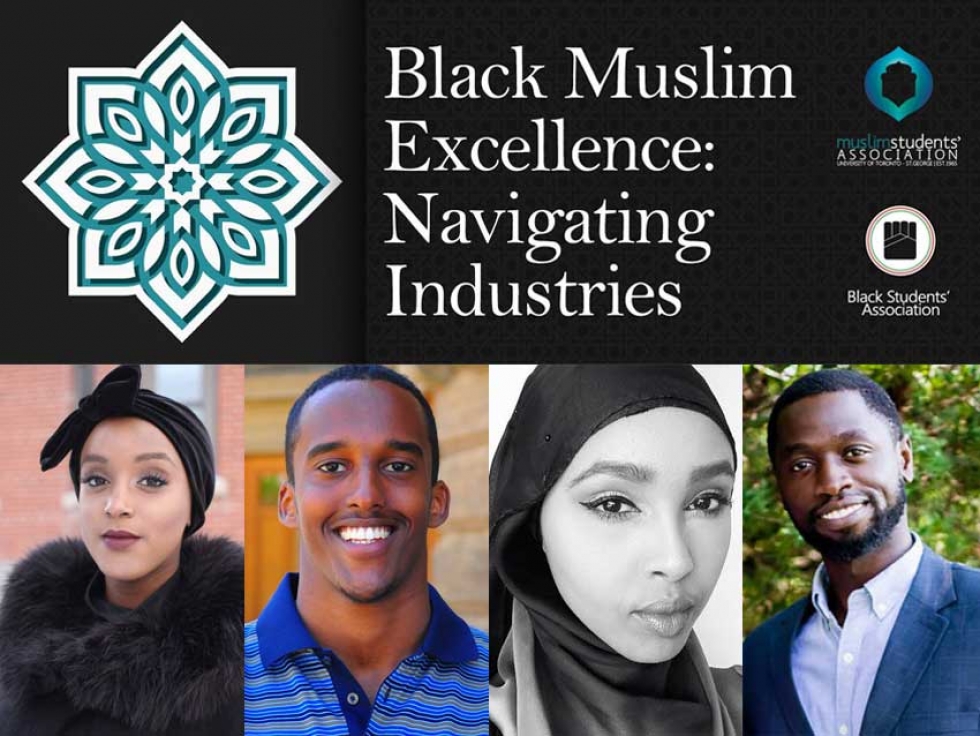 Check out Black Muslim Excellence: Navigating Industries at the University of Toronto on February 14 to hear from Black Muslim Canadians working in the fields of journalism, law, and technology.
11
Feb


2018
What Is Your Muslim Organization Doing For Black History Month?
Written by Chelby Daigle
Muslim Link would love to know what your Muslim organization is doing for Black History Month. Be it your MSA, your mosque, your women's group, your Islamic school, your civic engagement group, your anti-Islamophobia group?
What are you doing?
Prime Minister Justin Trudeau
officially recognized
the
UN Decade for People of African Descent
on January 30th.
If you are in Ontario, your government now has an official strategy to specifically address anti-Black racism.

Each year Black communities are one of the most targeted groups for racially motivated hate crimes in Canada, and since 2012 had the MOST hate crimes reported.
As of 2016 the community with the most reported hate crimes is the Jewish community but Black communities still had the second highest reported hate crimes in 2016 according to Statistics Canada.
So what is your Muslim organization doing to help our country be a safer & more inclusive place for Black people? Let us know by sending an email to This email address is being protected from spambots. You need JavaScript enabled to view it. or commenting on this article.
We would also love to hear about how your organization is improving representation of Black peoples in terms of speakers on your panels and at your conferences, as well as representatives on your board of directors and amongst your staff so that Black Canadians are better reflected within Muslim community spaces.
Although it is great to engage with Black Muslims during Black History Month, frankly your organization should be doing that all year round.
Instead, Black History Month is the perfect time to be engaging with non-Muslim Black communities by attending their events, inviting them into our mosques and Islamic schools as speakers, and collaborating with them on events and initiatives (ie the University of Toronto's MSA is collaborating with the U of T Black Students Association on an event).  Reading books or articles is not enough-you need to be building relationships with people. If we are committed to addressing the serious issue of systemic anti-Black racism within our communities and within Canada, we must also be sure to engage with our fellow Black Canadians who are not Muslim "offline".
Tips for organizing relevant Black History Month events:
1. Build Relationships: Make sure to invite a Black speaker to present to your organization. This is even more urgent if you are a mosque, Islamic school, or organization that does not have much many Black community members. Even better co-organize an event in partnership a Black community organization. For example, if you are an MSA, partner with one or more of the Black Students' Associations on campus. If you are a mosque partner with a Black community association or even a church with a predominantly Black congregation.
2. Connect the past to the present: Make sure participants learn about how past experiences, particularly experiences of injustice, have led to present realities for Black peoples in Canada
3. Reflect on the Black Canadian present and future: Be sure to highlight ways Black Canadians are contributing members of your city, province, and Canada as a whole
4. Connect the dots: Discuss how it is important to understand how the experience of Islamophobia in Canada is connected to earlier and ungoing experiences of anti-Black racism in the country
5. Learn about your neighbours: Find ways to learn about the Black communities who live amongst you ie: Black Nova Scotians, Jamaicans, Haitians, Somalis, Ethiopians, Eritreans, Nigerians, Southern Sudanese, Senegalese. Different Black communities have settled in different cities across Canada so make sure to learn about the Black communities in your particular locality!
6. Challenge prejudices within your communities: Discuss how negative stereotypes about Black peoples, both Muslim and non-Muslim, negatively impact them. Discuss how Islamically racism is seen as a form of pride and arrogance and anti-Black racism was specifically denounced by the Prophet (pbuh) so as Muslims we must challenge ourselves to unlearn these prejudices as a way of purifying our hearts
Need ideas? See some good examples of relevant Black History Month events from Muslim organizations across the country:
Check out the upcoming events being organized by these Muslim Canadian organizations across Canada:
Toronto: February 23: Masjid Toronto presents Black Muslim Contributions with Dr. Abdullah Hakim Quick

Vancouver: February 23: Simon Fraser University Centre for Comparative Muslim Studies presents Community Conversations Being Muslim: Black & Muslim

London: February 24: London Muslim Mosque Black History Month Open House with Imam Yasin Dwyer
Mississauga: February 24: ISNA presents Moving Beyond Black History Month and Towards Inclusive Communities with Gilary Massa
Toronto: February 25: Noor Cultural Centre Black History Month Film & Discussion with Imam Yasin Dwyer

Scarborough: February 26: UTSC MSA Deeper Roots Black History Month Panel

Edmonton: February 27 The Green Room: Stories of Being Black & Muslim
Waterloo:  February 28: Black to the Future: Centring Black Narratives in Islam

Events that took place earlier this month
Toronto: Aspire2Lead & the Black Muslim Initiative Reclaiming Our Lives!: An Information Session for Communities Impacted by the Criminal Justice System

St. Catharines: Brock University MSA and the Brock University Social Justice Centre present Napolean Life of an Outlaw with Mutah Beale
Montreal: MSA Concordia Black History: From Islamic West Africa to the Americas with Sheikh Abdullah Hakim Quick

London: Islamic Institute of Toronto Forgotten Roots The Untold Story of Black Muslims in America
Toronto: Muslim Students Association at the University of Toronto and the U of T Black Students Association present Black Muslim Excellence: Navigating Industries-Hear from Black Muslim Canadians working in the fields of journalism, law, and technology
If you want to do something for Black History Month but are having trouble finding speakers in your city, message Muslim Link, we can help connect you to great local speakers.
Check out the bios of the speakers at Muslim Students Association at the University of Toronto and the U of T Black Students Association present Black Muslim Excellence: Navigating Industries on February 14.
This article was produced exclusively for Muslim Link and should not be copied without prior permission from the site. For permission, please write to info@muslimlink.ca.