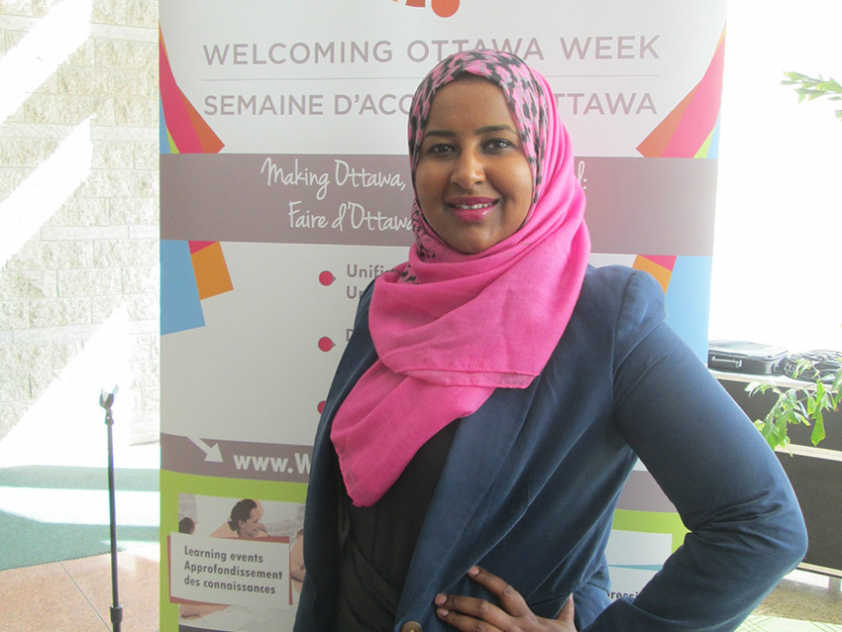 Naima Shegow works with the Somali Centre for Family Services and manages social media for WOW
Chelby Daigle
27
Jun


2014
Welcoming Ottawa Week Celebrates Ottawa's Immigrant Communities
Written by Chelby Daigle
On June 23rd Ottawa Mayor Jim Watson opened Welcoming Ottawa Week (WOW) at City Hall for the second year in a row. WOW is an initiative of the Ottawa Local Immigration Partnership (OLIP) was founded in October 2009 by the City of Ottawa and Local Agencies Serving Immigrants (LASI). The partnership is funded by Citizenship and Immigration Canada with the mandate of improving local capacity to attract, settle and integrate immigrants. Events during the week range from academic lectures about migration to restaurant walking tours in Chinatown. The week ends on Saturday, June 28th with the Community Cup, a city-wide soccer tournament at Brewer Park.
"Our team is going to win the championship" stated Naima Shegow, who is convinced that the Somali Centre for Family Services' team, representing Alta Vista Ward, is the best team in the tournament. Shegow immigrated to Canada with her mother when she was 13 and she now works managing youth services at the Centre but helped with social media for WOW this year.
"I'm an immigrant here so being part of something that celebrates all immigrants, welcomes diversity, and sheds light on what every day immigrants contribute to the City of Ottawa is wonderful," Shegow explained, "It brings out the old and the new, the person who has been here five years, and the person who has been here twenty years. It's a time to celebrate where we all came from and I think it is a nice tradition to add to the Ottawa community."
Shad Qadri, City Councillor for the Stittsville-Kanata West Ward, attended the WOW launch for the first time. His family immigrated to Ottawa from Pakistan in 1963 when Councillor Qadri was eight years old. Councillor Qadri believes immigration to Ottawa must be encouraged in order to help the city compete in a globalized world. "Today we are not just dealing with local markets anymore," he explained, "We are dealing with the worldwide market, that's why it is great to see the face of the City of Ottawa diversify."
Councillor Qadri agreed that an important factor of successful integration is a development of a sense of belonging. "I look at my community as my extended family, and that is the way I think we should be looking at the city, that's the way we should be looking at the country, coming up to July first we should be all proud to be here," Councillor Qadri explained.
But Naima Shegow feels that finding community can become particularly difficult for Muslim newcomers who she feels need the added support of the established Muslim community to help them adjust to life in a non-Muslim country. "We are not well connected. Often we don't know about events or the events are really divided by culture like the Somalis are having their thing and the Pakistanis are having their thing," she explained, "So a good thing would be for Muslims to have a better portal to communicate and I think that is where Muslim Link comes in to help people know more about all of the events that are happening."
She is grateful for the support of local mosques in Ottawa-South towards the Somali Centre for Family Services. "Our directors and senior management have a good relationship with the mosques," she stated, "At last year's fundraising dinner Masjid Assunnah bought a table." But she sees the importance of Muslim community members playing a direct role in the lives of Muslim newcomers beyond financial support. As many Muslim newcomers in the area are refugees, the reality is that they tend to take much longer to become integrated into their communities than other immigrants. "They are still suffering from integration problems around housing, language, schools," she explained, "They don't know what is happening in their city, they are not involved in voting because they don't know who to vote for, what issues to support, so it would nice if the Muslim community members who are not newcomers in the South help them."
An addition to WOW this year is the WOW Ambassadors Award, which recognizes and celebrates Ottawans who show support, hospitality, and respect to immigrants as they find their way in Ottawa's community. Each Ambassador was nominated by a newcomer to Canada who he or she supported on his or her integration journey.
In order to develop more empathy for what newcomers to Ottawa struggle with, Shegow encourages people to visit the WOW Ambassadors exhibit at City Hall. "The stories of the ambassadors and nominators made me reflect back on how my mom felt when she came," Shegow explained. "As a child I didn't see what my mom was going through in the integration process because she sheltered me from all of these challenges from finding employment, to finding friendship, to getting involved in the city, feeling like you belong. Realizing how she must have struggled from these stories made me go back home and thank my mom. I encourage other children of immigrants to come to City Hall and look at the exhibition and bring their parents because I think this is a big thank you to the parents."
The Community Cup at Brewer Park will take place on Saturday, June 28 (9:00 AM to 5:00 PM) – two days before Canada Day, in order to accommodate the start of Ramadan this year. More than 2,000 guests are expected to gather to enjoy this fun-filled family event, with soccer matches, demonstrations of sports favored by immigrants such as Speedminton, Judo, Skateboarding, and Tai Chi, children's games, an international food bazaar, and many more activities throughout the day.   At 1:00 p.m. everyone can witness a citizenship ceremony where 40 new immigrants will give their oath of citizenship and receive their Canadian citizenship.   To learn more about the Community Cup visit their website
Click here to read about this year's WOW Ambassadors and their nominators.
To learn more about the Ottawa Local Immigration Partnership visit their website
To learn more about the Somali Centre for Family Services visit their website
This article was produced exclusively for Muslim Link and should not be copied without prior permission from the site. For permission, please write to info@muslimlink.ca.