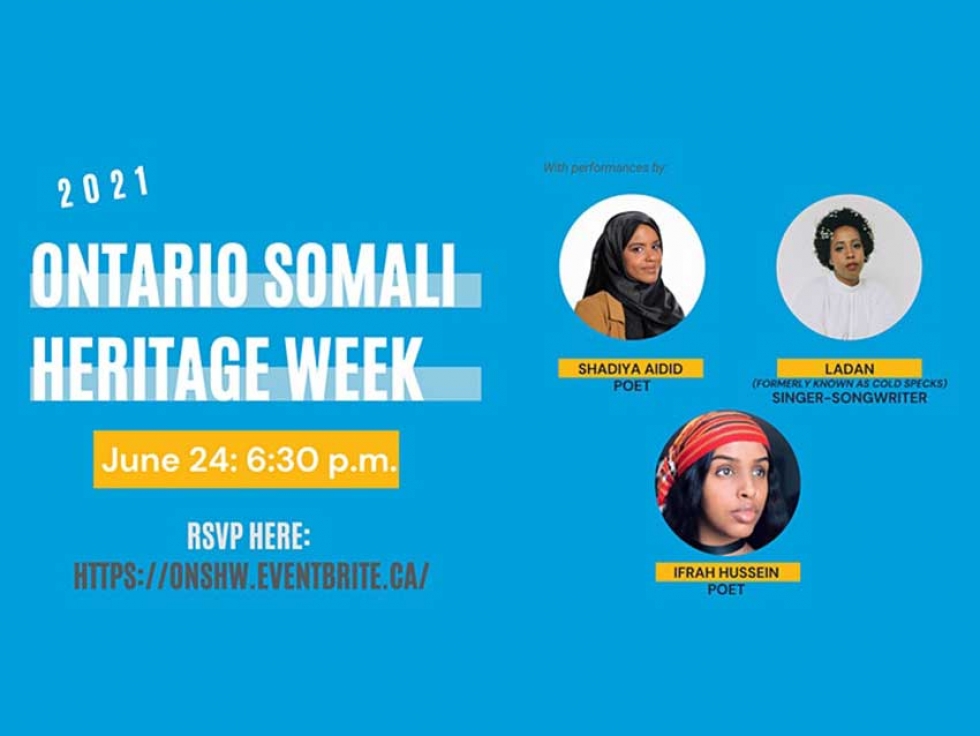 25
Jun


2021
Watch the Ontario Somali Heritage Week Launch Event Online
Written by Hawa Mire
Somalis are one of the largest African diaspora communities in Canada, with an estimated 62,550 Somalis living in Canada, although ten years ago, Somali agencies estimated that number was closer to 150,000. Somali-Canadians represent a vibrant part of Ontarian and Canadian society.
In October 2020, the Province of Ontario proclaimed the week of June 25 through July 1 as Somali Heritage Week as a way to recognize the economic, political, social and cultural achievements and contributions of Somali Canadians in all aspects of Ontario society. The bill to recognize Somali Heritage Week was introduced by Somali Canadian Faisal Hassan, a NDP Member of Provincial Parliament (MPP) for York-South-Weston in Toronto, Ontario.
The province of Ontario is the first jurisdiction in North America to officially recognize Somali Heritage Week.
On June 24, a launch event for Ontario's Somali Heritage Week was organized by Somali Canadian Hawa Mire, who is currently running as the NDP federal candidate for York South-Weston.
The speakers and performers for this event were as follows:
Member of Provincial Parliament for York South—Weston, Faisal Hassan was elected to the Legislative Assembly of Ontario on June 7th 2018, and proudly represents the riding of York South-Weston.He is the Official Opposition Critic for Youth Opportunities and is a member of the Standing Committee on the Legislative Assembly. Faisal is a member of the Ontario NDP Black Caucus, a first of it's kind in Ontario legislative history. He is also a proud York South–Weston resident and an engaged community advocate. He has volunteered on the boards of the Centre for Equality Rights in Accommodation (CERA), Habitat for Humanity and the Weston King Neighbourhood Centre.
Dr. Safia Aidid is a historian of modern Africa and an Arts and Science Postdoctoral Fellow in the Department of History at the University of Toronto. Next year, she will begin an appointment as Assistant Professor of History and African Studies at UofT. She received her BA from UofT and an MA and PhD in History from Harvard University. Her research focuses on anticolonial nationalism, territorial imaginations, borders and state formation in the Horn of Africa, with a particular focus on Somalia and Ethiopia. She is currently working on a book entitled "Pan-Somali Dreams: Ethiopia, Greater Somalia, and the Somali Nationalist Imagination" which traces the history of Pan-Somali nationalism and its desire for a Greater Somalia. In addition to her scholarly work, Safia is a contributing writer for several online magazines and blogs including Africa is a Country, Popula, and The New Inquiry.
Sarah Jama is a community organizer from Hamilton, Ontario. She is co-founder of the Disability Justice Network of Ontario (DJNO) and holds a Social Sciences degree from McMaster University. Her lived experiences have fostered interests and a passion for: community engagement, disability justice, and activism. Sarah currently works at the Hamilton Centre for Civic Inclusion as an Outreach Coordinator and is also a Community Engagement Liaison to Councillor Matthew Green at the City of Hamilton. In her spare time, she acts as a consultant, and is currently working with the Hamilton Wentworth District School Board to create anti-racism training and peer support based curriculum for students at the school board.
Hawa Yahia Mire is the Principal Consultant at HYMIRE Consulting. She is a proven strategic senior leader, equity consultant and community organizer with two decades of non-profit experience focused on high-impact community development. In 2017 she completed a Master's degree in Environmental Studies from York University where her research examined community storytelling as a place of transformation. Hawa is a critical writer, commentator and columnist with Ricochet Media that has been featured on Macleans, Briarpatch Magazine, Metro Morning, CBC, CityTV, Rabble among others. She is also the federal NDP Candidate for York South—Weston.
Formally known as Cold Specks, Ladan has been releasing music for a decade. Her first release as Cold Specks was in 2011 with the single 'Holland' and b-side 'Old Stepstone'. This led to critical acclaim and an appearance on renowned British show Jools Holland. Shortly after, she released her debut album 'I Predict a Graceful Expulsion' which led to a Juno nomination and shortlist nomination for the Polaris Prize.
After touring North America and Europe extensively, she recorded 'Neuroplasticity' and released it in 2014. The trumpet playing on the album was provided by Blue Note Records artist Ambrose Akinmusire. In 2017, she released 'Fool's Paradise'. After a few years off, she began the process of writing for her fourth album and first under her own name Ladan. The songs were written with Ed Harcourt, Chantal Kreviazuk, Ben Christophers and Malcolm Middleton. It will be released by beloved uk label Mute Records in the near future.
Shadiya Aidid is a poet, community organizer and arts educator. Growing up in a Somali household, she learned about the world through oral history and storytelling. She believes that stories can unravel the apathy and ignorance that uphold injustice, and uses spoken word poetry to invoke introspection and action from her audience. Shadiya has been writing, teaching and performing for over 6 years and her work has been featured on CBC, the Homebound and Roots anthologies, and has been screened at multiple arts festivals. Her latest project "Power in Poetry" is available as an audio-book on Audible.
Ifrah Hussein is a Somali-Canadian award-winning poet and author of "An Anthology of Grief or the ways a Somali Woman Loves". Ifrah completed a 2019 North American Tour called "The Heavy Caravan Tour" which received stellar reviews. Ifrah was the recipient of the Best Spoken Word Artist award by the ByBlacks People's Choice Awards 2019 and was also shortlisted for the 2020 International Somali Awards in the UK. Ifrah represented Canada in Paris, France and was named among the top 4 countries at the poetry world cup. Ifrah is also the 2017 Canadian Individual Poetry Slam Champion, making her the first woman to hold the national title and was also among the top 5 of 96 poets at the Women of the World poetry slam, making her the only Canadian to make finals-stage in its 12-year history. Her second collection of poetry is also forthcoming.
You can watch this event online on Facebook here (It make it a few moments for the video to load)