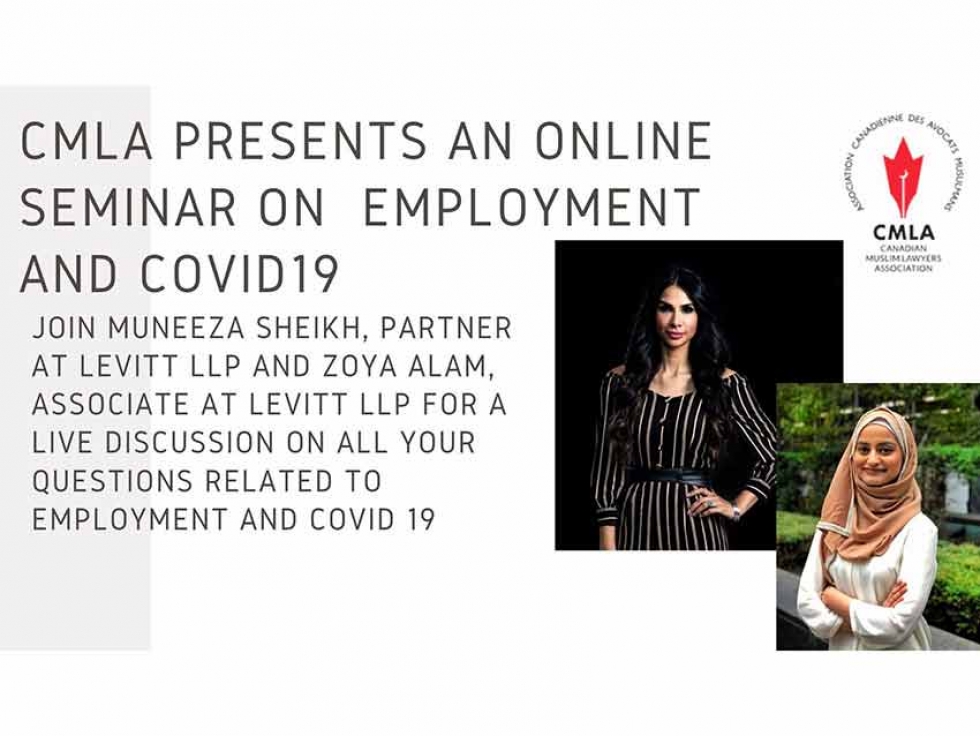 The Canadian Muslim Lawyers Association organized a Webinar about Employment during the COVID-19 Crisis on March 20, 2020
Canadian Muslim Lawyers Association
26
Mar


2020
This webinar has now be uploaded on YouTube.
Watch Toronto-based lawyers Muneeza Sheikh, Partner at Levitt LLP, and Zoya Alam, Associate at Levitt LLP, address questions on the rights of employers and employees during the COVID-19 crisis, including whether employees can be forced to change travel plans, whether employees who stay home still get paid, what happens if there's a layoff, and much much more!
(It may take a few moments for the video to load from YouTube)
Please note: this video does not constitute legal advice. It is for educational and informational purposes only.
Muneeza Sheikh practices in the area of labour law and employment law in Toronto, Richmond Hill, the GTA and across Canada. She provides advice and representation in employment law matters to corporations and executives, including termination, dismissal, hiring, contracts, human rights and employment litigation. Muneeza successfully resolves difficult and complex employment law matters, both litigious and non-litigious. Muneeza has a significant media presence in Toronto and across Canada, and appears regularly on CBC, Global, City TV, CTV, and CP24 as one of the leading experts in Canada on labour law, employment law, and human rights issues. Muneeza also sits on the panel for the Global Morning show, and CBC with Carole MacNeil. Muneeza works closely with her employer clients to ensure their policies relating to employment law and human rights are enforced and applied throughout the workplace in a manner that is efficient and consistent. She conducts a number of management and HR workshops, to help keep employers apprised of what their obligations are under the current employment legislative scheme. In her labour law practice, Muneeza works with employers in preparing and presenting complex labour matters before administrative tribunals and the court. She has represented clients before the Ontario Labour Relations Board, the Workplace Safety & Insurance Board, the Grievance Settlement Board, and at private arbitrations. Within her practice, Muneeza has also conducted a number of workshops on the importance of diversity engagement in the workplace. In 2015, she was a speaker at the Women and Leadership conference, and spoke specifically to diversity and equality in the workplace. In her personal time, Muneeza acts as a Board member for the Muslim Welfare Centre, a Canadian charity doing work both inside and outside of the Muslim Community. She is also the Director of Communications for the Canadian Muslim Vote, an organization that strives to increase the engagement of Muslim Canadians in the democratic process. Muneeza is regularly invited to present workshops at mosques, community centres, shelters, and various universities to speak about her experience as an employment and labour lawyer, and a human rights activist. 
Zoya Alam practices in the areas of Employment and Labour Law, with a focus on litigation, drafting, and advocacy. She prides herself in providing practical and innovative advice and representation to employee and employer clients in a range of workplace matters including dismissals, discrimination, contracts, employment standards, and severance packages. Zoya has appeared as counsel before various courts and administrative tribunals including the Ontario Superior Court of Justice, the Ontario Labour Relations Board, and the Ontario Human Rights Tribunal. Zoya complements her litigation practice through her experience working in full-service civil litigation firms and an intellectual property firm, focusing on the preparation and litigation of patent and trademark applications. Zoya is committed to access to justice for all individuals and is passionate about diversity engagement in the workplace. She has previous experience working at a legal clinic where she established an employment and administrative law practice, drafting pleadings and HRTO applications and conducted confidential negotiations on behalf of her clients. In her personal time, Zoya is actively involved in various community initiatives and serves as Chair of the Nominating Committee of the Girl Guides of Canada and a Board of Director of the Canadian Muslim Lawyers Association. She is also an avid world traveler and lifetime Toronto Raptors fan.