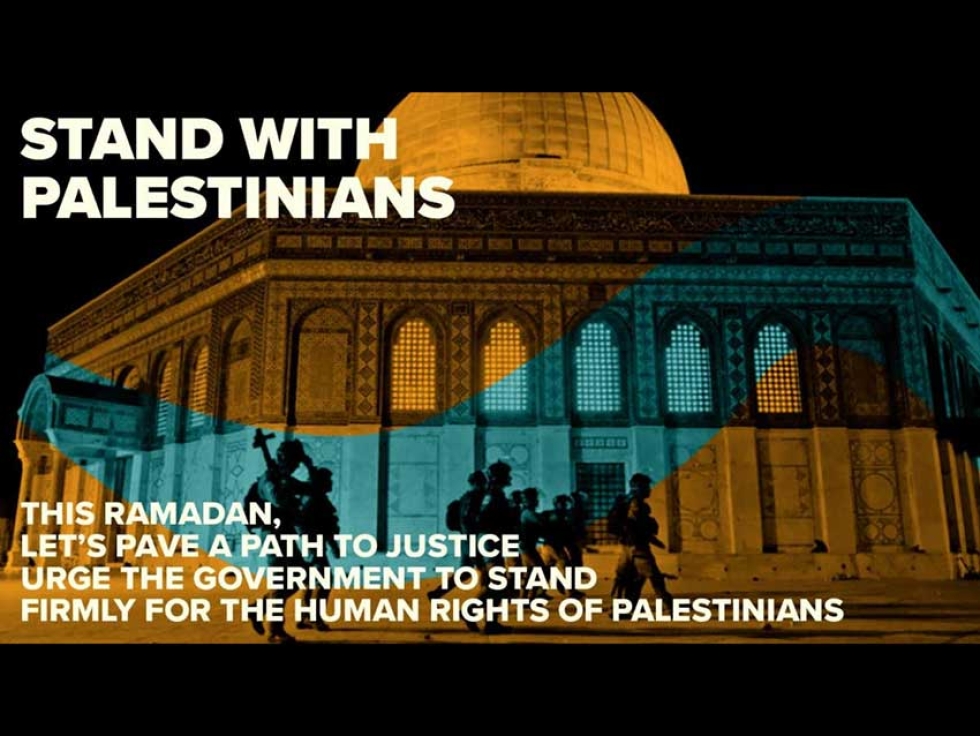 05
Apr


2023
Assalamu alaikum / Peace be upon you all
Our love for the people and the land of Palestine is undeniable. It is the land of the Isra and Mi'raj, of Masjid Al-Aqsa. It is a special place, a sacred place that lives in our hearts.
We feel this connection with all of God's creations, of making sure that no blood is ever spilt, that our loved ones are kept safe.
But right now, in this holy month of Ramadan, there is a very real danger to that which we love.
Last night, I know that, like me, many of you watched in horror as videos of Israeli forces raiding Al-Aqsa emerged online. The escalation of violence against Palestinians, especially during the holy month of Ramadan is a reality that we simply cannot stand by and accept.
Palestinians of all faiths have long experienced oppression at the hands of an occupying force.
Just before these raids, the Government of Israel's National Security Minister called for armed authorities to raid the Al Aqsa compound and mosque, where thousands of Palestinians gather, particularly during Ramadan, to worship and pray.
Last month, Israel's Finance Minister also said that, "There is no such thing as a Palestinian nation. There is no Palestinian history. There is no Palestinian language."
We have repeatedly raised concerns about these incitements by the Israeli state.
In the last 24 hours we have tirelessly advocated for condemnations of this violence by Canadian parliamentarians. This is a welcomed step, as no one should stand by as a marginalized people are consistently and violently abused. But words are not enough.
Today, we ask you all to join us in speaking out for Palestinian human rights and defending the sanctity of the Al-Aqsa. We ask you to urge our Minister of Foreign Affairs to:
Publicly condemn the actions of the Israeli regime clearly and unequivocally
Recognize the jurisdiction of the International Criminal Court in this matter so that criminal violations of international law in the region can be appropriately investigated and prosecuted. We cannot pick and choose when we stand up for human rights
Take a stand by banning all illegal settlement products from entering Canada - and can immediately mandate the labelling of those products in the same way the EU does
This Ramadan, many Palestinians will be facing constant harassment by armed authorities who enforce a military occupation.
It is our responsibility to stand up for their rights.
So please support our work.
We cannot forget those among us who cannot fully celebrate this month.
Whose basic rights are being violated. It is time we stood up.
This Ramadan, we need to pave a #PathtoJustice.