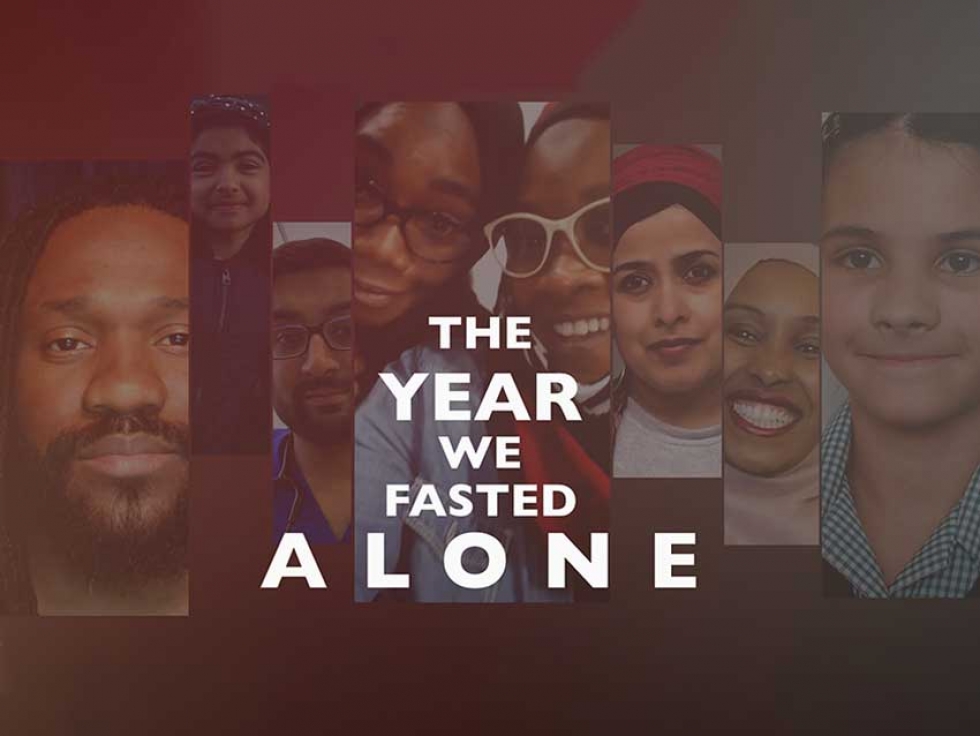 07
May


2021
The Year We Fasted Alone: Canadian Documentary about How Muslims Are Coping with Lonelier Ramadans
Written by Chelby Daigle
For another year, many Muslims around the world are spending Ramadan unable to pray taraweeh in their local mosque or visit family and friends for iftar.
Last year, Canadian filmmaker Nilufer Rahman of Snow Angel Films decided to document the first lonely Ramadan by crowdsourcing stories from Muslims globally about how the pandemic has impacted how they celebrate Ramadan. Now, during this second lonely Ramadan, her film, "The Year We Fasted Alone", is available to view on YouTube.
Muslim Link interviewed Nilufer Rahman about the making of her documentary.
Tell us about yourself
My name is Nilufer Rahman. I was born in New Brunswick, Canada, but have lived most of my life in Winnipeg. I was blessed to be raised by wonderful parents who always shared stories from their childhood in Bangladesh (then India and East Pakistan). These stories have always stirred my imagination and have made me appreciate the value of being connected to my roots. Respect for ourselves and our histories help us to respect one another and act in ways to uplift those around us.
I believe therefore, that storytelling has value and can motivate our behaviour. For this reason, my sister Saira and I started Snow Angel Films with the aim to create a compassionate space where diverse and marginalized voices can find expression to promote empathy and encourage positive social change.
How did you come up with the idea for this documentary?
When the pandemic was emerging as a reality last year, I felt compelled to do something positive and uplifting – which for me usually involves making a film. Due to the lockdown, filming as usual was difficult; so I thought to myself, why not just collaborate with others to collect content? And with the Internet at my disposal, why not go global? I was already seeing so many inspirational posts by friends on how they were navigating the pandemic. I was also seeing how the pandemic + Ramadan experience was encouraging shifts in perspectives and a new depth in personal and societal reflection. The idea of making a film with diverse voices seemed like the perfect way to connect with one another during this time of isolation and to contribute to our collective memory of this unprecedented time.
How did you go about reaching out to a diversity of Muslims to collect their stories of Ramadan during the pandemic?
Last year, CBC was offering relief funding to successful applicants with diverse COVID19 story ideas. I didn't want to overlook this opportunity, so I pitched this documentary about the first Ramadan ever during a pandemic (inspired by the film style of "Life in a Day"). Despite the fact that I didn't get the funding, I knew the film was worth making anyway. So with only two weeks left of Ramadan 2020, I quickly put a couple of "call for submission" trailers together (with the help of some friends!) and blasted them out on social media. I initially thought that I'd get inundated with submissions from all over the world and I'd have enough content to make something truly epic! But as the days passed by with no submissions coming in, I quickly realized that seeing an ad and actually responding to it are very different things. Plus, people needed more time, which I didn't have. I knew I had to take more initiative collecting content – and I knew I wanted the film to address broader issues. So I started to reach out to individuals in my network, and slowly people started responding. Beyond that, other submissions were coming in also! It wasn't the epic numbers I had envisioned. But in the end, that was probably a blessing…imagine the editing challenge that would have been! With the 35 submissions from 12 countries that I received, Alhamdulillah, I was still able to piece together a beautiful universal story that captures many voices from this unprecedented moment in history.
Did any submissions surprise you? If so, why?
All the submissions pleasantly surprised me in that I was thrilled to receive them! There is a lot of variety and each submission adds value to the film in its own way – from the deeper reflections of current realities to the more lighthearted energy of kids, YouTubers and Ramadan at-home-chefs! Everything added an important piece to the story of our universal humanity. I love the artistic submissions in the film – including the beautiful poetry, Quranic recitation, Ramadan decorations, singing and culinary creations. The art in the film – as in life – helps us to absorb difficult realities more deeply, with empathy and compassion.
How did you go about compiling the film?
To start, I watched everyone's submissions, probably several times, and made notes on the themes and content as well as the tone and how they made me feel. Then, I created a diagram to group themes, ideas and content together. I wanted the film to reflect the chronology of the month and roughly of a single day in Ramadan. Each section also had to flow smoothly into the next in a way that connects themes and emotions together. Whenever I edit a film, I choose music tracks fairly early on in the process – usually after I watch all the content. I find that the right music helps me immensely in building the scenes and underscoring the emotion that I felt when I watched the content initially. Early on, I also make note of scenes or sound bites that will work well at the start and end of the film. Deciding what to cut is always hard, but it usually comes down to avoiding repetition and maintaining a reasonable length and a good pacing for the film. I did my very best to include something from all the submissions. The editing process is challenging – but it's so exciting when things really start to gel. With this film in particular, the diversity of the puzzle pieces made it all the more beautiful to see them come together so seamlessly in a way that highlights our common humanity.
It touched me a lot that people were willing to share their authentic thoughts and stories, which I know is not easy. It was important to me to treat everyone's submission with the utmost care and respect. This means, in the process of editing someone's submission down from twelve minutes to one minute for example, I had to present what I felt was the essence of their message – in content and emotion – without diminishing it or misrepresenting it in any way.
How has the film been received?
Alhamdulillah, so far the film is being received well! There have been over 1000 views within the first five days of the film being posted – which is great for a 44 minute film. Many people have expressed their surprise at the range of issues that are addressed. I've personally received many comments that the film is not only emotionally engaging, but also very thought provoking – which is what I was hoping for.
What do you hope viewers take away after watching the film?
I hope that the film will have an impact on many levels. I want viewers to be entertained and feel like watching the film was time well spent! I hope that those who watch the film, especially during Ramadan, will feel emotionally connected to the greater community during this blessed month when we're meant to gather together. I pray that the film will inspire our continued reflection and concerted efforts around the broader issues we face as an ummah such as those raised in the film – poverty, displacement, community marginalization, gender inequalities, human rights abuses, domestic violence, managing grief and isolation, and facing lockdown, even outside of the pandemic.
Is there anything else you would like to add?
I really hope people find value in the film, no matter their age or background. I pray that Allah (SWT) showers His Mercy and Blessings on all those who are struggling during this time. May He bring ease, comfort, health and safety to everyone. May we gather together again soon inshaAllah and emerge stronger, more resilient and capable of building a more just and compassionate world. Ameen.
How can people view the film?
The film is available to view on the Snow Angel Films YouTube channel. Please feel free to share with others – family, friends, colleagues, coworkers, students, acquaintances – and do leave comments! We value your thoughts!
Watch "The Year We Fasted Alone" on YouTube below (It may take a few moments for the video to load from YouTube)
This article was produced exclusively for Muslim Link and should not be copied without prior permission from the site. For permission, please write to info@muslimlink.ca.