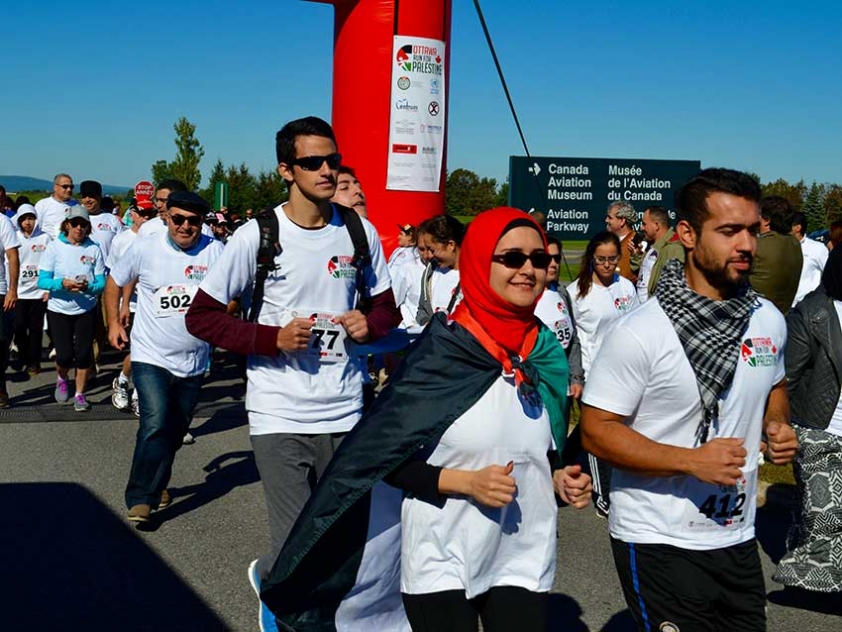 Participants running in the 2015 Ottawa Run for Palestine
Courtesy of the Ottawa Run for Palestine
19
Sep


2016
The Ottawa Run for Palestine Returns for a Second Year
Written by Muslim Link
Why did you found the Ottawa Run for Palestine? 
Because I believe in encouraging people to lead healthy lifestyles and I also believe that our children are our future and the lawful inheritors of this earth, so weaving those beliefs together resulted in the Ottawa Run For Palestine.  For me the run is symbolic: people often run away from something that they fear; from abuse, from challenges, from war etc., and they run for refuge, for shelter for safety.  I wanted Palestinian Children to feel that there is a solidarity movement, that there is support that, we Palestinian Canadians, are running for them, holding their hands to the shores of safety, for the hope of a better life and future.  

What degree of support did you get last year from Ottawa's Palestinian community?
We relied on a great number of committed volunteers forming the core organizing team of ORFP. We had the help of the Palestinian Community and the great support of the Association of Palestinian Arab Canadians-Capital Region (APAC) and the student organizations at both University of Ottawa and Carleton University.  

There are runs for Palestine in other Canadian cities. Why do you think it is important that a run takes place in Ottawa, Canada's Capital? 
Ottawa is our capital and people here are healthy and live to run.  In addition, Ottawans love charity work and we have many NGO'S here.  Moreover, we want to spread awareness about our run and why do we run and who are we running for.  We want to share our Palestinian cause, raise awareness and tell the Palestinian narrative.   

The Ottawa Run for Palestine is part of the Gaza5K movement. What is that exactly?
It's a movement of many American and Canadian cities to run a 5K In support of Palestinian Children in Gaza specially through raising funds to UNRWA's Community Mental Health Program.

Why do you think it is important to fundraise for UNRWA's Community Mental Health Program? 
Because UNRWA has a long trustworthy history of great public health work in support of Palestinian refugees. The Community Mental Health Program (CMHP) was established in 2002 and there are more than 186 counselors who do amazing psychosocial work to mitigate the effect of Post-Traumatic Stress Disorder (PTSD) in Palestinian children and youth as a result of the repeated wars, the air strike incursions and the continued siege imposed on Gaza.  More than 55% of the children suffer from severe forms of PTSD, 44% with moderate forms and 11% with mild forms. The catastrophe in Gaza is that usually with PTSD there is a start and an end to the trauma so you can heal but PTSD in these Palestinian children has no end because the trauma is ongoing. We want a generation of children who will be healthy and capable of leading a society in the future and CMHP is one of the programs that are helping and empowering those children. 

If people can't run, what are some other reasons why they should attend the Run?
They can walk.  Otherwise we have Palestinian food available, lots of activities for kids and Palestinian music and dabkeh (traditional dance). Last year more than 1000 people attended so it will be a nice opportunity to socialize and enjoy a fall day outdoors.
For more information about the Ottawa Run for Palestine visit here
This article was produced exclusively for Muslim Link and should not be copied without prior permission from the site. For permission, please write to info@muslimlink.ca.