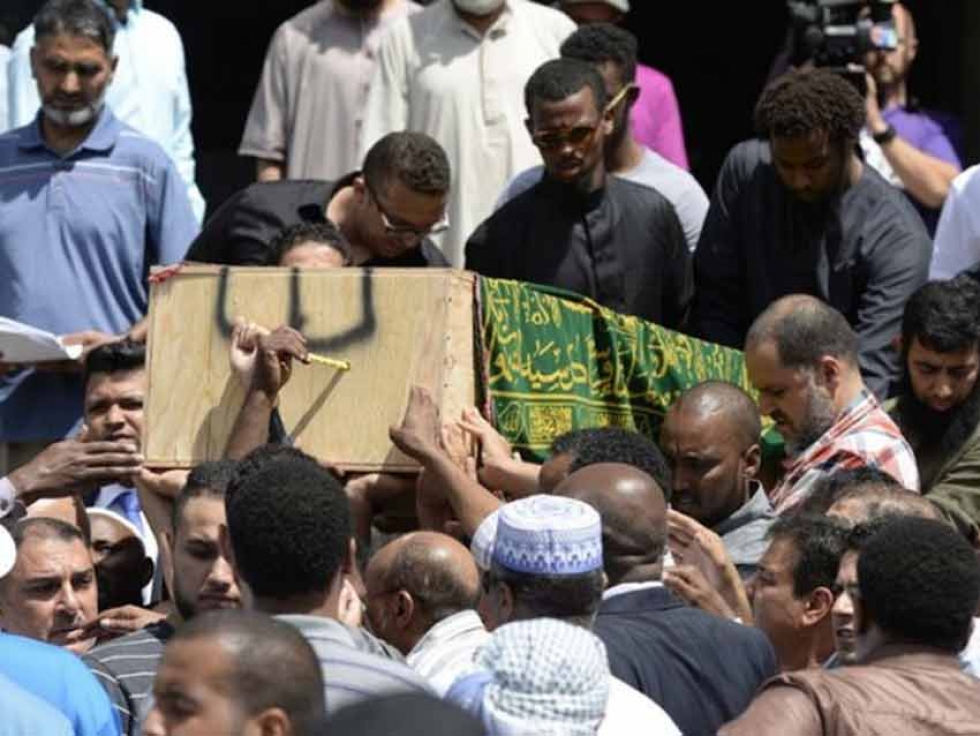 Mourners carry Abdirahman Abdi at his janazah (funeral) at the Ottawa Muslim Association in 2016.
Justice for Abdirahman Coalition
30
Jan


2019
Abdirahman Abdi was a 37 year old Somali-Canadian with mental health issues. He lived in Ottawa's Hintonburg community at 55 Hilda Street. On July 24th 2016, following an incident at a local coffee shop where police were called, Abdirahman began running home for safety.
Scared and confused, Abdirahman was pursued by an Ottawa Police Service Const. Daniel Montsion who, for unknown reasons, proceeded to violently beat him with assault gloves and a baton at the footsteps of Abdirahman's apartment building.
On March 6, 2017, the Ontario Special Investigations Unit (SIU) alleged that Const. Daniel Montsion was responsible for the brutal killing of Abdirahman Abdi and was charged with manslaughter, aggravated assault and assault with a weapon.
In just a few short days following Abdirahman's death, a group was formed: The Justice for Abdirahman Coalition was born. Based in Ottawa, the Coalition is supported by local and national advocacy groups. The group has advocated tirelessly to bring justice by way of legislative and policy reforms to ensure that what happened to Abdirahman would never happen again to anyone.
The Justice for Abdirahman Coalition is reaching out to you, our supporters, to inform you of a seminal date in our journey seeking justice for our late brother Abdirahman Abdi.
On February 4th, 2019 the criminal trial of Ottawa Police Const. Daniel Montsion will commence in Ottawa, on charges of manslaughter, aggravated assault, and assault with a weapon in connection with the death of Abdirahman Abdi. The trial is scheduled for a 12 week period from February 4th to May 3, 2019.
Despite hardships and setbacks you have embodied the virtues of empathy and kindness. In an effort to support the Abdi family, you have exemplified the best our city has to offer. Time and time again, you have answered our call for solidarity and support; be it vigil, community iftar or conference, we have organized and implemented over these past few years. With your backing,we have been able to introduce new legislation, a memorial and scholarship that ensures Abdirahman Abdi will have a positive legacy for years to come.
Beginning in February 2019, we call for your sincere support one final time. The trial will be a challenging time for the Abdi family, who will lean heavily on our collective support to get them through a long and grueling period.
To assist the Abdi family and ensure we maintain a united front in the face of trying times, we ask that you support through these calls to action:
Remember What Happened
On August 4, 2016 - the Justice for Abdirahman Coalition held its first public event: A press conference to address the tragedy that shook our city. We have prepared this short video for you to help remember what the early days felt like and what the following days will bring. Please have a look and share widely.
Attend the Trial
As a trial open to the public, you will have the opportunity to attend and bear witness in person, while showing your solidarity to the Abdi family.
For information about the trial, consult our website here.
We thank you dearly for your continued support and dedication over the years.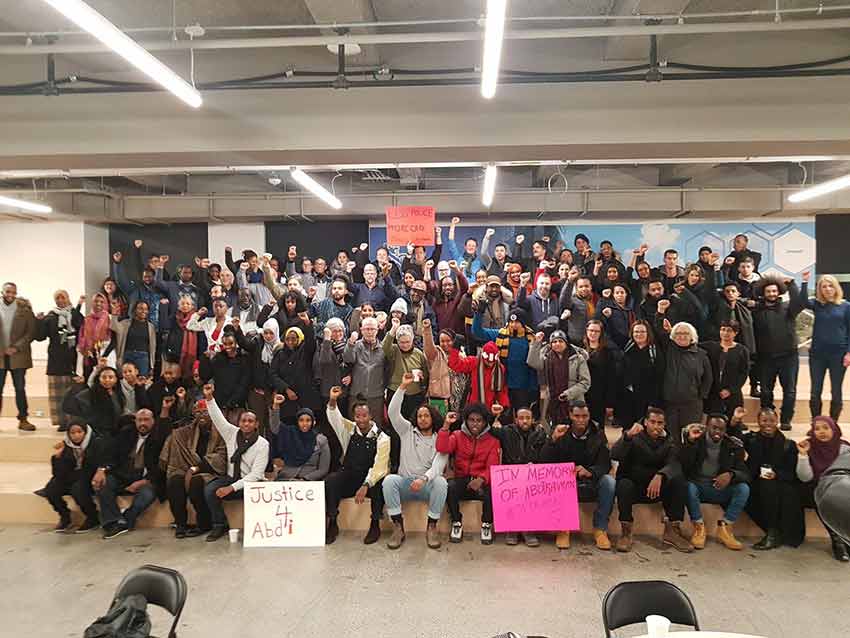 Community members gather at the February 1, 2019 vigil for Abdirahman Abdi. Photo Credit: Justice for Abdi Coalition