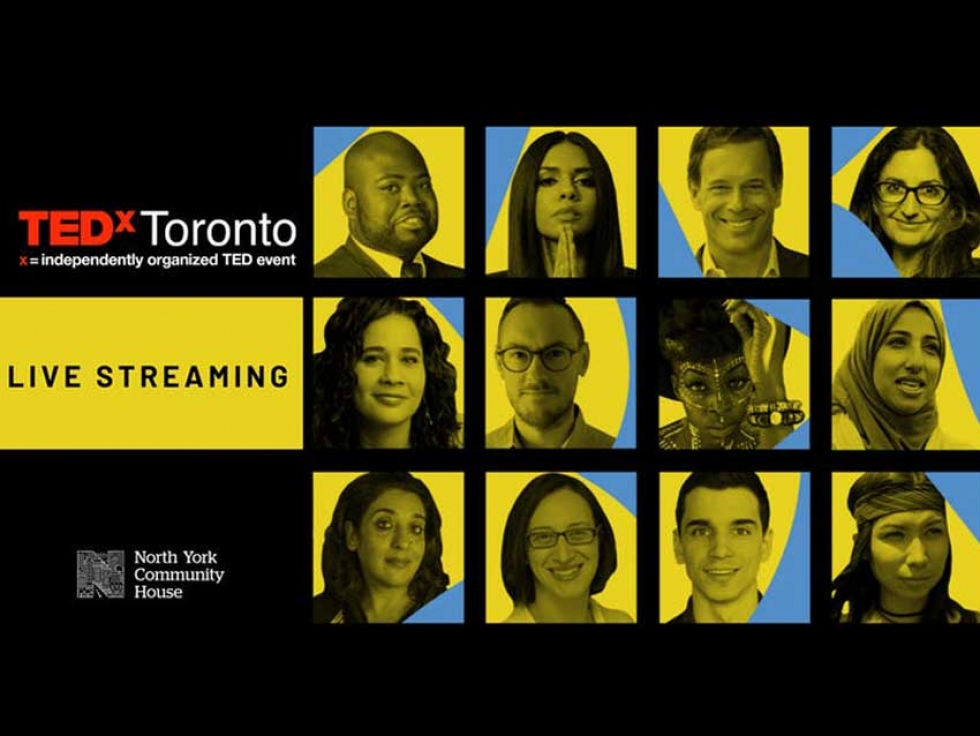 20
October


2019
TEDxToronto Being Livestreamed at Community Organizations in the GTA on October 26
Written by TEDxToronto
TEDxToronto is almost completely sold out, but some of the conference will be live-streamed on October 26 at the Polycultural and Immigrant Community Services in Mississauga from 9:30 am to 5:30 pm (register online here) and at the North York Community House from 1:00 pm to 5:00 pm in Toronto (register online here).
As one of Canada's largest TEDx events, the full day TEDxToronto conference aims to build a community of thinkers and doers, centered around the mission of ideas worth spreading, both big and small. Through this year's theme – Rise – TEDxToronto will bring voices to the forefront that might otherwise not have a stage to share their ideas.
TEDxToronto 2019 will feature speakers from diverse backgrounds, coming together to explore their perspective on what it means to rise. So many things are on the rise: new technologies and businesses, political movements, online communities, the temperature – our city. However, not everything that rises is good, and when some things rise, others get left behind.
So this year, TEDxToronto is asking: what will it take for us as a society to rise together?
The TEDxToronto speakers line-up includes members of Toronto's Muslim communities, including:
Gulshan Allibhai, Owner of Lahore Tikka House
Gulshan took over the operation of the iconic 400-seat restaurant Lahore Tikka House in Toronto's Little India when her husband, Alnoor Sayani, passed away in 2013. With a master's degree in social work, she has worked with diverse populations like immigrants, refugees and individuals with mental health issues. She currently teaches within the social work programs at Wilfrid Laurier University and Seneca College.
In her interview with TEDxToronto, Gulshan Allibhai states that "I believe that the collapse of the extended family has been detrimental to the development of a family-oriented society and will negatively impact the many individuals who already struggle with loneliness, crippling depression and anxiety. Growing up with strong ties to my extended family I have always found comfort in connecting with my cousins, aunts and uncles. The importance of staying close to extended family has faded over time as a result of increasing social and cultural fragmentation. Our increasingly rapid-paced society demands more time working and less time spent nurturing family bonds. But if we believe that it indeed does take a village to raise a child than this sacrifice of crucial family ties will be consequential to the well-being of our children and the future of society as a whole." 
Watch a clip of Gulshan Allibhai from the documentary Little India: Village of Dreams about the families behind the South Asian businesses of Gerrard Street in Toronto (It may take a few moments for the video to load from YouTube)
Shireen Ahmed, Writer, Podcaster, Activist for Muslim Women in Sports
Shireen Ahmed is an award-winning sports activist, athlete and community organizer. She is also part of a team of five women who created the Burn It All Down podcast, a feminist sports podcast that analyzes sports culture from the intersection of gender, race and religion. Shireen is on the advisory board of the Football Against Racism in Europe (FARE) and helps refugees use football as a vehicle for resettlement. Follow Shireen Ahmed on Twitter here
In her interview with TEDxToronto, Shireen Ahmed states that "I am a sportswriter who mostly publishes online and so I get waves of online abuse, and terrible emails. The topics I write about (racism and misogyny in sports) are prone to having trolls flock to them and use horrific ad hominins to come at me. I have been sent rape threats and insults about my children. I practice a lot of self-care and being verified on Twitter has helped weed out many of them."
Watch an interview of Shireen Ahmed about her social activism. (It may take a few moments for the video to load from YouTube)
To learn more about other TEDxToronto speakers, click here.