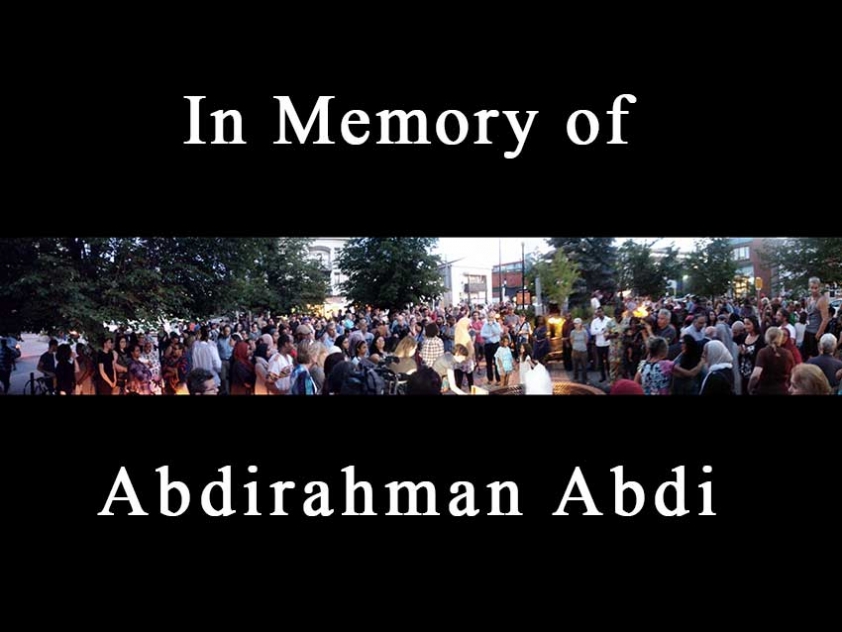 Hundreds gather for vigil in memory of Abdirahman Abdi
Siffan Rahman
27
Jul


2016
Supporting the Family of Abdirahman Abdi
Written by Muslim Link
Hundreds gathered on Tuesday for a vigil in memory of Abdirahman Abdi in front of his home on Hilda Street.
Member of Parliament Catherine McKenna as well as City Councillor Jeff Leiper were in attendance and have been showing ongoing support to Abdi's family.
Members of diverse communities across Ottawa attended the vigil to show support including large numbers of Somali, Black, and Muslim community members, representatives from social service organizations, and residents of the Hintonburg community.
During the vigil, Nimao Ali speaking on behalf of Abdi's family thanked the witnesses to Abdi's arrest who came forward to the Special Investigations Unit (SIU) about what they saw. The family and their supporters, along with other organizations such as the National Council of Canadian Muslims (NCCM), are demanding a fair and open investigation into Abdi's arrest by Ottawa Police which was witnessed by neighbours and passersby and also video recorded.
Abdi's funeral costs are being covered by the Ottawa Muslim Association.
Abdirahman's janazah (funeral) will take place Friday, July 29th beginning at 12:30pm with speeches from members of city council, Mayor Jim Watson, and MPP Yasir Naqvi at the Ottawa Muslim Association, 251 Northwestern Avenue.
To view coverage of the vigil in the Ottawa Citizen click here
Media Advisory Abdi Funeral
(Statement by the family)
The family of Abdirahman Abdi announces funeral service to be held Friday July 29, 2016
The family of Abdirahman Abdi, an Ottawa-area Somali-Canadian who was killed following an altercation with police July 24, 2016, announces funeral service to be held Friday July 29, 2016.
The funeral will take place at 12:30 pm at The Ottawa Mosque located at 251 Northwestern Ave. The funeral service will be led by Imam Mohamed Hachimi beginning with a statement delivered by a representative of the family.
The funeral service will be followed by a private procession to the burial site. To respect the mourning process, the family will not be available for questions following the statement. Media is asked to respect the privacy of the family for the burial.
The family will accept condolences starting from 6:30 P.M. Friday 29, 2016 at The Ottawa Mosque.
For further inquiries contact: Nimao Ali 613-866-1025
This article was produced exclusively for Muslim Link and should not be copied without prior permission from the site. For permission, please write to info@muslimlink.ca.