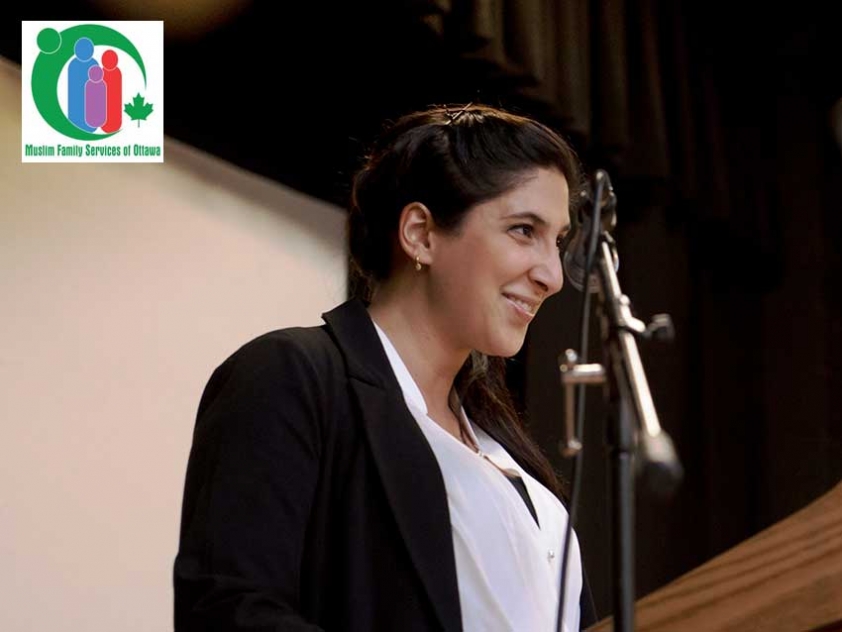 Shawana Shah is the Children's Aid Society Multicultural Liaison Officer for Muslim Family Services of Ottawa
Courtesy of CAS
21
Feb


2016
Supporting Muslim Children in Foster Care: Muslim Family Services' Work with the Children's Aid Society
Written by Chelby Daigle
Muslim Family Services of Ottawa (MFSO) was recently honoured for their work with the Children's Aid Society of Ottawa (CAS). MFSO has partnered with CAS to address the needs of Muslim children in foster care in the city. Muslim Link interviewed Pakistani Canadian Shawana Shah, MFSO's CAS Multicultural Liaison Worker, about MFSO's work and what is needed to better support Muslim children who come into care.
Tell us about yourself and how you got involved with this work
I studied psychology and sociology at the University of Ottawa. I did a Masters in Educational Psychology at McGill and a Masters in Counselling from the University of Ottawa. As a student, I was involved in the Muslim Students' Association. I had to coordinate Ramadan iftars for over 300 students at university. That was my first big experience working within the Muslim community. It was a great experience and I built a lot of networks within the community that way. 
When I went to McGill, I realized I liked working with youth in a social service setting so that is what I wanted to focus on professionally. Working with Muslim Family Services was a perfect opportunity for me because I really think these are services we need in our community and it has been great to be able to use my skills to give back to the community.
Explain the nature of your work with CAS
For the last three years, alhamduillah, we have been able to make a lot of headway in working with CAS to do education of their staff in order to be more culturally competent when working with Muslims and developing programming to serve Muslim children in care. There is two parts of this work: working with CAS and working with the Muslim community.
In terms of working with CAS, we have made a lot of progress. Every three or four months we do Lunch and Learn's with CAS staff.
We are also putting together a resource booklet for CAS staff and foster parents so that when they do get Muslim children in care they have this as a reference. We are developing this resource based on our research. We did three focus groups, one with foster families, one with staff, and one with kids in care to get feedback on what the challenges have been and what information they would have wanted when supporting Muslim children in care and when working with Muslim families.
A lot of the stuff non-Muslim foster families are not aware of are things like where do they buy halal food or why does the child say they need a bucket for water in the washroom. Yes it is important to give staff and foster families a background on religion, like the Five Pillars of Islam, but we also are providing them with real practical resources like where to buy hijabs or halal meat in Ottawa.
We are now doing an annual Eid party in partnership with CAS Friends for Muslim children who are currently in care with CAS and we are involved in CAS's back pack project for kids coming into care, so now each child will get a back pack filled with items according to age. We have included books and toys for Muslim children that would help keep them connected to their Muslim identity.
Both myself and the Executive Director of MFSO, Fouad Khan, are professionally trained counsellors so we can counsel youth and we can be called in if a CAS worker needs to consult with us on how to handle particular cases that require more insight into Muslim communities but also a professional counselling perspective.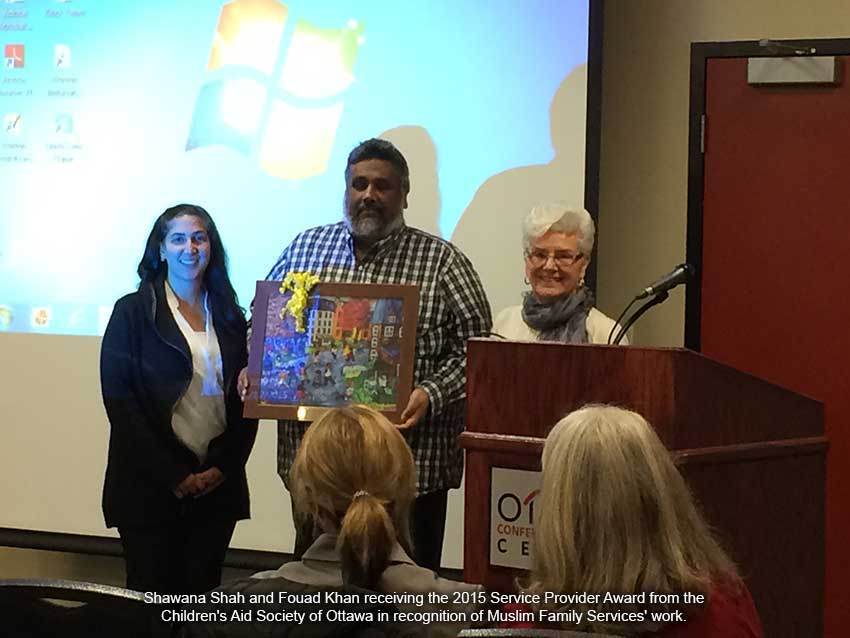 MFSO has also launched a mentorship project for Muslim children in care. We have trained 10 volunteers from within the Muslim community, young adults who can act as a Big Brother or Big Sister for kids who are in foster care. We are going to try to match them based on interests. It is a one year commitment. The hope is that these mentors can be that bridge for a child if they are placed with a non-Muslim family so they are not totally disconnected from their culture and religion and this can also help them be involved in their communities.
Why do you think it is important that Muslim children in care maintain ties with their culture and religion?
Being taken away from your home is traumatic in and of itself. If you are placed in a Muslim family you have a bit of an easier transition. But if you are placed with a non-Muslim family it can be a harder transition. It is important for the mental health of children in foster care to ease that transition as much as possible. Another issue that can arise is an identity crisis, depending on the age of the child, so if a child goes for two weeks to a year in a house with another culture and religion and then they are sent back to live with their family, that could cause a culture clash which can make their transition back into their family more difficult. So we need to work to make the transition easier for children and to help them maintain the identity they already have so they don't have the added stress of an identity crisis.
You mentioned that the other part of your mandate is working with the Muslim community. What does that involve?
Our hope now is to do more outreach to Muslim communities to provide supports, particularly around parental education, in order to inshallah prevent more children from coming into care. We want to educate the community about CAS, Canadian laws around disciplining your children, their rights as parents, and what supports they can access if they need help.
A lot of the difficulties we see that can lead to Muslim children coming into care are due to newcomer parents coming to Canada, not understanding the system here, particularly around discipline of children and the laws that exist here which may not have existed in their home country. So there is a real need to educate parents about these laws.
Also newcomer parents struggle because they don't have the same social support networks they had in their home countries. Back home, if they had problems in the home, there was an aunt or a cousin they could send their children to. You had your extended family for support. When you come here, you lose that social support network and that causes more stress and makes it harder for newcomer parents to deal with conflicts when they arise in their families.
Another issue we have seen is violence against women which has an impact on children in the home. This is another issue we want to do more education in the community about in terms of how to address this issue and how to prevent it.
Also, particularly as children get older, there are issues that arise due to culture clash. The parents want to maintain the culture they came from but you have a child that identifies more with certain aspects of Canadian culture and there is a power struggle or conflicts arise because the child is living a double life, they are one person at home and another person with their friends.
I think a lot of what our organization can offer to the Muslim community is education on the laws here and how to develop healthy parenting skills. We also can offer counselling to parents and youth who are struggling. Also now our staff is trained in the Caring Dads Program which actually focuses on helping dads develop healthier parenting skills. So these are the kind of services we are building to support Muslim families.
We also want to start doing more recruitment of Muslim foster families. We do have Muslim kids in care, that's a reality but there are not a lot of Muslim foster families so Muslim children are being placed with non-Muslim families which we know is a concern in the community. But if people are concerned than we need people to step up to become foster parents.
What are some of the challenges foster families, both Muslim and non-Muslim ,face when fostering Muslim children?
Some Muslim girls who wear hijab may not take off their hijab ever in the foster home because of the male members of the household. Also people who have pets, like dogs, when they get a Muslim child who is not used to having dogs around, that can be a real challenge.
There is also the reality that some children don't want anything to do with their religion because they have been through so much trauma. So you also need to support foster parents around how to navigate this. I find in working with youth that if you push someone to do something they have no interest in or are really resistant to, you are just pushing them further away and building up more walls. You are not building relationships, you are breaking them. That's not fostering a healthy environment for them. So when it comes to maintaining religious and cultural ties for these children, you need to work with them where they are at.
The reality is that Ottawa's Muslim community is very diverse. How is your organization connecting with this diversity?
Although we are a very small organization we are pretty well connected so we have created a database of people who we have outreached to, mainly Muslim professionals, often with a social service oriented background, like counsellors or teachers, who are willing to be contact people for their particular cultural community. We are also continuing to outreach to community groups, like cultural associations, in order to ensure we have networks within the diversity of Muslim communities in Ottawa. We are also trying to build a network among Muslim community members from different cultural communities so for example if a foster parent has a child from the Afghan community or Iraqi community and they don't
know culturally what to do, we can be their link to connect them with community members from these cultures who can work with them to make the child feel more comfortable and ease that transition into foster care.
As Muslim Family Services we are neutral ground, we are not located in a mosque, so we outreach to both Sunni communities and Shia communities as children from both communities have come into care. So we have built relationships with imams from both communities and visited mosques in both communities and are connected to professionals and service providers in both communities.
Do you think it is important that CAS is partnering with MFSO to do this work?
It is very important. This is new for CAS because the Muslim community is a new and growing population so there is a lot of learning that needs to happen. I think the fact that CAS in Ottawa is working to better understand the Muslim community and to support parents and children and foster parents in a culturally competent way is a step forward for them. I also think this shows that they are trying to be accountable to our communities. They are working so collaboratively with MFSO and so closely so it is really showing that they are committed to learning and we have made a lot of headway over the last three years.
This article was produced exclusively for Muslim Link and should not be copied without prior permission from the site. For permission, please write to info@muslimlink.ca.