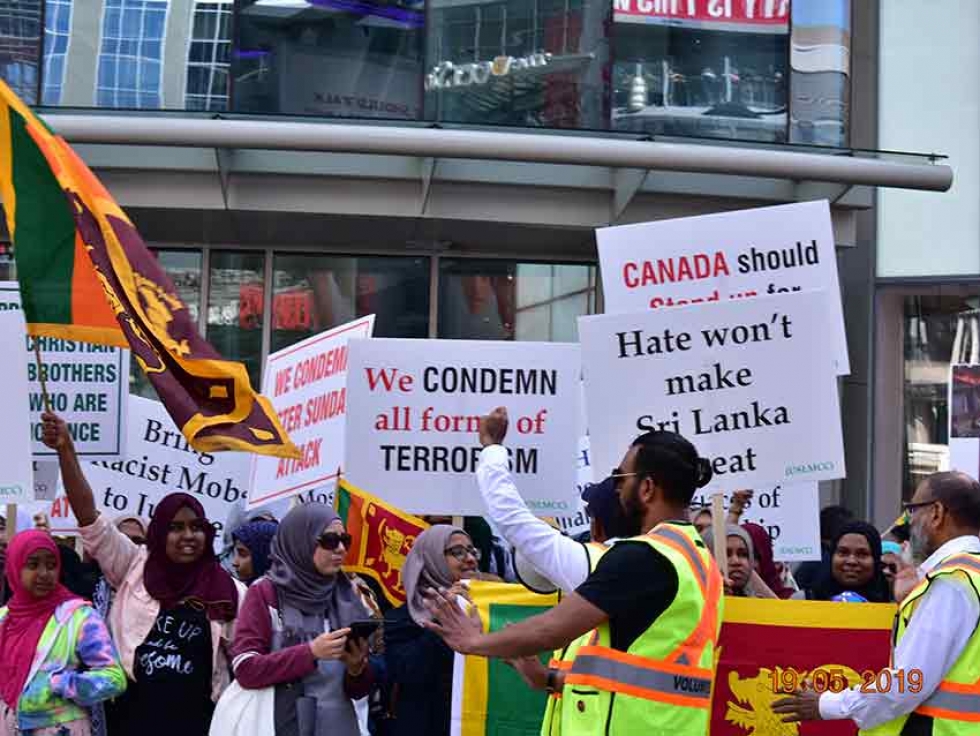 The Unified Sri Lankan Muslim Community Of Canada (USLMC Canada) organized a peaceful demonstration on Sunday, May 19 at Dundas Square in Toronto, Ontario.
USLMC Canada
30
May


2019
Sri Lankan Canadians Protest Recent Attacks Against Muslims in Sri Lanka
Written by Making Headlines
The Unified Sri Lankan Muslim Community Of Canada (USLMC Canada) organized a peaceful demonstration on Sunday, May 19 at Dundas Square in Toronto, Ontario.
Last month, Canadians were horrified by the attacks on churches in Sri Lanka on Easter Sunday. They organized and attended vigils and peace circles in honour of these victims across Canada.
Unfortunately now, the mourning and outrage continues as Muslim communities in Sri Lanka are now facing retaliatory violence.
Muslim Link interviewed USLMC Canada about why they organized their recent protest and the impact these events are having on Sri Lankan Muslim Canadians.
Tell us about the organizations that came together for this protest?
The protest was coordinated by the United Sri Lankan Muslim Community in Canada (USLMCC), bringing together representatives and members of 10  religious and civic organizations working with and serving Sri Lankan Muslims. These organizations conduct initiatives and programming throughout the year, including fundraisers for their local communities, worship services, community engagement opportunities for youth, as well as engaging in interfaith exchange and solidarity. This protest was another way for this community to stand against the targeted discrimination of ethnic and religious minorities in Sri Lanka, particularly Muslims, and uphold justice. This initiative aligns with the goals and objectives of each of the community partners under the USLMCC banner. Through this concerted effort, over 600 Sri Lankan-Canadian Muslim community members and their families were present at the protest, alongside many allies from other communities across Toronto such as the Bangladeshi, Pakistani, Indian, and African communities.
How did you engage with non-Muslim Sri Lankan groups for this protest?
Inter-faith groups: We used our existing network to reach out to our interfaith allies. They readily responded and shared the protest flyer within their own communities. Some acknowledged the quick display of solidarity from Sri Lankan Muslim religious leaders to Christian and Catholic communities after the Easter Sunday attack, including the organization of vigils, fundraising, and forming rings of peace around churches during prayer services. These multi-faith communities likewise rallied around the Sri Lankan Muslim community, standing against the disproportionate targeting and discrimination suffered by these
individuals.
Other Muslim Communities: We reached out to the Canadian Council of Imams for their support. They released a statement asking all mosques to pray for Sri Lankan Muslims, and encouraged their congregations to participate in the protest to help raise awareness.
At this early stage of the movement, networking was primarily focused on Sri Lankan Muslim and Sri Lankan Christian and Catholic communities whose challenges are largely unknown within the public consciousness in Canada. Future partnerships with other communities, such as the Tamil diaspora in Canada, is a goal as we feel we could learn from the Tamil community's existing strength in political advocacy and as a strategy to develop long-term solutions for religious minorities in Sri Lanka.
What was the main goal of the protest?
We had three main goals: 
To raise awareness on the victimization and extent of damage to Sri Lankan Muslims during the recent riot
To call for an end to the systemic discrimination of religious minorities in Sri Lanka
To call for Canada's and International organizations' intervention to bring justice to the victims
Through the peaceful protest, we made a statement against the discrimination of religious minorities in Sri Lanka, and in particular against Muslims. This was achieved by highlighting the victimization and destruction suffered by Sri Lankan Muslims during recent weeks. Anti-Muslim riots have claimed 30 villages, 27 mosques, 1 religious seminary, 500 shops and houses, and counting. While the majority of those affected are Muslim, it is also important to note that the effects of this violence transgresses ethnic and religious identities. For a country coming out of a brutal, decades-long civil war, this violence only serves to sow further discord between communities in Sri Lanka, impacting those both within and outside of the Muslim community. So far, the economic cost of the loss is estimated at 879 Million Sri Lankan Rupees (equivalent to 6.7 Million Canadian dollars). 
The violence in recent weeks is a result of long-running tensions between religious minorities and institutions with power in Sri Lanka - and the protest was also a form of solidarity with other minorities that have and continue to suffer in Sri Lanka.
The protest achieved our objectives of garnering people's attention and taking the first step towards building a larger strategy to support Sri Lankan Muslims. 
How would you like to see your fellow Canadians and your fellow Muslims getting involved in the issue of minority rights in Sri Lanka?
The primary way individuals in Canada can be involved with standing for minority rights in Sri Lanka is to understand their social location here in Canada: utilizing the privilege and resources we have here, we would strongly encourage any individual impassioned by this cause to reach out to their local MPs, the Sri Lankan Embassy in Canada, and the Canadian Embassy in Sri Lanka and underscore the importance of standing against this injustice. The stronger the community in Canada pushing for justice, the quicker those perpetuating violence in Sri Lanka can be held accountable.
Secondly, we advise anyone interested in supporting minorities in Sri Lanka to reach out to the communities doing the work in their localities - connecting with organizations such as USLMCC will allow those outside the directly affected population to stand as allies and build capacity among the growing Sri Lankan Canadian activist community.
Thirdly, we also request Canadians seeking justice to spread this message. Media censorship, a social media ban, and a government-imposed curfew in Sri Lanka during the riots has obscured the magnitude of the attack in global media. Violence in Sri Lanka against minorities is increasing exponentially - according to an article in the Washington Post about the recent attacks against Muslims in Sri Lanka, "an estimated 500 properties were destroyed within a single day [in 2019] whereas it took rioters 3 days to destroy 465 properties in 2018" and it is more crucial than ever that Canadians step in to be allies for those in need of our support and intervention.
Unified Sri Lankan Muslim Community Of Canada (USLMC Canada) can be contacted via email: This email address is being protected from spambots. You need JavaScript enabled to view it.
This article was produced exclusively for Muslim Link and should not be copied without prior permission from the site. For permission, please write to info@muslimlink.ca.