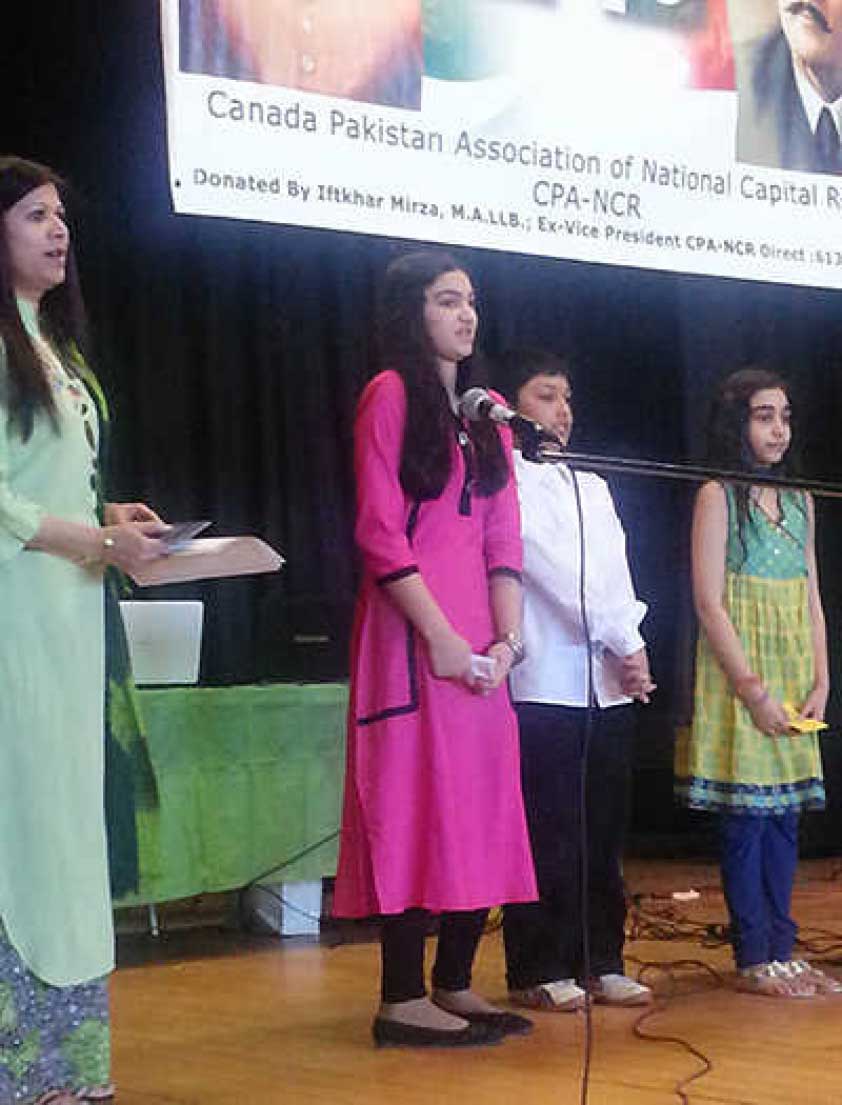 Perveen Khan, Shenal Khan, Emad Rehman, and Aamna Hasan at the Canada-Pakistan Association of the National Capital Region's Jeeway Pakistan Mela on March 23, 2014
Courtesy of Yumna Khan
10
Apr


2014
Second-Generation Urdu Speakers Shine at Pakistan Day Celebration
Written by Chelby Daigle
On March 23rd, the Canada-Pakistan Association (CPA) held their annual Jeeway Pakistan (Long Live Pakistan) Mela in honour of Pakistan Day. Pakistan Day is held on March 23rdto commemorate the Lahore Resolution of 1940 by the All-India Muslim League, whose leader at the time was Muhammad Ali Jinnah. Jinnah is sometimes referred to by Pakistanis' as Quaid-i-Azam (Great Leader). The Resolution established the boundaries of the state which would become Pakistan after British India gained independence from Britain in 1947.
To mark the occasion, CPA Executive Perveen Khan came up the idea of involving second-generation Pakistani-Canadian children in the celebration by organizing a speech contest based on the life of Mohammad Ali Jinnah, Pakistan's founder. In this way, she felt, the children would have an opportunity to learn more about their heritage as well as build their confidence and public-speaking skills. Emad Rehman won the competition with his enthusiastic presentation.
Perveen Khan also teaches Urdu on Saturdays in Barrhaven as part of the Ottawa-Carleton District School Board's International Languages Program. For the last four years, Perveen has also been running a Summer School program through the Board which offers more of an immersion experience for students. "They learn really fast because we are learning every day," she explained. She is grateful for the support from the School Board as she explained, "I love it. With this support we are able to deliver a quality program and children can keep their mother tongue."
Shenal Khan, one of Perveen's students, also competed in the contest and was the only student to write her speech in Urdu. "Most kids that are born here don't know how to speak or write," the 13 year old explained. She speaks Urdu at home with her parents but owes her ability to read and write the language to her six-month stay with her aunt in Pakistan. Shenal feels that it is important for second-generation Pakistani-Canadians like herself to learn Urdu because it is important for maintaining ties with family in Pakistan. "We are Canadian but being Pakistani is my parent's background, my family's background," she explained, "We have a pretty huge family in Pakistan and some of them don't know much English so knowing Urdu helps me a lot so I can communicate with them. You can get more involved in what they are talking about. You won't just be sitting at the table wondering what is going on." But knowing Urdu also helps her here in Ottawa. "Once a week, on Fridays or Saturdays my family gets together and watches Indian or Pakistani movies and sometimes there are no subtitles!"
Shenal also welcomed the opportunity to write a speech about Jinnah because she knew very little about him. "I didn't know that much about Pakistan's founder before I started doing all the research to write the speech so it really helped me a lot," she said.
Nuha Yousuf opened the event by singing both the Canadian and Pakistani National Anthems. A trained singer who competes regionally, Nuha welcomed the challenge of singing in Urdu. "You have to be really careful about your pronunciation," she explained, "If you don't say the word properly, nobody can understand you. When we speak English it is kind of sloppy. You can say 'I don't wanna do something' instead of 'I don't want to do something' and people will still understand you. But for Urdu, when you are singing, it is not like that." Singing in Urdu is also a challenge because as Nuha described it, "You have to sing from your throat and this can cause strain if you overdo it."
Nuha has been speaking Urdu with her mother since she was little but she can't read and write it. However, knowing how to speak it still provides her with an opportunity to connect with her family in Pakistan. Her performance at the Mela was recorded by her father and uploaded on YouTube for her father's extended family in Pakistan to see. "My dad's cousins can watch me on YouTube and they can understand what I am singing and connect with me," she explained, "Knowing Urdu helps me to connect to my culture."
To learn more about studying Urdu in Ottawa contact Perveen Khan by phone at (613) 692 4121, by email at This email address is being protected from spambots. You need JavaScript enabled to view it., or visit
http://www.ocdsb.ca/programs/continuweb/ILP/Pages/default.aspx
To learn more about the Canada-Pakistan Association (CPA) visit http://www.cpa-ncr.org ■
This article was produced exclusively for Muslim Link and should not be copied without prior permission from the site. For permission, please write to info@muslimlink.ca.