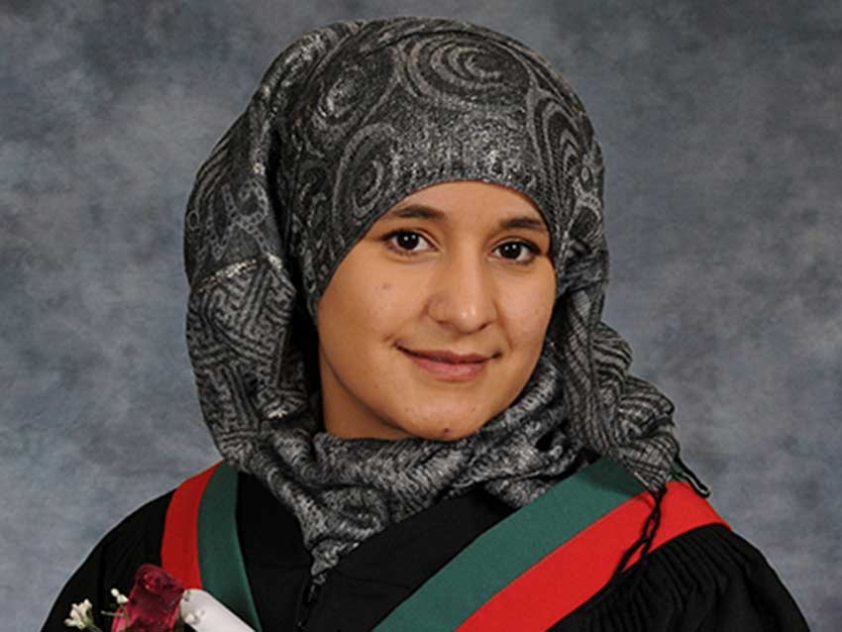 Roya Shams, 20, graduated from Ashbury College this year and will be attending the University of Ottawa in the Fall.
Courtesy of Roya Shams
13
August


2015
Roya Shams: An Afghan Student's Journey in Ottawa
Written by Muslim Link
Roya Shams, 20, has received wide spread attention in Canadian media since she was supported to come to Canada from Afghanistan by Michael Cooke  and Paul Watson  of the Toronto Star after the assassination her father, a police officer and outspoken voice for women's equality. Roya's life was in danger because she was also a vocal advocate for women's education. Since coming to Canada, it has not been safe for her to return to Kandahar to see her family.
Roya recently graduated from Ashbury College in Ottawa and has won a Father Roger Guindon Scholarship to study at the University of Ottawa.
Muslim Link had an opportunity to interview Roya about her extraordinary journey to Ottawa and how she has coped with the tragedy and challenges she has faced along the way.
What were the circumstances that led to you having to leave Kandahar to come to Ottawa?
While I was in Kandahar I was really standing up for women's rights, education, freedom, and equality. I was really young when I started working and teaching. I was eleven. My inspiration came from my father who was a police officer. I saw the struggle around me. So many girls were not able to get an education or have a voice. So I wanted to at least change the life of a few other girls and women. I was fortunate to be able to go to school because of my father's support because my father believed in equality.
The schools in Kandahar are not the same quality you would see in Canada or other developed countries. Also, there was always the fear of bombing in the schools. So we were not able to attend regularly. Most of the time we sat under tents; we didn't really have a classroom with desks and chairs or proper books. So that was a struggle. But fortunately we had some brave people who would continue to teach us so we could get an education. So I would do volunteering teaching women's literacy to older women in Pashto. It was important to teach these women because they are the basis of the family; they bring up the future generation so if they are literate they might be able to help their children.
Meanwhile, I was trying to learn English. I was studying at the Afghan Canadian Community Centre. The little bit of English I knew I was teaching back to the younger kids. Once my English got better I started to study an online course from Canada. So I passed the course. I was one of about 5 to 10 students who passed. So that is when Paul Watson from the Toronto Star started writing about me and my desire to get an education.
Then in 2011, my father was assassinated by the insurgents. I was the next target because I was very outspoken and I was teaching a course from the US to women, educating them about their rights. But after my father's death, all my activities had to stop because my life was in danger. After that, Paul Watson and the Toronto Star editor Michael Cooke stepped in wanting me to come to Canada as a student. Ashbury was kind enough to offer me a scholarship.
What was it like to adjust to life at Ashbury and in Ottawa?
Think about it - I was only 16, leaving home for the first time after the assassination of my father. I am the youngest in my family of eight siblings. I arrived here and the next week I was at Ashbury, wandering around in a daze. And my English was not that good to handle a school like Ashbury. People were asking me to write an essay and I was like 'What is an essay?' I was living with a great family but I was scared of dogs! I was staying up at night crying, missing my father, worrying about my family, not knowing what is going on in Kandahar. It was really difficult. I am so grateful that Ashbury did not give up on me because there were some times when I just wanted to collapse because it was too much to handle.
Everyone was so welcoming and so supportive but I kept a lot of my struggle to myself. If I would break down and cry I would then just tell myself you can't give up because other young people are struggling, you have to do this for them.
How has your faith in Islam supported you in this difficult time?
I believe faith is in your soul so wherever you go, you bring it with you. So, whenever I face so many difficulties, when I offer to rakat (part of a Muslim prayer) of a prayer, I feel like I am new to this world. I hold on tightly to my beliefs. I'm not connected with the Muslim community here much so I feel like my faith is just in me, in my soul. I just keep it.
I grew up in a liberal family. My parents never forced me to do anything. I learned from the way my parents lived. When I came to Canada I was 16 going on 17. I feel that in order to be yourself you have to be true to where you come from. And you have to maintain what religion you are. Whenever I went to my room, I would just pray. And in my scarf, I just feel more comfortable, more confident. When I first came to Canada, I wasn't wearing a scarf. I was experiencing culture shock. But I feel every human being should have the choice. And I made the choice to be committed to my faith. That is me, that is who I am. 
If my mom had told me 'Roya you have to wear the scarf!' I would have said that I respect you mom but that is not your choice. I would not have been able to become Muslim from my own heart. But my parents never forced me to do anything.
The community where I live is very accepting. Ashbury is so open and diverse; we have like 55 different nationalities, so I haven't faced discrimination. It is so amazing! One of my friends I made, sometimes she would come to the mosque with me and I would sometimes go to the church with her.
How do you feel about winning the Father Roger Guindon Scholarship?
I am so honoured to have this scholarship. I worked for it. That was my dream. I am really looking forward to going to university to get a higher education. I know that transition could be quite scary because I really grew up at Ashbury so it is like I'm leaving a second home. But I also feel like I am going somewhere that is going to advance my future and the future of others that I could help. But I also feel that I will be supported at the University of Ottawa. So really my family is getting extended.
What are you studying at the University of Ottawa?
I am studying for a Bachelor's Degree in Globalization Development with a minor in International Law. I want to learn about the world and I want to be a lawyer. I might not be practicing law but I feel that if I go to any country and I know law I could help the people whose voices are not heard.
What do you miss about Afghanistan?
Any country that has been at war for almost 40 years will have darkness but there is also light, there is also hope. I might be too optimistic but I have hope. There is a new generation getting education. Yes, every day we hear about bombing, killing but at the end of the day, that is my home. I really want to go back and visit my father's grave. I want to see my mom. I want to see the people; I want to be on the ground to help the people. Even the little things I miss…I miss the food! I miss ashak (Afghan dumplings). I can't find it at the Afghan restaurants here.
While you have been in Ottawa, you have had the opportunity to meet with politicians, it that correct?
I am involved with a program called Forum for Young Canadians. I was the first international student to enter that program. I was invited by a Senator. So I had a chance to meet Prime Minister Stephen Harper. I got to sit in his chair! It was part of a trip to Parliament where we got to learn about the parliamentary process. I still volunteer with this project. It is important.
We may think that politics has nothing to do with individuals but I believe we live in politics; it surrounds us so we have to know it in order to have a democratic country. Young Canadians need to know about their rights. They need to know what is going on in their community. You have to get involved.
I was awarded the Junior Voice of Hope from the Economic Club of Canada. I'm on the Board of the Club. This year we hope to give the award to a Canadian. I hope to find someone.
A lot of young people here in Canada don't vote because they don't trust the politicians. What are your thoughts on that?
Young Canadians don't understand how lucky they are to have a voice to choose their government. If you don't choose then you are definitely going to get someone who isn't your choice. If you vote, maybe it will be the person you think is better for the job. I'm not a citizen so I can't vote. But I think if you don't take voting seriously you are losing your voice as a citizen.
Ottawa is home to many students who like yourself are coming from conflict zones and they are also struggling to balance school with worrying about their families back home. What advice would you give to them?
I would say go for your dream. You might fall, you might lose, but you will discover yourself in this hardship. 
This article was produced exclusively for Muslim Link and should not be copied without prior permission from the site. For permission, please write to info@muslimlink.ca.