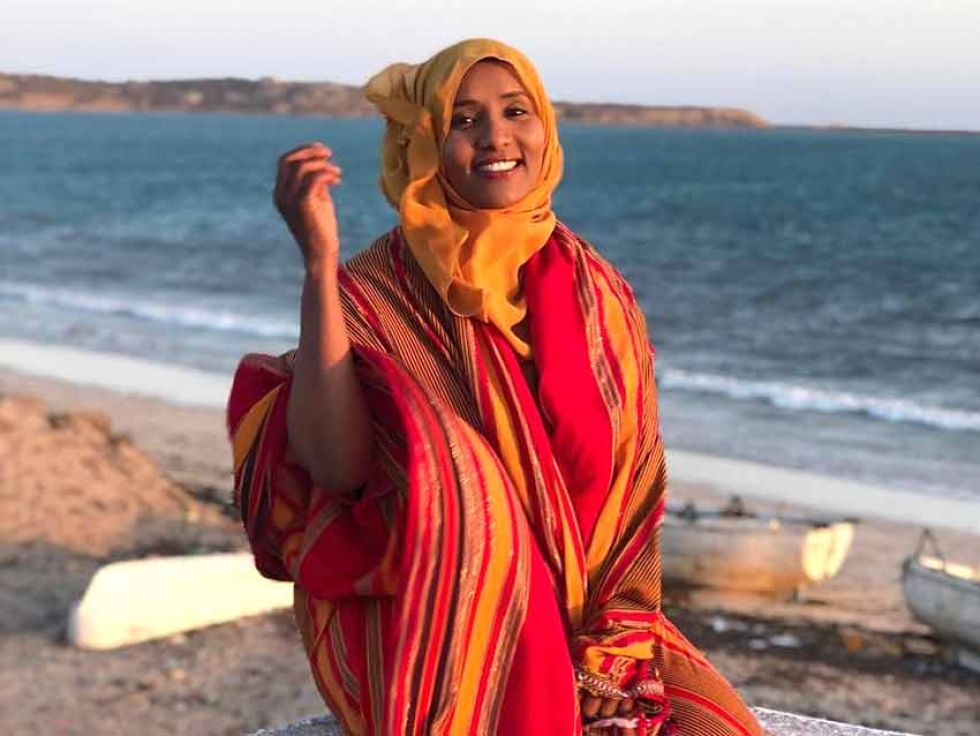 Hodan wearing traditional Somali colours in the port city of Kismayo. You can see the Indian Ocean behind her.
Hodan Nalayeh's Instagram @HodanTV October 16, 2018
13
Jul


2019
Remembering Somali Canadian Journalist Hodan Nalayeh
Written by Making Headlines
On July 12, 2019 Mogadishu-based Radio Dalsan reported that Somali Canadian journalist Hodan Nalayeh, 43, founder of Integration TV, was killed along with her husband in an attack on a hotel in the port city of Kismayo, Somalia that has been claimed by terrorist group Al-Shabaab. She leaves behind two young sons.
Minister of Immigration, Refugees and Citizenship Ahmed Hussen, himself a Somali Canadian, told CBC News that "Through her work as a journalist, she highlighted the community's positive stories and contributions in Canada, and became a voice for many. Her work, particularly in helping women and youth, strengthened the ties between Canada's Somali community and Somalia, as it continues to go through stabilization and reconstruction. We mourn her loss deeply, and all others killed in the Kismayo attack."
Ontario Premier Doug Ford and Leader of the Opposition Andrea Horwath took to Twitter to express their condolences for the "icon" of the Somali diaspora who called Toronto home.
Hodan volunteered with DawaNet's MuslimFest, the annual Muslim arts festival organized in Mississauga, Ontario. They have set up a crowdfunding campaign on LaunchGood.com for Sadiqa Jariyah in memory of Hodan. MuslimFest stated, "Our journey with Hodan began at MuslimFest 2015, where we were able to learn from her and connect better with the Somali-Canadian community across the GTA through Integration TV. She was a powerful presence when she hosted our main stage programming, bringing representation to the stage as the intelligent, kind, vibrant Somali-Canadian woman that she was. We all looked forward to having her at MuslimFest 2019 and will deeply miss her presence.We are raising funds to continue her legacy; whether through supporting her family or donating to organizations that empower Somali youth, please consider donating as a sadaqah jariyah for her." To learn more about this crowdfunding campaign, click here
For those in the Greater Toronto Area, there is a Tribute to Hodan taking place on Friday, August 30th at MuslimFest in Mississauga Celebration Square. For details, click here.
Hodan was born in Las Ahod, a city in the disputed Sool region. She recently profiled Las Ahod on Integration TV as her family has established a school there for nomadic children. In a 2014 interview with Cynthia Reason from the Etobicoke Guardian, Hodan explained "My family was one of the first Somali-Canadian families to arrive in Canada in 1984. I was turning seven when we arrived in Edmonton, Alberta, which was -40 degrees in the middle of winter. My parents arrived with 11 children, and we grew up in Alberta as one of the few Somalis there for many years. My mom, however, thought people thrive better in networks, so she wanted us to relocate to Toronto, because it was better connected here and more Somalis were coming here in the 1990s. So we relocated to Toronto in 1992 and we moved to 79 John Garland Blvd."
Hodan graduated from Etobicoke's West Humber Collegiate Institute and then went on to receive her Bachelor of Arts in Communications from the University of Windsor, then a postgraduate certificate in broadcast journalism from Seneca College. Her early career was in American radio and TV where her credits include shows like American Idol and So You Think You Can Dance.
In a tribute to her work, we have compiled some quotes from Hodan from her social media and interviews from which we hope our readers can draw inspiration as Hodan was an eternal optimist.
In a 2014 interview with Cynthia Reason from the Etobicoke Guardian, Hodan was asked to explain what the word 'integration' meant to her. She stated: "Integration means basically knowing who you are, as a person and as a culture that you come from, but also realizing that you are Canadian – because we are here now, growing up in this country, and we have children in this country. So, basically it's taking those two identities and making the best of both worlds. You leave behind whatever you left – the war, the fighting, the corruption in that country – and you come to a country like Canada where you have democracy and freedom to practice your religion, to be who you want to be, to have all these opportunities. Basically, integration is balancing that new life, where you still keep your culture, but you embrace the new culture that you're in."
Writing her profile for Somali Sideways, Hodan stated: "I remember as an 18 year old girl in university, I had a passion to one day be an anchor on CNN. It was hard to get a job at CNN after I graduated. I did not have the networks nor connections like many of my friends at university. I was discouraged from going into media and settled to earn a living. It took me many years to realise my gifts and how I can use them to make a difference. I came back to my dream to be a journalist when I travelled to Dabaab Refugee Camp in Kenya with the late Somali legend Saado Ali Warsame. Standing in the middle of an open desert field with sand blowing in my face, I realised, my fellow Somalis needed my gift of storytelling. I did not need CNN or any other network to be a voice for my community. I needed to create my own platform. I did not need anyone to hire me when Allah hired me for this job....Many thought I was crazy to invest my savings, drive around with my kids to sales meetings and work 18-hour-days. While I thought Integration TV was helping my community, it actually did more for me as a person. In a year, I can see the growth in me. I learned to overcome my fears, believe in myself and understand the business of television. My dream to make a difference started with a simple idea to use my gifts, but I received many more gifts in return. All praise is due to Allah for helping me to help my community. I trust him."
In a 2017 interview with German media outlet Deutsche Welle, Hodan stated: "Going back to Somalia for me is really not even about the fact that I have a media outlet or that I'm doing this work. It's the fact that we're inspiring millons of Somalis around the world to share their stories, to be who they are, to be authentic, to get to know themselves and where they come from. Because all that we've known from out country is war, all that we've known is division, all that we've known is all negative things. But look at all the positive things. I go home and I see, a Somali mom who can put a house together she can build a house from scratch, have 10 kids...I mean I see such miraculous things back home and I'm just like, this is life. People are thriving and surviving and they're not thinking about when am I going to die."
In a Tweet on May 18, 2019 promoting her interview for the 'Meaningful Work/Meaningful Life' podcast, Hodan stated: "Our lives change when we decide to give more than we take in this world. Contribute, connect & live your passion! It's never too late to live a meaningful life."
In the June 2019 edition of Francine Beleyi's Meaningful Work/Meaningful Life podcast, Hodan said "If we don't have more storytellers from our communities, especially in the African diaspora communities, who's going to continue the tradition of storytelling? Social media has changed the game for how people learn about culture. So, if we don't become the creators of our own content, we are going to be at the mercy of other people telling the stories of Africa."
In a Tweet on July 8, 2019 Hodan stated: "Someone once said, 'Don't be afraid to start over again. This time, you're not starting from scratch, you're starting from experience.'
Here's to great new beginnings."
In a Tweet on July 5, 2019, Hodan wrote: "The most important value I've learned being in #Somalia is 'patience.' Being patient with my brothers & sisters who have witnessed war and conflict is the least I can do. We can never know the damage war has done, but we can be understanding and patient."
In a Tweet on Jan, 18, 2019, Hodan wrote: "There is a feeling in #Somalia a few understand. It's not a perfect place to many, but it is perfect in simplicity. After years of chasing the corporate world, bigger houses, latest car & brand name clothes, I found the peace of the ocean. Life is chasing peace."
Watch the Tribute to Hodan that took place on July 18th in Woodbridge, Ontario. (It may take a few moments to load from YouTube).
This article was produced exclusively for Muslim Link and should not be copied without prior permission from the site. For permission, please write to info@muslimlink.ca.