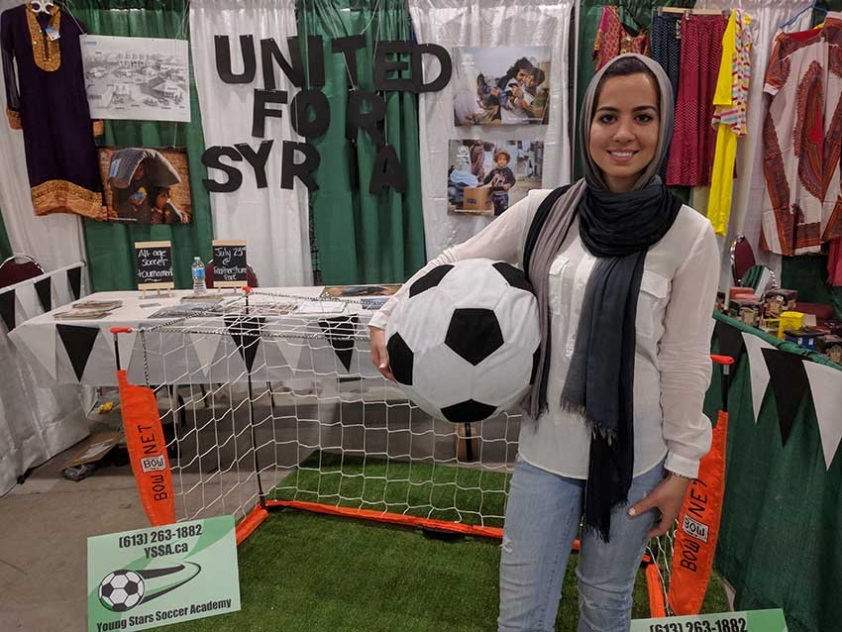 Rayanne Bendaoud is organizing the United for Syria Soccer Tournament on Saturday, July 23rd to raise money for refugees
15
Jul


2016
Play Soccer While Fundraising for Syrian Refugees: United for Syria Tournament
Written by Muslim Link
Tell us about yourself
I'm 25, born and raised in Ottawa, my father is Algerian and my mother is French Canadian. I graduated from the University of Ottawa with an Honours Bachelor's degree with major in Economics and minor in Law. After graduating, I started working full time at the government as an analyst.
I've never been the type to be super active in any community or club, in fact, as a student, I studied, went to class then went home. After graduating however, I regretted not being more involved, especially in humanitarian causes. I think it allows you to have a sense of fulfilment that no other career or amount of salary can compensate for.
What inspired you to organize this fundraiser?
This year, I've had more time on my hands, and given my half Arab nationality, I wanted to learn how to better speak Arabic, so I started taking a few lessons a couple times a week with my tutor who is a Syrian refugee and has been here for only a few months. After talking with her a lot about her situation, it made me realize how fortunate I am, and how there are many tools I have around me that can actually help address the Syrian Refugee Crisis. It's different to see pictures or stories on the Internet versus seeing them from someone you actually know.
My tutor, without intentionally trying to talk about her situation, showed me pictures of her home and neighbourhood, and it honestly made me sad. She, her husband, and her son are all educated people, and they are coming here, starting from scratch. She has family and friends still in the Middle East who give her updates about new death tolls or injuries every day.
It's unfortunate that some of these people are unable to find a better future. I think that by addressing the situation at the source (i.e. providing humanitarian aid for refugees in the Middle East); the chances for the situation to improve are higher. Not to say that refugees aren't welcome here or in Europe, but a lot of them came here as a last resort. It's just a shame that you have wealthy developing countries, with young people like me, who have the means to help out, and will read or share an article on social media, but then turn a blind eye. I think that our generation, with our sharp intellect and access to technology, can use our skills and knowledge to make a real difference. Even with something small like a soccer tournament.
I wanted to fundraise for a credible organization everybody knows, and that,most importantly, actually makes change. I researched for a little bit, but I wanted to make sure I could find an organization that really addresses the refugee crisis. UNHCR does that, and has a dedicating funding plan for the Syrian crisis, where 86% of funds go directly into addressing all types of refugees. They also make it extremely easy for anyone to fundraise and set you up with your own fundraising page, provide you with flyers and t-shirts, and help you with whatever you need. I think that's key; people sometimes want to help but don't know how or where to start.
I also think that eventually with more experience, my ultimate career plan is to get into the United Nations, and use my economics degree to help address humanitarian issues, which in turn, can make a large scale impact on the world as cheesy as that may sound).
Why did you choose to organize a soccer tournament?
I think soccer is considered the "universal sport", and even people who don't play soccer still respect it or have some sort of connection to it. I played soccer as a kid too, and have lots of family and friends who are devout soccer fans. I wanted to pick an activity that's team oriented and that everyone can relate to. By doing so, I'm hopefully going to be able to raise more funds for the cause.
What do you hope to accomplish with this event?
We want to mainly raise awareness about the Syrian refugee crisis and gather people from Ottawa to come together to show Syrian refugees their support on the cause. We've also paired up with Welcome Table who is hosting a neighbourhood family welcome lunch for the Syrian families in the Ottawa South community before our tournament. It should be a fun-filled day with food, activities for kids, and a soccer tournament for the competitive players out there!
To learn more about the United for Syria Soccer Tournament click here and about the Welcome Refugees Family Lunch click here
This article was produced exclusively for Muslim Link and should not be copied without prior permission from the site. For permission, please write to info@muslimlink.ca.