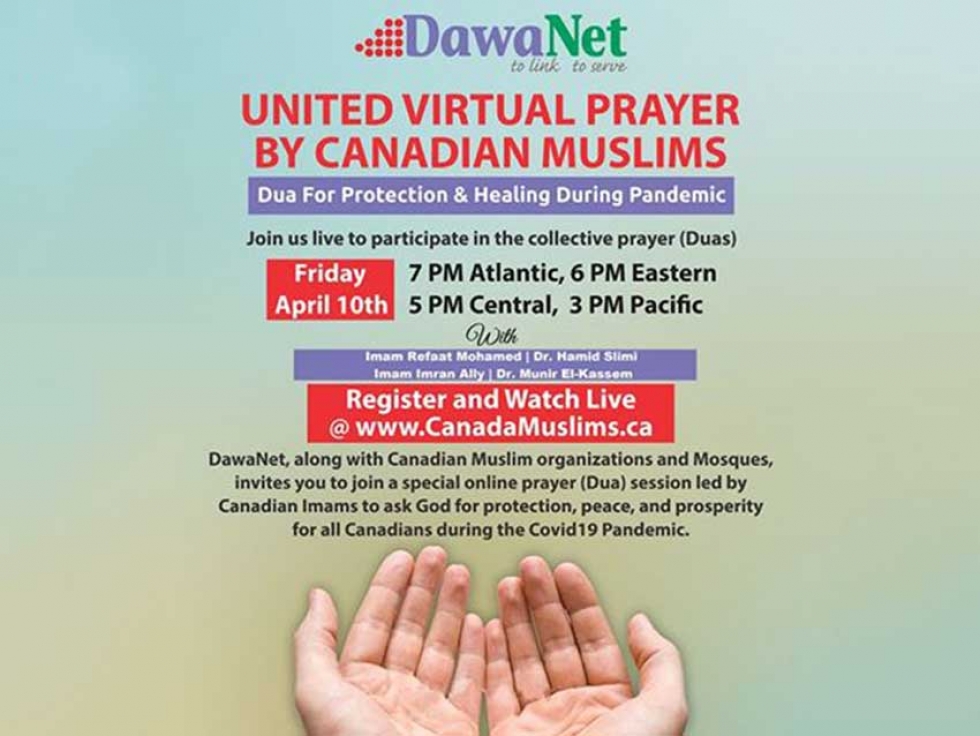 08
Apr


2020
Participate In the United Virtual Prayer For Protection and Healing During the COVID-19 Pandemic by Canadian Muslims
Written by Dawanet
DawaNet, along with Muslim organizations and Mosques from across the country, invites you to join a special online prayer (Dua) session led by Canadian Imams to ask God for protection, peace, and prosperity for all Canadians during the Covid-19 Pandemic.
Prayer (Dua) will be offered in Arabic, English and French.
According to the Muslim tradition, collective prayers (Dua) for the community and nation during tragic times is a powerful spiritual exercise.
Date: Friday, April 10, 2020 (Good Friday)
Time: 7 pm Atlantic / 6 pm Eastern / 5 pm Central / 3 pm Pacific
Presenters: Imam Refaat Mohamed | Imam Hamid Slimi | Imam Imran Ally | Dr. Munir El-Kassem
Format: Online Zoom Webinar
Register online here on ZOOM to participate
Watch it Live www.CanadaMuslims.ca
Connect with the Facebook Event Page
Help make this the largest online communal prayer in Canada during these difficult times.
Established in 2000, DawaNet is a federally incorporated Canadian Muslim non- profit organization based in Mississauga that focuses on creative and effective methods of bridge-building, charity, and outreach.
For nearly two decades, DawaNet has offered unique grassroots community-oriented projects and programming that have empowered thousands of Canadian Muslims and their neighbours to connect, lead, and share. DawaNet has been prominent on the Canadian Muslim scene due to its vibrant networking model and pioneering charitable projects.