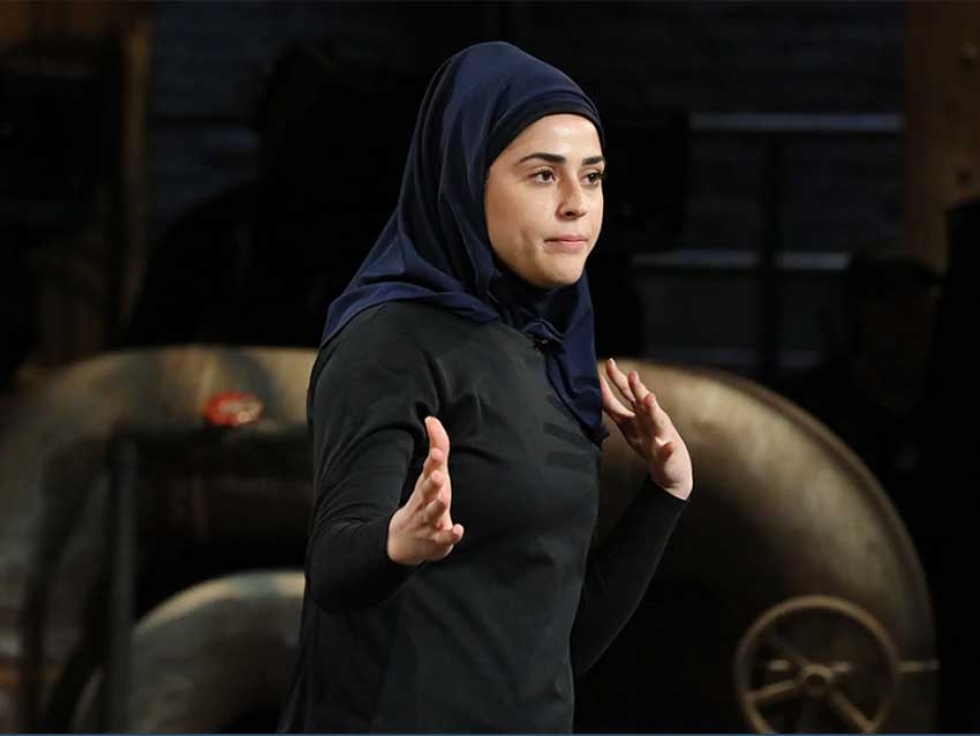 Thawrih co-founder Sarah Abood demonstrates her product, the "quick release" hijab ideal for members of law enforcement.
CBC Dragon's Den
20
Oct


2019
Ottawa Start-Up That Creates Activewear for Muslims and Sikhs Wins Deal on CBC's Dragons' Den
Written by Making Headlines
Thawrih (Revolutionary in Arabic), founded in 2017, is an Ottawa start-up that makes hand-made activewear from breathable materials for Muslims (including hijabs) and Sikhs (including turbans).
Thawrih's co-founder, University of Ottawa Alumni Sarah Abood, pitched her products on CBC's Dragon's Den, which was broadcast on Thursday October 17th, 2019. She came away with a deal with two Dragons.  You can view Sarah's pitch online here.
Thawrih employs Syrian refugees to Canada. According to Thawrih's website, "We want to do our part by being socially responsible: all of our headgear is hand-made in Ottawa, Canada by Syrian newcomers. Every purchase empowers a newcomer by providing confidence aiding in overcoming job related obstacles that many face. This initiative enables newcomers to enter the labor force, provide for their families, and also aids with the integration process of their families into local communities."
According to an April 2019 interview by Carleton University, "[Sarah Abood] used Instagram influencers to market her products online — more than 1,000 units have moved to date in 23 countries around the world, from South Africa and New Zealand to Europe and the Middle East. She is also working with law enforcement agencies, including the Ottawa Police Service, the Canadian Coast Guard and a county sheriff's department in Massachusetts, to develop a hijab that's safe for first responders, with magnets as the neck clasp to eliminate the risk of choking."
During her pitch on Dragons' Den, Sarah presented Thawrih's activewear as well as their line of uniform head coverings for law enforcement agencies, which particularly piqued the Dragons' interest. 
Sarah secured a deal with two Dragons including Michele Romanow, who offered her experience with e-commerce as a way to ensure that Thawrih could improve its online sales internationally.
Sarah also secured a deal with Sikh Canadian entrepreneur Manjit Minhas, who stated that she could work to get Thawrih's uniform head coverings into police services across Canada.
During this episode, Manjit discussed her uncle, Baltej Singh Dhillon, who fought for the right to wear a turban as part of his RCMP uniform in the late eighties and early nineties. At that time, the RCMP forbid beards and wearing a turban in place of the uniform hat. Baltej challenged this and after months of debate, in March 1990, the Brian Mulroney government announced new changes to the RCMP dress code, including the freedom for observant Sikhs to wear beards and turbans. As a result, Baltej was able to become a member of the RCMP in 1991. But these changes are met with protest and Baltej even received death threats. A group of retired Mounties launched legal challenges against the uniform changes. By 1996, the government's decision to allow Sikh RCMP members to wear turbans was confirmed by the Canadian Human Rights Commission and the Supreme Court of Canada. To learn more about Baltej Singh Dhillon and the inclusion of the turban as part of the RCMP uniform, read "The turban that rocked the RCMP" online here.
To learn more about Thawrih visit their Website, Instagram, Twitter, and Facebook
This article was produced exclusively for Muslim Link and should not be copied without prior permission from the site. For permission, please write to info@muslimlink.ca.