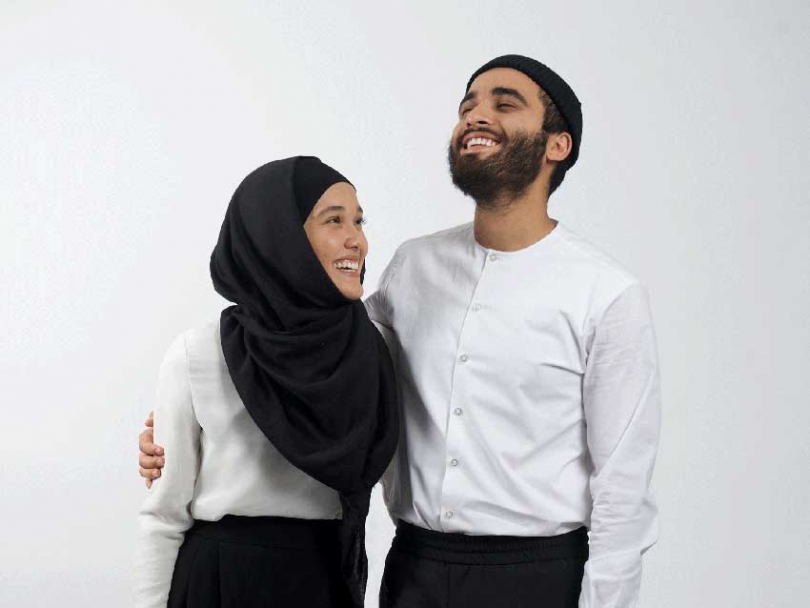 Aicha Chtourou and Bilal Mashhedi are the entrepreneurial couple behind Mode-ste, Canada's largest and fastest growing Modest Fashion brand.
Courtesy of Mode-ste
21
Nov


2016
Montreal Based Muslim Entrepreneurs Pitch Modest Fashion Brand on Dragons' Den
Written by Chelby Daigle
Mode-ste, Canada's largest and fastest growing Modest Fashion brand. started a few years ago, when Aicha Chtourou and her mother Hong, a master seamstress, started a small women's clothier out of their basement in Montreal.
When they realized the potential of the brand, Bilal Mashhedi, Aicha's husband, an environmental engineer, left his promising career at a top engineering design firm, to become Mode-ste's Directory of Marketing and Strategy. Bilal's cousin, Danial Agha, who was completing his Master's in Financial Economics at UQAM, recently joined Mode-ste as the Director of Finance.
The team moved out of the basement and is now based in the Mode-ste Design Studio in Montreal. Mode-ste is sold internationally; they have had a three page spread in Malaysia's largest newspaper, a launch party hosted by their newest international stockist Pret-A-Porter in Kuala Lumpur, and a collaborative collection with social media style icon Saufeeya Goodson in her full feature in Teen Vogue. The brand is even worn by Muslim celebrities, like Dahlia Mogahed, who wore Mode-ste during her TED Talk and Daily Show appearance.
Now, they will be pitching their brand on Dragons' Den in an upcoming episode which will air on Wednesday, November 23, 2016 at 8:00pm (8:30 NT) on CBC Television. You may view the episode online after it airs here.
In the hopes of inspiring other Muslim Canadian entrepreneurs, Aicha and Bilal reached out to Muslim Link to share their story of passion and perseverance.
****
How did you two meet?
Bilal: Alhumdulillah (Thanks to God) we met at Concordia University actually. Aicha was a few years younger and would visit my university to meet some of her friends. I caught a glance and the rest was history.
Family businesses are very common within Muslim Canadian communities, but they more often focus on food not fashion; how did the idea to create a modest fashion brand come about?
Aicha:  Mode-ste is the answer to many of my questions. It was born out of necessity. Bilal and I are born and raised proud Montrealers and Canadians, and therefore our tastes and style reflect this reality. The problem was that when I would visit stores here, I would either find clothing that was very fashionable and relevant to my North American/European aesthetic, but it would need extra work done, if the fabric was too sheer, or the garments had slits in them for example. I would buy these clothes and have my mother tailor them and adjust them to my needs. On the other end, if I found clothing that was more applicable to my needs, or was slightly more modest, the clothes I found weren't of high quality or simply wouldn't fit my western aesthetic and I'd look out of place.
Together I and her mom figured that if we encountered this dilemma, many others must and we were delighted to find out that women of all kinds, statures, and cultures could relate and wanted this clothing that was contemporary, fashion forward and they wouldn't have to think twice when wearing it. We created a brand based on inclusivity; that never discriminates and accepts anyone looking for high quality, well made fashion forward garments, produced in Canada.
What are some of the challenges and opportunities that running a business together as a couple presents?
Aicha: The thing we love the most is that all the work we do directly relates to our success. It is a blessing, that carries a definitive pressure as I know the output and success is directly correlated to our effort, contribution and persistence. It is a liberating feeling, working for yourself and there is no better feeling than to create a solution to an answer, and having many women believe in your product enough to buy it and wear it with pride.
A challenge to deal with is the constant hours that you must work in the start-up field, while at the same time it is also the biggest positive because it ties into my first point—in that your work is directly correlated with the advancement of your business. It is truly a blessing when like-minded people work together and advance a common goal. This is even more relevant when it is your husband! Our team has great synergy, we've just hired a new Director of Finance and Operations (Danial), and we feel like we're just getting started!
Like a growing number of Muslim Canadian couples, you each come from different ethno-cultural backgrounds. How has being a "multicultural" couple influenced your entrepreneurial vision?
Bilal: I think our background is what gives us a unique edge. We're both born and raised in Montreal but my parents are from Pakistan. Aicha's combination is a little more unique. Her mother is half Chinese and half Cambodian, while her father is Tunisian. It has influence but more in a subtle or innate way and not something we actively think about. It has just added to our collective sources of inspiration as we've both traveled to our parents' homelands on more than one occasion and draw from our personal memories and reflections.
Modest fashion is a global marketplace. Why have you chosen to stay in Canada, and in particular in Montreal?
Bilal & Aicha: This is an integral part of Mod-este. We want to ensure that every product made is of high quality. The term high quality can sometimes be used in a loose way without a specific definition. For us high quality means the garment has been produced by the hands of a seasoned sewer, the employee has been paid a fair wage, and that we can keep a close eye on quality assurance. Producing in Canada allows all the above to be firmly established. Our international clientele loves that we are committed to high end garments and design and this is in actuality a positive for all of our clients.
Why was it important for you to create the Montreal Design Studio? What has that added to your brand and how does it demonstrate your vision?
Bilal: Our Design studio gives us room to create and let our minds run through as many ideas as possible. We have many designs that have been tested but never found their way to our website, and this is exactly how we want it. We want to refine our ideas and distill them to only the best possible items. The design studio allows us to make samples, work on patterns and perfect design by going through as many sample iterations as needed.
The studio also has an office built in and a micro boutique for clients that want to drop in to pick up an order or peruse some of our collection in person. We also serve up some of Montreal's best coffee as we've partnered with Orobru, a local coffee brand, and serve it up to really provide a full experience to our guests. The Studio is an extension of our brand and we allow clients to come in and see the design process first hand to really connect with our brand on a deeper level.
What advice would you give to other young Muslim Canadian entrepreneurs about reaching out to the mainstream for support, as you have done by going on Dragon's Den?
Bilal & Aicha: We have to realize we are the mainstream. Muslims are an integral part to the Western landscape and we are just as Canadian/American/European as our next door neighbour. We were very well received on Dragons' Den; by the staff, producers, and the Dragons themselves. We are not outsiders, we are part of the very fabric of our society and we most definitely need to reach out to amazing platforms like Dragons' Den and more.
How can the Canadian Ummah foster a culture of support and mentorship for aspiring entrepreneurs?
Bilal: We just need to reach out. My cousin once told me "Everyone is afraid to ask questions, but not one is afraid to answer". If we can be confident and realize that asking questions or finding guidance is nothing to be afraid of and the party you're looking for help will most likely aid or guide you in the right direction, then we can grow and move forward. No matter what stage we're in on our journey, we must make ourselves readily available for our community at large.
This article was produced exclusively for Muslim Link and should not be copied without prior permission from the site. For permission, please write to info@muslimlink.ca.