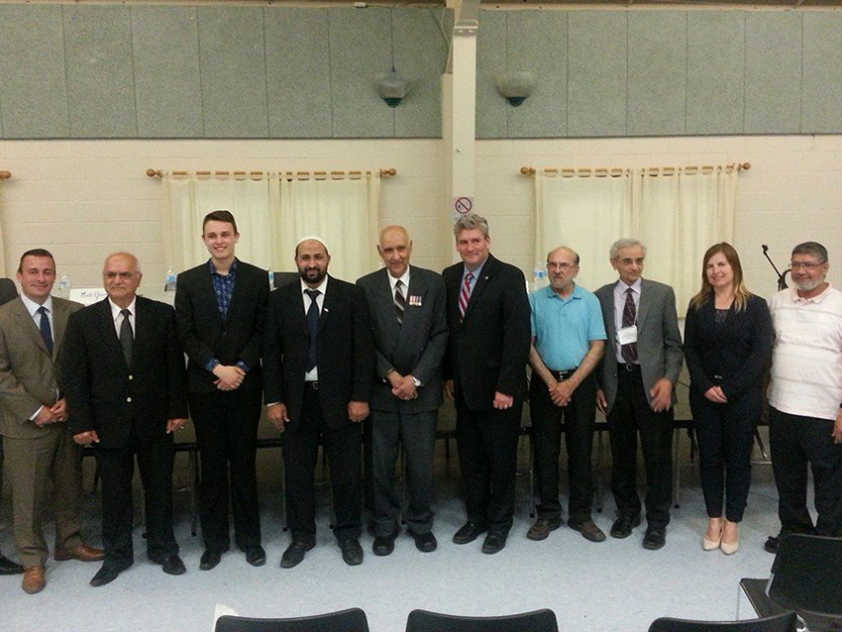 Members of the Muslim Coordinating Council and Ottawa-South Provincial Candidates
Farah Osman
19
June


2014
Ottawa-South's Provincial Candidates Address the Muslim Community
Written by Chelby Daigle
On June 7th, the Muslim Coordinating Council of Ottawa-Carleton (MCC) organized an all candidates' debate in the provincial riding of Ottawa-South, which has the city's highest concentration of Muslim residents. Ottawa-South resident Qais Ghanem moderated the session, asking a range of questions from how the candidates would address global warming to how they would address the lack of recognition for foreign credentials.
Muslim residents who asked questions also addressed a range of issues. Shahla Khan-Salter, representing Universalist Muslims, asked the candidates for their opinion on the recent case of a York University professor who was criticised by the university administration for putting the rights of female students above the right of one male student who asked to not participate in a class discussion group with females on religious grounds. "I was happy with all their responses," Khan-Salter stated, because they said they would support the professor's position.
Myreil Therrien, representing the National Islamic Sisters' Association (NISA), asked the candidates what they would do to support grassroots organizations like NISA working directly with low-income and newcomer women and children in the riding.
Nadeh Hossein, an Iraqi-trained doctor living in the riding who volunteers with the South-East Ottawa Community Health Centre, felt that the candidates' responses to most questions were too vague. "As a foreign-trained doctor, I want to know what they would do about the fees for the exams I need to take in order to qualify to be a doctor here," she explained, "It is very expensive and if it is hard to find a job, then how can you pay for these exams?" She felt that questions needed to be more specific in order to ensure that there would be concrete responses. "I wasn't really impressed with those prepared questions," Mohammed Mostefa stated. Mr. Mostefa is a resident of the riding and sits on the board of the Assunnah Muslim Association (AMA). "I do believe if the organizing committee had consulted different organizations or members, the questions would have been more beneficial," he added.
The event's organizers admit that they did make some mistakes and they hope to improve in the future.
Despite his concerns, Mr. Mostefa did believe it was an excellent initiative which he hoped to see repeated during 2015's federal election. "It is a good opportunity for our community to learn the democratic way," he explained. Farah Osman, the executive director of the Canadian Friends of Somalia, agreed. "We Muslim Canadians are part of Canadian society and we are here to stay, Therefore, I would encourage my fellow community members to come out .We can't afford to sit idle."
Najib Khan, the Vice-President of the Ottawa-South Conservative Association, was also impressed with the event and was very happy to see that Muslims were showing leadership and getting engaged. "Muslims make up 18% of registered voters in this riding," he stated, "if we were more engaged we could have a lot of influence."
Voter turnout in Ottawa-South increased from last year's provincial by-election, with Liberal candidate John Fraser regaining his seat with a larger percentage of votes.
To learn more about the Muslim Coordinating Council visit http://mccncr.org/
This article was produced exclusively for Muslim Link and should not be copied without prior permission from the site. For permission, please write to info@muslimlink.ca.