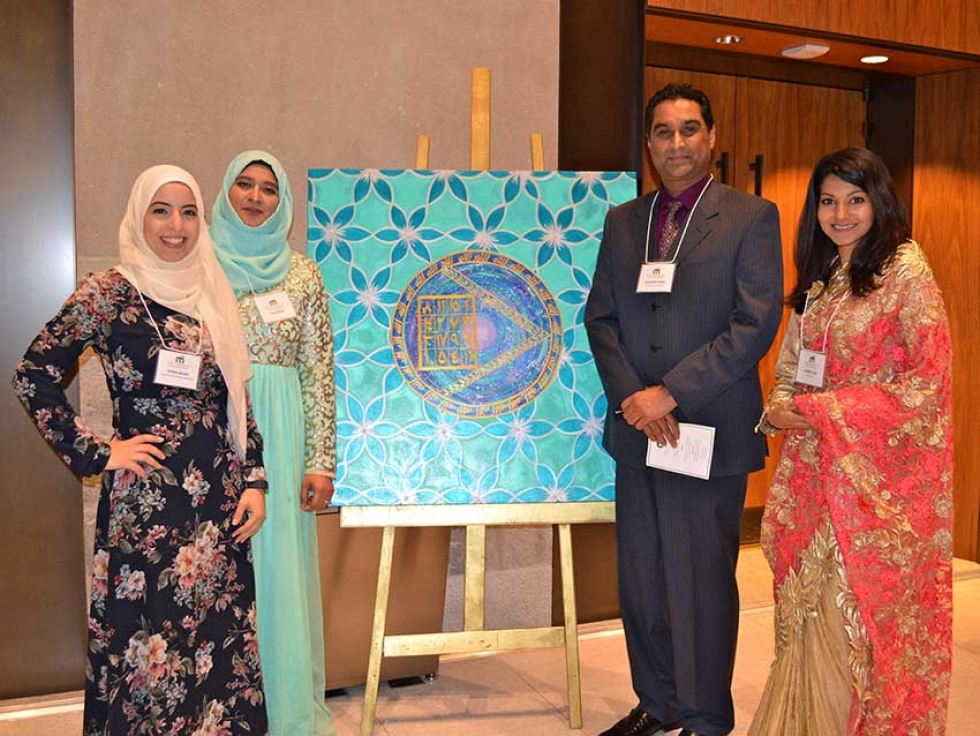 Artist Sabina Syed displayed her work at the first Unity Dinner organized by the Muslim Coordinating Council of the National Capital Region
Tamam Ahmed Jama
28
Dec


2017
The Muslim Coordinating Council Organizes the First Unity Dinner on Parliament Hill
Written by MCC-NCR
On November 25th, the Muslim Coordinating Council of the National Capital Region (MCC-NCR) organized a Unity Dinner at Sir John A. Macdonald Building for the leaders of Muslim community organizations. Over 310 Muslim leaders, people of diverse faiths, academics, government leaders and the media who attended the first joint dinner of Muslim organizations on Parliament Hill.
In a video greeting, Prime Minister Justin Trudeau congratulated the MCC-NCR for working to bring Muslims together to serve their community and their country effectively.
Member of Parliament for Ottawa-Orleans, General Andrew Leslie, the parliamentary secretary to the Minister of Foreign Affairs, elaborated on this theme in his speech when he asserted that the diversity of its people is a source of pride and strength for Canada.
He volunteered to book the hall at Sir John A. Macdonald building for MCC-NCR if it chooses to have a dinner at that site next year.
MCC-NCR President Gulam Madari welcomed the guests and described some of the work MCC-NCR has done including:
- Getting Ottawa hospitals to provide only halal food to Muslim patients.
- Distributing water on Canada Day at Parliament Hill to visitors from throughout Canada and the world.
- Visiting churches during Christmas.
- Working with imams to raise funds for the Children's Hospital.
- Sending regular newsletters that keep the community informed about important issues.
- Fighting Islamophobia through the work of its media committee.
- A Shia mosque inviting Sunni imams and leaders to iftar and dinner and a Sunni mosque inviting Shia imams and leaders to iftar.
- Getting the government to offer medals to a dozen Muslims for their constructive work.
He stated that MCC-NCR can do much more if it gets the full support of member organizations.
Mohammed Azhar Ali Khan, the founder of MCC-NCR, stated that MCC-NCR's goal is to help Muslims become a respected, trusted and valued component of Canadian society. He said the organization hoped to achieve this by bringing Muslims together to work to assist the most needy in the community and also by developing closer relations with our fellow Canadians of other faiths.
He reminded the audience that according to the most recent poll by the Ontario Human Rights Commission, 46 per cent of Canadians see Islam as damaging to Canada and only 13 per cent see it as benefiting the country. He told Muslim leaders that they have no choice but to work together to serve their community and their country if they want to combat Islamophobia and win Canadians' trust.
Imam Yusuf Badat of the Islamic Foundation of Toronto gave a masterly speech on Islam and on its emphasis on peace and love. Hujjat ul Islam Syed Amin Jafri also gave a masterly speech on Islam's preaching of unity and brotherhood.
This was the first joint unity dinner of Muslim organizations and it was hailed as a major step forward by the participants.
The dinner was made possible by the tireless efforts of President Madari who single-handedly brought platinum, gold and silver sponsorships that paid for the function. The Ottawa Muslim Association (OMA) and the Muslim Association of Canada (MAC) were among the organizations that sponsored the function. The High Commissions of Pakistan and of Brunei did the same.
MCC-NCR hopes that the dinner will become an annual tradition and help to bring Muslims closer among themselves and with their fellow Canadians. It is expected that from next year the function will take place at a facility that can accommodate a bigger number of people enabling more members of the community to enjoy it.