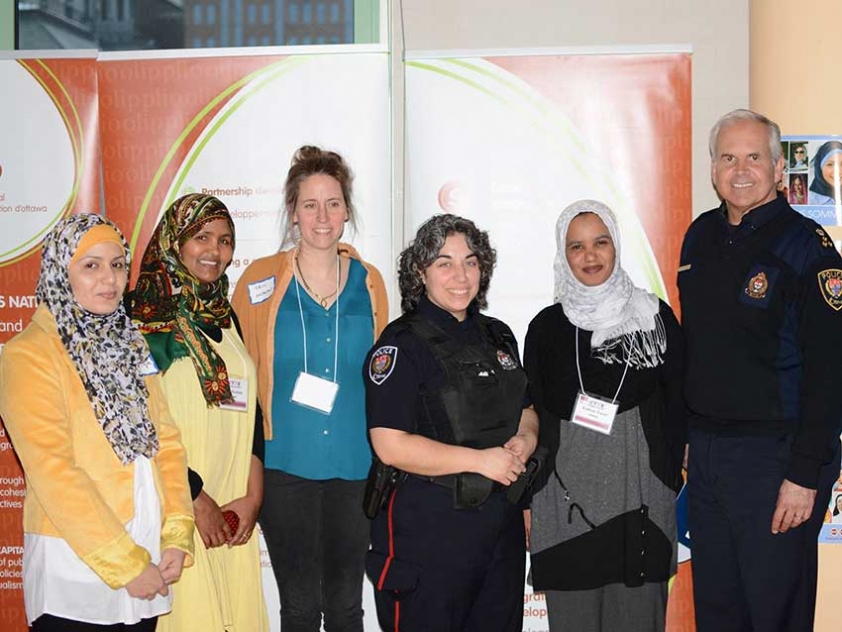 Afghan women's rights activist Sadiqa Basiri (far left) spoke at Ottawa Hijab Solidarity Day along with with Ottawa Police Chief Charles Bordeleau.
29
Mar


2016
Ottawa Hijab Solidarity Day and the Impact of Islamophobia on Muslim Women
Written by Chelby Daigle
On February 17th, the Ottawa Hijab Solidarity Day was held at City Hall. The City for All Women Initiative (CAWI) partnered with the Ottawa Coalition to End Violence Against Women, the Ottawa Local Immigration Partnership (OLIP), and the Coalition of Community Health and Resource Centres to hold the event.
There was a small demonstration at the same time against the event outside of City Hall, with protest organizers claiming that hijab symbolized the oppression of women and a supremacist Islamist ideology.
Although the event did give people a chance to try on a hijab, as an Ottawa Citizen journalist can be seen doing in this video with event volunteer Stephanie Roy, the focus of the event was not wearing the hijab. Instead it was exploring how people can work together to challenge the recent escalation of Islamophobic attacks against women in Ottawa and across Canada.
CAWI member Entisar Yusuf, who spearheaded the event, felt that such an event was necessary to address the rise of Islamophobia which often targets the most visible of Muslims in Canada—women who veil. Entisar works for the Centretown Community Health Centre, one of the members of the Coalition of Community Health and Resource Centres, a group which also co-sponsored Hijab Solidarity Day. The coalition also held smaller scale events run by Muslim staff members at their centres across the city.
For Entisar, one outcome of the event was improving people's understanding that for many Muslim women in Ottawa, hijab is a choice and not something imposed on them by family or community. "I started wearing hijab when I was a third year university student, and my parents had no idea," she explained. She hoped that an event like Hijab Solidarity Day would help to ensure that Muslim women who veil like herself are seen as individuals like other women and not as women who are oppressed or who follow an extremist ideology.  "I would say to fellow Canadians that we are women like you, who have aspirations, who have goals…," she shared.
By focusing on encouraging a better understanding of hijab as a way of addressing hate-motivated violence, while also not shying away from the reality that women in Ottawa and in many Muslim majority states are forced to wear the veil, the event was able to build solidarity between diverse groups of women and male allies on the topic of violence against women in Ottawa.
The Ottawa Chief of Police, Charles Bordeleau, helped to launch the event. "After seeing the activity today and the last couple of days on social media and the ridiculous and offensive comments posted there, I am really happy that I am here today to show the support of the Ottawa Police Service," he shared, "I want to thank CAWI, OLIP, and the Coalition of Community Health and Resource Centres for the invitation to speak today. It is great to see so many of you gathered to support all of the women of Ottawa. And I am here to show you that the Ottawa Police Service stands firmly behind each and every one of you. Ottawa is fortunate to have such a diverse, talented, and active group of women from all walks of life. We know that women are disproportionately affected by violence, and that includes the ways in which hate and Islamophobia impact our communities. Everyone, regardless of their background, deserves to live in a city free of violence and hatred."
Entisar was very pleased that the Police Chief spoke at the event which was also attended by other Ottawa Police Service Staff. "It was very important to have the Police Chief at the event because it shows the commitment from their end and the seriousness of the problem in our city," she explained, "Women wearing hijab have been verbally and physically abused in our city, so this is a safety issue for us."
Another one of the organizations that co-sponsored the event, the Ottawa Coalition to End Violence against Women (OCTEVAW) is made up of several agencies that offer front-line support to survivors of physical and sexual violence. Erin Leigh, OCTEVAW's Executive Director, spoke at the event, "We believe strongly that women who wear hijab experience Islamophobia and that it is a form of violence against women so we want to stand in solidarity with our visibly Muslim sisters," she stated.
For women's rights activists like Erin, Islamophobia targeting women who veil is a very serious issue particularly as it does nothing to help Muslim women who may be experiencing violence in their families and communities, including those who may be forced into wearing hijab. "We do think it is a legitimate concern that some women in Canada, not just elsewhere, are being coerced into wearing hijab, but it does nothing to help those women to critique them for wearing hijab; in fact you could isolate and further marginalize them," she stated. "If they are being coerced into wearing hijab, they are probably also experiencing other forms of violence at home and they need access to services and they are going to be less likely to seek out help if they experience Islamphobia and hate on a daily basis because of what they wear." 
The event's keynote speaker was Afghan women's right to education activist Sadiqa Basiri, who helped to found several educational institutions for women and girls in Afghanistan. She now helps to run those institutions while living in Ottawa. She has been recognized internationally for her work and her bravery as unfortunately women's rights activists in Afghanistan still face violence and retaliatory attacks from groups like the Taliban.
In her speech, Sadiqa discussed her own troubled journey with hijab, facing violence from a teacher in school for not wearing a hijab that was long enough, wearing hijab in order to avoid harassment on the streets as a refugee in Pakistan, to finally learning about her faith and consciously choosing to wear hijab only to face disapproval and conflict with her mother who saw the hijab as a symbol of lack of education and backwardness.
During her speech, Sadiqa explained how the Taliban view women who are rights activists like herself but who also chose to wear hijab with extreme suspicion. ""They don't understand why women like myself, who had an opportunity to study in the West would not take off the hijab," she explained in an interview with Muslim Link, "They are suspicious of us. They say we are spies and that we are wearing the hijab so we can be more accepted in Afghanistan. They see us as more of a threat because we can be more influential because we are not seen as Westernized by other Afghans. They have assassinated women like us because of this."
She explained in her speech how many women's rights activists like herself have had to leave Afghanistan to protect themselves and their families from extremists only to then face issues of racism and Islamophobia as refugees in the West. "In many Western countries I'm labelled terrorist. I'm called names in the streets. I'm told 'Go Back to Your Country'. I am unwanted in my country by terrorists and extremists where only 40% of people in the country are educated or semi-educated. Sadly, I'm unwelcome in the most educated countries in the world too."
Sadiqa was surprised to see that people were protesting the event but she respected their right to demonstrate and commended them on their vigilance, given that they were outside on a cold and wet day. She decided to speak to them to learn first-hand about why they were against Hijab Solidarity Day. She asked them "Do you have any questions for me because I was the keynote speaker at the event you are protesting?" One demonstrator was quite friendly and spoke to Sadiqa at length. Sadiqa shared with this woman how her own mother had not approved of her wearing hijab. "I explained that my mother made my life very difficult at one point because she did not want me to wear the hijab," Sadiqa shared, "She was amazed to learn that I grew up with a mother who was against me wearing hijab and a father who never told me I had to wear it."
When she asked the demonstrator why she was protesting, she explained that she hated hijab because of the murders of Aqsa Parvez and women in the Shafia family because they did not wear hijab. "People are overgeneralizing or they are misinformed," Sadiqa concluded about the reasoning of the demonstrators for protesting the event. She felt it was unfortunate they did not attend the event because if they were concerned about violence against women in Canada they did not take the opportunity to learn from the many violence against women activists who attended the actual event.
Sadiqa was grateful for the opportunity to speak at the event where she felt free to explore the complexity of the issue of hijab in contemporary societies.  "In my speech I was honest about the fact that I was beaten as a child to the point of passing out by a teacher who didn't like that my hijab wasn't long enough," she explained. "I could have chosen to leave that out to paint a prettier picture but I did not. If you want to make a change then it's about being honest with yourself. You can be honest when you address the positive side of an issue and the negative side of an issue and that is exactly what I did in my speech. Hijab is not all about those beautiful religious values that we as hijabi women care about. It is also used by people to dominate others and impose their values on others, often without even knowing or understanding these values. Both sides need to be told, especially by someone like me who has experienced both sides."
She was also impressed with the performance by hijab-wearing Spoken Word poet
have been part of national campaigns to address violence against women in Canada.
She feels the key message of Ottawa Hijab Solidarity Day came from its partnerships, as Muslim women, women's rights organizations, organisations serving immigrants and refugees, as well as social service centres came together with support from local police to stand up against hatred and violence against women.
Sadiqa ended her speech at the event with the following line: "Let's fight hatred so that love, respect, integrity, freedom, and democracy win."
Video of the speeches by Chief Charles Bordeleau and Sadiqa Basiri can be viewed
If you are a victim of a hate incident you feel was motivated by Islamophobia please report it to the National Council of Canadians Muslims (NCCM) and the Ottawa Police Service. Even if you do not feel it will be possible to bring the perpetrators to justice, it is still important to record such incidents in order to tract patterns and the escalation of incidents.
This article was produced exclusively for Muslim Link and should not be copied without prior permission from the site. For permission, please write to info@muslimlink.ca.