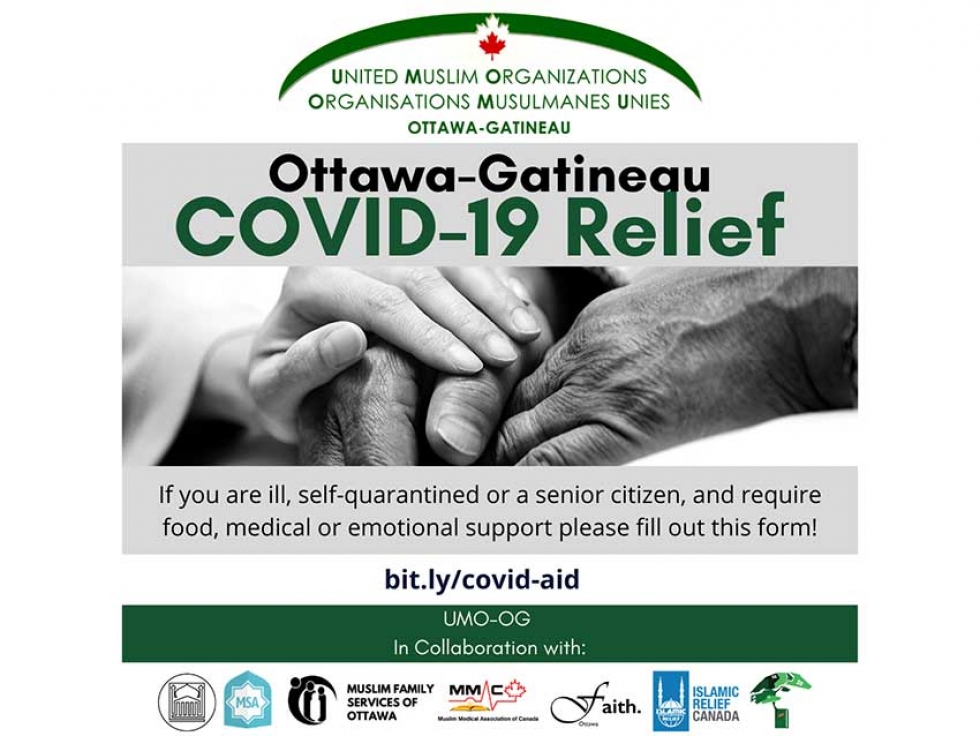 20
March


2020
If ANYONE of any faith, community, or culture is in need of assistance, the United Muslim Organizations of Ottawa-Gatineau (UMO-OG) are standing ready to assist swiftly.
Relief We Are Providing
Food items and non-perishables for anyone in need
If you need errands run, grocery pick up, medication and prescriptions pick up, or other essential supplies. Our volunteers will go buy them and deliver to your front door. You can e-transfer the amount. We will put items at your door, stay in our car, call you and once you pick up we will leave. We will ask all volunteers to wear gloves and not interact with people.
If you need a cooked meal.
If you need to just talk. We have registered counselors who will be providing phone calls to anyone who is having a hard time with their mental health
If you're having any difficulties with the form, please contact Malika Nouh at (819) 576-4966 or Lubna Syed at (613) 255-0870 for assistance.
This is a collaborative initiative and the Muslim community has come together to assist our neighbours and the wider community during the pandemic.
We will be coordinating a list of what people need and sending volunteers out in different areas.
We ask Allah to bless our efforts, guide our action and grant us sincerity.
Need Support?
Fill out this online form to ask for support
Want to Volunteer?
Fill out this online form to ask to join the volunteer team
Want to Donate?
You can donate to support these COVID-19 relief efforts by PayPal via Assunnah Muslim Association (Masjid ar Rahmah) online here
This effort is in collaboration with Carleton University Muslim Students Association (CUMSA), University of Ottawa Muslim Students Association (UOMSA), Faith Ottawa, Sidra Treehouse, Muslim Family Services of Ottawa (MFSO), Muslim Medical Association of Canada (MMAC), and Islamic Relief Canada.
Follow the UMO-OG COVID-19 Relief Effort's Facebook Event Page