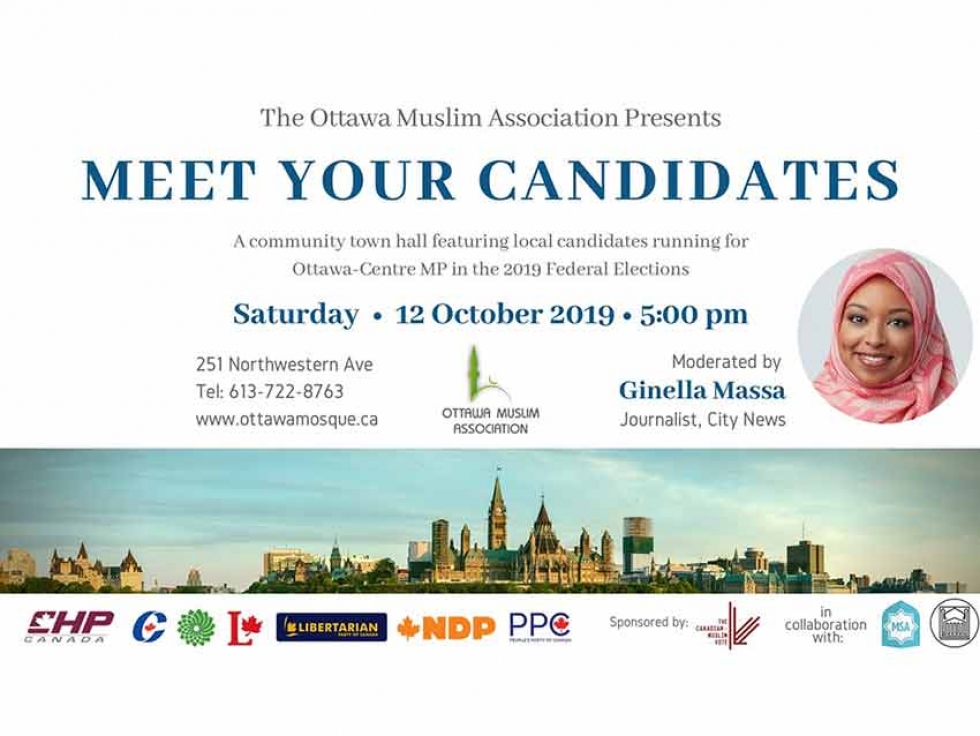 12
October


2019
Meet Your Ottawa Centre Federal Election Candidates with Ginella Massa at the Ottawa Muslim Association on October 12
Written by Chelby Daigle
The Ottawa Muslim Association is holding an all-candidate townhall with the Federal Election candidates for the riding of Ottawa Centre.
The event, which is sponsored by The Canadian Muslim Vote, and in collaboration with the Carleton Muslim Students Association (CUMSA) and the University of Ottawa Muslim Students Association (UOMSA), will take place on October 12th, 2019 at 5:00 pm at the Ottawa Muslim Association.
All residents of Ottawa Centre are invited to attend!
The confirmed candidates include:
Conservative Party of Canada
Carol Clemenhagen was the first female President & CEO of the Canadian Hospital Association, and was Executive Director of the Medical Research Council of Canada (now the Canadian Institutes of Health Research). She began her career in health care at the Department of Epidemiology and Community Medicine at the University of Ottawa.
A former Board member of St. Lawrence River environmental organizations, Canadian Thousand Islands Watershed Land Trust and the U.S based Save the River, she co-Chaired the community task force which, in 2002, successfully secured a United Nations Educational, Scientific and Cultural Organization (UNESCO) Biosphere Reserve designation, the 12th in Canada, for the Thousand Islands-Frontenac Arch region.
Learn more about Clemenhagen on her Website, Facebook, Twitter
Green Party of Canada
Angela Keller-Herzog has a diverse work and life experience. She is a trained economist (M.A. Economics, Carleton '94), and has lived and worked in BC, Ontario, Quebec, Indonesia and Germany. She has worked in the non-profit sector, the service economy, and the private sector as an economic consultant, manager, and business owner. Angela also has 15 years experience working for the Canadian International Development Agency (CIDA). She has represented Canada many times, both overseas and at United Nations conferences.
She now runs an eco-friendly Bed & Breakfast (Angela's B&B) that demonstrates a lower carbon footprint and living more lightly. She sits on the boards of the Ottawa Renewable Energy Co-operative, and CoEnergy Co-operative.
Learn more about Keller-Herzog on her Website, Facebook, Twitter
Liberal Party of Canada
In 2015, Catherine McKenna was elected the first female Member of Parliament for Ottawa Centre and appointed Minister of Environment and Climate Change. A champion for Ottawa Centre, Catherine is most proud of the results she has achieved to date for residents in her riding, including securing federal funding for the new Flora Crossing, Ottawa LRT Phase 2, the new 'super library', more summer jobs for students, more affordable housing, and investments to help grow the local economy and create good jobs.
As M.P. for Ottawa Centre and in her Ministerial role, Catherine also led federal actions to protect the Ottawa River, make local buildings more energy-efficient, put a national a price on pollution and ban single-use plastics, by 2021.
Learn more about McKenna on her Website, Facebook, Twitter
New Democratic Party of Canada
Emilie Taman is a former federal crown prosecutor, law professor and community activist who is driven to build a fairer, more inclusive and more sustainable world. She believes growing inequality, the climate crisis and the spread of racism, intolerance and hate require substantive action and the courage to challenge the status quo.
As a crown prosecutor Emilie was responsible for the prosecution of corporate tax evasion, human smuggling, environmental offences, and fraud. In 2018, she was named one of the top 25 most influential lawyers in Canada by Canadian Lawyer Magazine.
Learn more about Taman on her Website, Facebook, Twitter
Representatives from other parties running in the riding have also been invited. 
Did you know you can VOTE THIS WEEKEND?
Advance polling begins on Friday, Oct. 11 and runs through the Thanksgiving weekend until Monday, Oct. 14.
Polling stations are open from 9 a.m. to 9 p.m.
Voters' assigned advanced polling stations are listed on the voter identification cards mailed to their homes.
Voters can also find out where to vote early at the Elections Canada website or by calling 1-800-463-6868.
Voters can also cast an early ballot at any Elections Canada office until 6 p.m. on Oct. 15.
This article was produced exclusively for Muslim Link and should not be copied without prior permission from the site. For permission, please write to info@muslimlink.ca.