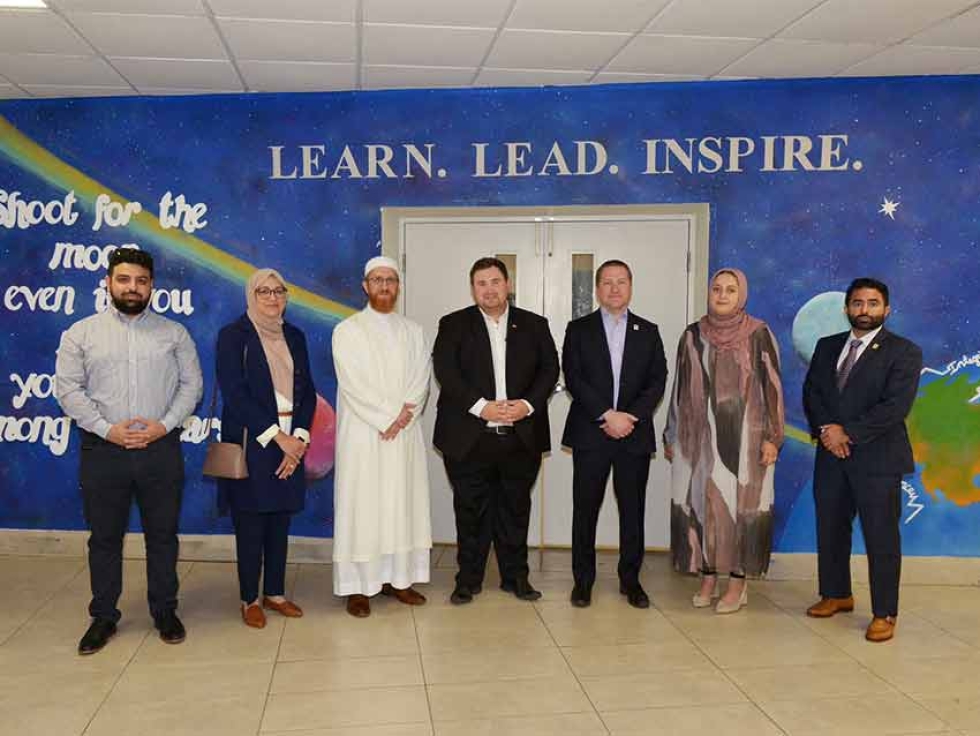 Ontario Minister of Citizenship and Multiculturalism Michael Ford, London Mayor Josh Morgan and leaders in London's Muslim community at London Islamic School
Michael Ford MPP Twitter
01
Jun


2023
London, Ontario June 1, 2023 The Ontario government is investing $500,000 to support the City of London in implementing new programs to fight hate and racism in their communities. The new funding will help the city launch a print and digital public education campaign, as well as an online library of anti-hate resources, including guides, videos and bystander tips.
"As we approach the two-year anniversary of the London terror attack, I want to thank the National Council of Canadian Muslims and the City of London for their leadership and partnership in developing initiatives to reject hate in all its forms and promote inclusion," said Michael Ford, Minister of Citizenship and Multiculturalism. "Our government is building a stronger and more inclusive province where everyone is accepted and welcomed."
These new initiatives will help raise awareness about the wide-spread impacts of hate and provide strategies for identifying and addressing it. They also aim to help prevent future incidents of hate and racism and promote a culture of respect and understanding.
"London is committed to fostering a community that rejects hate and embraces inclusivity. Not only must we speak out against hatred, we must also take decisive and tangible action – and that's exactly what this funding allows us to do," said Josh Morgan, Mayor of London. "With financial support from the Ontario government, we are able to create a variety of impactful anti-hate initiatives to strengthen our city and promote acceptance for all Londoners. Together, we will build a culture of respect and understanding that leaves no room for racism, intolerance or discrimination."
This new funding builds on the government's recent announcement of an investment of $25.5 million in the new Anti-Hate Security and Prevention Grant. The grant will provide up to $10,000 to help religious groups, Indigenous communities and cultural communities better protect and secure their facilities from hate-motivated incidents, graffiti, vandalism or other damage.
Quick Facts
Since 2021, Ontario has allocated $65 million to help protect faith and cultural communities.
Ontario has invested close to $5 million in the Anti-Racism Anti-Hate Grant to support more than 80 community projects that help prevent hate and racism, promote inclusion and support those who experience it.
Quotes
"Two years ago, Ontario was shaken by a devastating attack of Islamophobia and terror that sent shockwaves through the Muslim community in London and across Canada. We are incredibly heartened to see these governments take another significant step towards challenging Islamophobia in Ontario that we have been asking for, by committing to real action that includes launching these important public education campaigns. We appreciate the collaboration of Minister Ford, Mayor Morgan and their offices with diverse Muslim community stakeholders in working to make sure that this kind of attack never happens again." - Stephen Brown, CEO, National Council of Canadian Muslims (NCCM)
"We stand firmly against hate and racism. Our government's support for these new initiatives will help to foster unity, understanding and a safer community free from intolerance. I hope the legacies of Salman Afzaal, his wife Madiha Salman, their daughter Yumnah and her grandmother, Talat Afzaal inspire a future where there is no place for hate in London and the province of Ontario." - Rob Flack, MPP for Elgin-Middlesex-London
"There is no place for violence or hate of any kind in our community. With Minister Ford and Mayor Morgan's leadership, this investment will help ensure newcomers in London have the resources they need to stay safe as they contribute to the economic growth and culture of Southwestern Ontario." - Monte McNaughton, MPP for Lambton-Kent-Middlesex