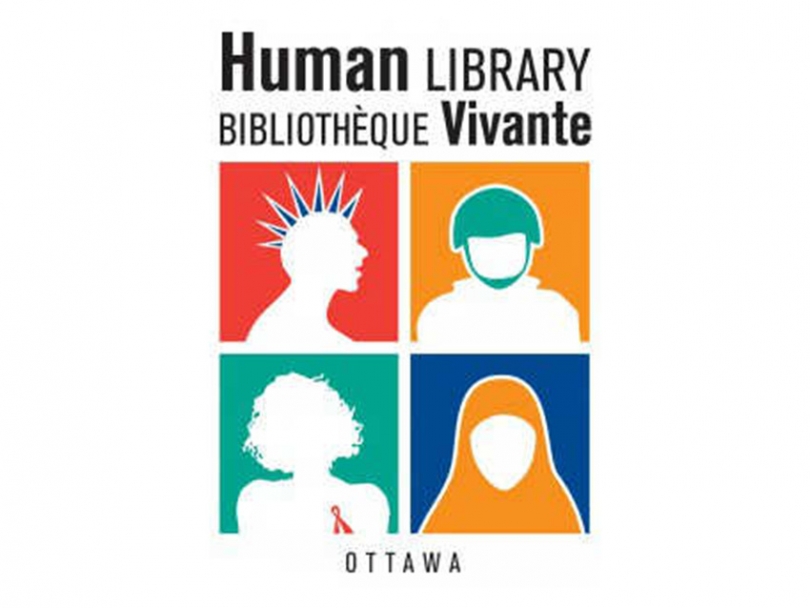 Photo caption: A poster for the Human Library project put on by the Ottawa Public Library, the Canadian War Museum, and CBC Ottawa on Jan. 28.
Photo credit: http://www.ottawamagazine.com
12
Feb


2012
Of deportation and houries: Human books share their stories
Written by Staff Writer
Ottawa residents had the chance to sit down with one of sixty human "books" available to sign out at public library locations across the city on Jan. 28.
The event was billed as an exciting opportunity for the public to connect one-on-one with individuals who have diverse life experiences, stories and knowledge. For 20 minutes at the human library "readers" could "check out" people from completely different walks of life for one-on-one talks.
The concept of the human library was launched in Denmark in 2000 as a way to promote dialogue and diversity, reduce prejudice and encourage understanding. The eclectic list of human "books" at the Ottawa event included an Aboriginal spiritual healer, a child services worker, a neurosurgeon a Somali refugee, a judge, an HIV-positive man, a police officer and a Peking Opera performer.
Two local Muslim women, community activist Chelby Marie Daigle and niqab-wearing entrepreneur Kauthar Mohamed, also participated as "books" at the Ottawa event. They spoke to the Muslim Link about their experiences.

How did you come to be involved in the Human Library project?
Chelby: I was asked to participate by a producer from CBC Radio.
Kauthar: For me it all started with Voice of Muslim Youth, a non-profit organization that I co-founded. We were having a Town Hall meeting for the Muslim community and CBC called us to talk to them about this event on the radio. That was where I met Julie Delaney, a producer for CBC. At that time she was working on the Human Library project and she asked me if I would be interested in being a human book, and of course I agreed.
Why did you choose to participate in the project?
Chelby: I thought it was a great idea. I really believe that Ottawa is full of amazing people and this is an excellent forum for highlighting them. I really enjoy conversation and I find myself to be quite approachable so I knew that not only would I enjoy participating but I would make a very good "book".
I was given the option to choose what subject I wanted to discuss as there are many elements of my life that are "book"-worthy. I chose to talk about being the daughter of someone who was deported from Canada. The issue of deportation is a topic not often publicly discussed beyond those who work in the field of immigration, so I wanted to take the opportunity to give the impact of deportation a human face.
Kauthar: This Project was very exciting to say the least. I had so much frustration about all that I was seeing and hearing on the media regarding their perception of Muslim women, so I bounced on the chance to set the record straight, and oh boy did I ever need to.
How many readers checked you out?
Chelby: The maximum possible as I had to leave early, so 7.
How would you describe the readers who checked you out?
Chelby: They were all women, but other than that they were quite diverse.
Kauthar: My first reader was a little girl about the age of 12, who was reading the book The Breadwinner (by Deborah Ellis) at school. Her purpose for coming to see me was to find out if the way the Muslim women that were portrayed in the novel was accurate and whether or not my parents let me go to school or forced me to marry.
Needless to say I was expecting such questions, but not from such a young reader. Thankfully she was a bright young girl and her aunt was very open-minded and respectful about other religions.  I cleared up the confusion she had regarding Islam, culture, or the way of life for certain people.  The rest of my readers were three women and three men. Most of the women asked vague questions, such as how is your life, what you do in a day as a Muslim woman. They asked about my new restaurant Yazmin, but not really the questions I was expecting from women. I got those questions from the male readers.
Would you say you made a connection with the readers?
Chelby: Yes, of course. Each reader at some point said that they had learned something new or that they were made to think about something they had never thought about before, and that's what the Human Library is all about.
Was there one particular reader/ conversation that stood out for you and why?
Chelby: Each conversation was quite unique and each person I spoke to had a unique story of their own.
Kauthar: There was this one male reader who was very blunt. Some of his questions were regarding men who blow themselves up and get 72 virgins in paradise. I explained to him that blowing yourself up and harming yourself and innocent people is not allowed in our religion. This is not the definition of a martyr. But it is true that a martyr does get 72 virgins. Oh boy! You should have seen his reaction! He went on to say that that wasn't fair and that women were being treated like pieces of meat. I explained to him that these women were not human but rather woman created in heaven. He replied that that makes the men look like pigs. I told him that if someone works hard in this life, then they will get what they want in the afterlife, be it a mountain of gold or 72 virgins.
Other questions that I got were regarding honour killing i.e. the Shafia case. I explained that there is no honour in killing your daughter and that it has nothing to do with Islam. I insisted that the relationship between God and the created is personal and that nothing can be forced down anyone's throat. The only thing that a loved one can do is to advise their children. A parent can go as far as disowning their child, but they cannot take their life because life is a very precious thing.
People asked me about the niqab (face veil) and why some women insist on not taking it off, when it comes to security reasons. My answer to that is if it is for security reasons, then there is no reason why a woman cannot take off her niqab. But I also made it clear that this is only for the niqab, not the hijab.
What was the overall experience like?
Chelby: It was great really. I love meeting new people and exchanging ideas.
What would you say you gained from participating in the project?
Chelby: The concept for the Human Library is something that I myself will now be using for my own community engagement initiatives. I also connected with some individuals, both readers and my fellow books, who I may be collaborating with them on projects in the near future so it was good for networking as well.
Would you do this again?
Chelby: Yes, definitely. Actually, I plan to organize a Human Library with some amazing members of Ottawa's Black Communities for next year's Black History Month in Ottawa.
Anything else you would like to add?
Kauthar: One thing that I ask from our Muslim brothers and sisters in our community is that we should encourage and applaud efforts done by the non-Muslim community to try to understand more about Islam. We should have a big dawah event for the non-Muslims because there is such a big misunderstanding about Islam in the minds of our fellow Canadians. We need to rectify that because it is our duty as Muslims to educate them about Islam.
This article was produced exclusively for Muslim Link and should not be copied without prior permission from the site. For permission, please write to info@muslimlink.ca.