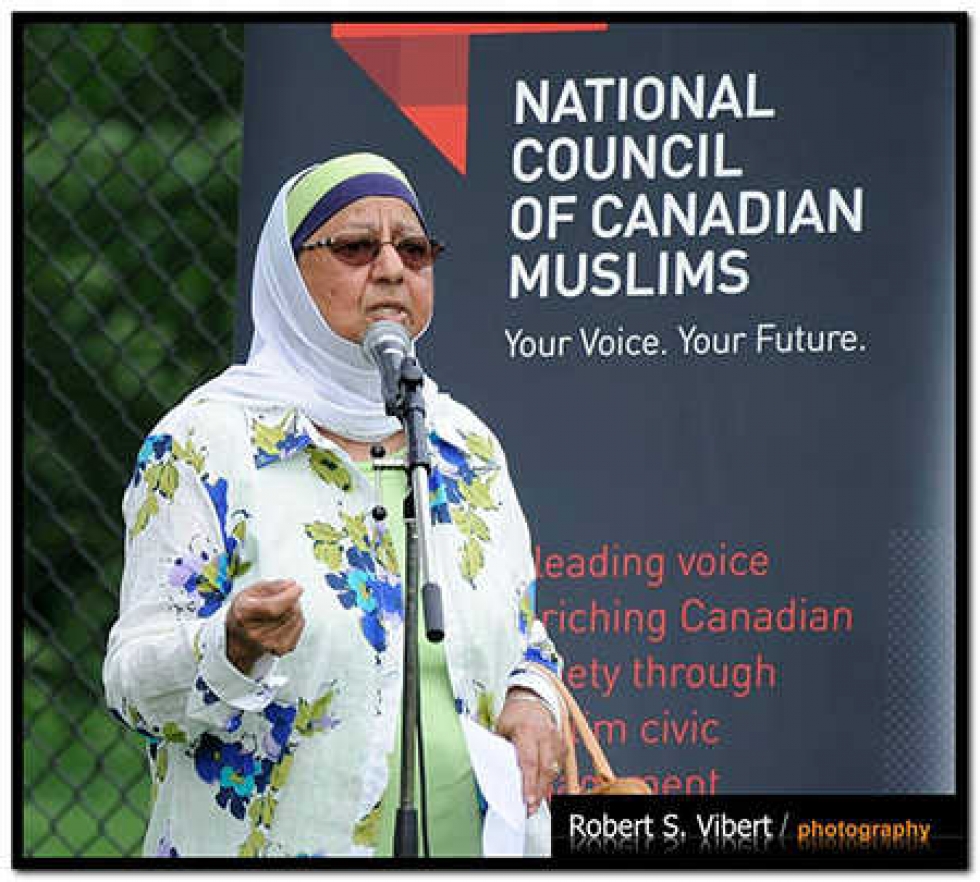 Khadija Haffajee was a board member of the National Council of Canadian Muslims (NCCM)
Robert S. Vibert/NCCM
18
Sep


2020
On behalf of the staff and Board of Directors of the National Council of Canadian Muslims (NCCM), it is with deep sadness that I announce the recent passing of our dear Board Member Khadija Haffajee on September 17, 2020 (28 Muharram 1442).
Inna lillahi wa inna ilayhi raji'oon. Verily we belong to God, and verily to God do we return.
Aunty Khadija, as she was affectionately known by many of us, was truly a one of a kind person and trailblazer for both the Canadian Muslim community and for Muslim women. A long-time resident of Ottawa, Aunty Khadija came to Canada from South Africa where she had witnessed the horrors and injustices of apartheid.
A school teacher and educator for many years, Aunty Khadija had a deep commitment to justice, to developing a resilient Muslim community, and to fostering greater understanding and ties between Muslims and people of all faiths and backgrounds in Canada.
Aunty Khadija represented Canadian Muslim women at the UN World Conference on Women in Beijing, China in 1995, and the World Conference on Religion and Peace in Amman, Jordan in 1999. She was a strong advocate for the empowerment of Muslim women and mentored many in Canada. Her work touched the lives of community members across North America with her generosity, expertise, and wise counsel.
Her devotion to community service ran deep. Aunty Khadija selflessly served in various leadership capacities over the years including at the Ottawa Muslim Association, the Islamic Society of North America (where she was the first Muslim woman elected to ISNA's Majlis ash-Shura), the Ottawa Muslim Women's Organization, and many other interfaith and community organizations.
At NCCM, Aunty Khadija provided a wealth of experience and knowledge on the Board, and she was known for her wisdom, steadfastness, and love for all of us. She was an example of sincerity, service, and moral fortitude based on the Prophetic tradition.
The family of Aunty Khadija has requested that any donations made in her name go to local masajid or to the Children's Hospital of Eastern Ontario, as Aunty Khadija loved children.
Aunty Khadija will be greatly missed by the entire team at NCCM, including former Board Members and former staff. We give our deepest condolences to her beloved husband Uncle Mazhar and their family.
In the closing days of this sacred month we pray that Allah gives patience and comfort to her loved ones, and that Allah bestows his mercy, forgiveness, and blessings on Aunty Khadija, accepts her countless good deeds, and grants her Paradise. Ameen.
Sincerely,
Kashif Ahmed, NCCM Board Chair