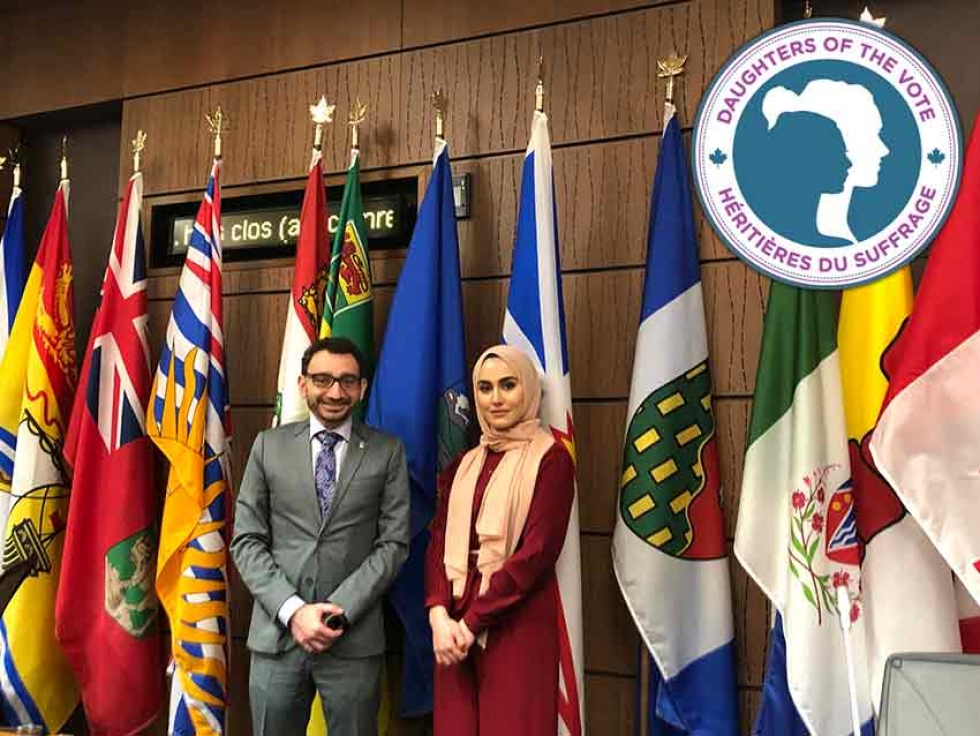 Zeana Hamdonah is with Member of Parliament Omar Alghabra, whose seat she used while in the House of Commons for Daughters of the Vote.
29
April


2019
Muslimahs on Parliament Hill: Zeana Hamdonah from Mississauga Centre, Ontario
Written by Making Headlines
Palestinian Canadian Zeana Hamdonah represented the riding of Mississauga Centre, Ontario at Equal Voice's second Daughters of the Vote gathering in early April 2019, which brought together 338 young women between the ages of 18 and 23, representing each Canadian riding and take their seat in the House of Commons during a historic sitting of the House of Commons. They were addressed by every federal party leader, and engaged with an array of Ministers, critics and advocates.
Daughters of the Vote (DoV) was aimed at encouraging more young women to become involved in Canadian politics, a space where there are still challenges to gender equity.
Muslim Link had the opportunity to interview several of the young Muslim Canadian women who were selected to participate in this historic event, including Zeana.
Tell us about yourself.
My family, who's originally from Palestine, settled in Mississauga in the 90s, where I was born and raised as a very proud Palestinian Canadian. I was the Mississauga Centre delegate in DoV, sitting in my MP Omar Alghabra's seat. I am a fourth year Kinesiology student at the University of Toronto, with interests that lie within the realm of sport politics, public policy, sport for development and peace, and international development/relations. My involvement in politics stems from my personal and professional interest in using sport as a vehicle for social change and international development which is why I have committed my undergraduate and graduate studies to the field through academic research and community advocacy work.
As a young woman involved in politics, what challenges, if any, do you face? Do you feel that the presence of more young women is changing politics? If so, how?
As a young woman in politics, it is a constant battle of proving that you are worthy of existing in such spaces. I understand that historically, politics has been a male dominated space, specifically the old white man's game, but with the public's increase in social justice and politics, it is refreshing to see that young women are infiltrating this system and making their presence known. Now, navigating politics as a young Muslim women is a whole other game. Being young, a woman and Muslim, I find myself constantly worrying about how I come off and how I speak/act, trying to balance between being extra professional (to be taken seriously) but not being serious enough, to counter the trope of the Muslim body. It is a difficult space to navigate, specially with the wave of Islamophobic comments I, along other Muslim delegates, have been receiving online. I remain positive by telling myself that my existence in Canadian politics is upsetting many ignorant individuals who are worried that the stereotypes they attach to me can no longer limit me.
I do want to add however, that in our pursuit to add more diverse voices in our government, it is important to not tokenize marginalized individuals. My hijab is not the entirety of my personality and my potential is not defined nor limited by my hijab. It is essential that people listen to marginalized individuals authentically and not just use us as a face for diversity.
By attending Daughters of the Vote (DoV) you had an opportunity to meet young women from across Canada. Did any of the realities they shared challenge you to unlearn some assumptions about your fellow Canadians or seek out knowledge about issues you had otherwise not known about your fellow Canadians ? Please elaborate.
In attending DoV, I can confidently say that I have formed bonds with many young women there who live very different realities but through our differences, we created a space for intercultural learning. Specifically, the Indigenous- Muslim - Black - LGBTQ+ solidarity/sisterhood has immensely helped me cope with the harsh reality of existing in political spheres as a racialized body. I truly owe it to my sisters for helping me cope with and navigate being in Ottawa for the week.
What is the key lesson from your experience at DoV that you will be taking back into your work in your riding?
One significant lesson I learned from DoV is the importance of standing your ground and being firm with your beliefs. The resistance and resilience that was demonstrated on the Hill has reaffirmed my faith in the coming generations. Being passionate, empathetic, and persistent in the face of adversity has encouraged me to stand my ground and hold my values/beliefs at such a high standard to force people to reckon with my truth. My existence as a Muslim woman is not an inconvenience and I will persist in letting my voice and my opinions be heard.
Follow Zeana Hamdonah on LinkedIn
This article was produced exclusively for Muslim Link and should not be copied without prior permission from the site. For permission, please write to info@muslimlink.ca.