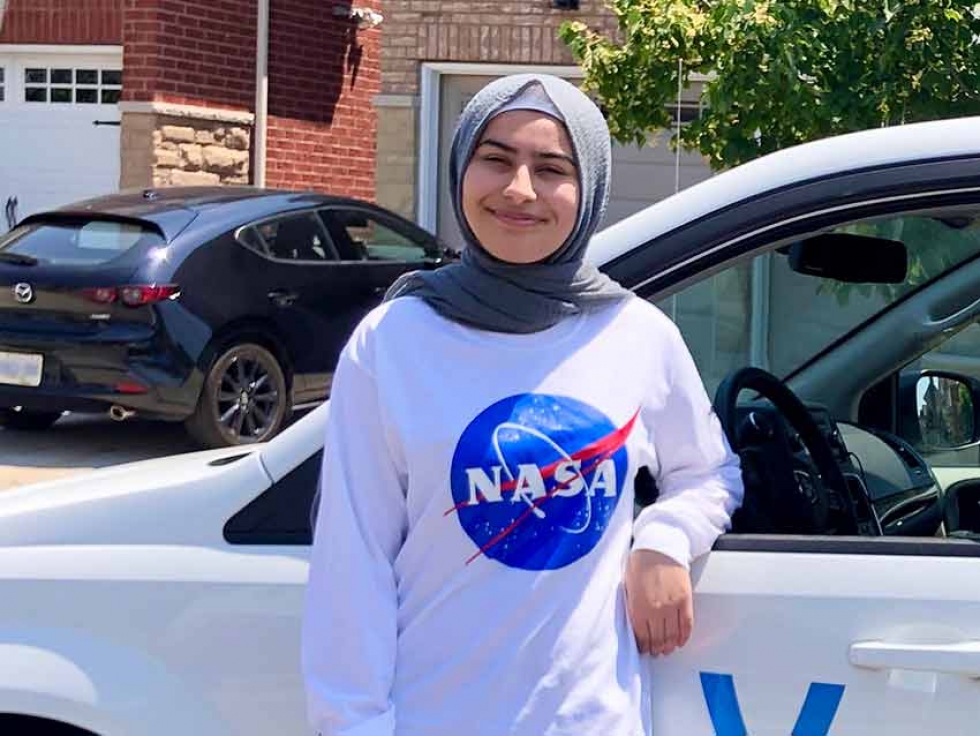 Milton High School student Schanze Sial participates in a media interview with Your TV Halton
Contributed by Schanze Sial
20
Jul


2020
Muslimah with a NASA Internship: Milton High School Student Schanze Sial Reflects on Young Women in STEM
Written by Making Headlines
Pakistani Canadian Schanze Sial has been making headlines with news of her acceptance into the STEM Enhancement in Earth Science internship program, run jointly by NASA and the University of Texas' Center for Space Research.
Muslim Link interviewed the Halton Region high school student about her passion for STEM (Science, Technology, Engineering, and Math) and ways we can better support young women to pursue their interests in the sciences.
1. Tell us about yourself
I am a Pakistani Canadian who is currently 17 years old. I was born in New Haven, Connecticut. I currently live in Milton, Canada, after moving from the United States at the age of eight. I have studied in Canada since grade 2. My family consists of five people. My father, mother, older brother, my younger sister, and myself. I am a rising senior at Bishop Reding Catholic Secondary school where I am enrolled in the Specialist High Skills Major (SHSM) program in computer engineering. SHSM allows students to experience engineering career-focused opportunities towards their high school diploma. SHSM requires students to take specific courses like computer science, computer engineering, and sciences; I took chemistry, physics, and biology, religion as I do attend a catholic school, math, and lastly English. Aside from SHSM, I am a part of school sports teams and clubs. I am on the Basketball team, Softball team, Model UN, Business Club, and one of the leaders of the students of the living life club. I also volunteer and work part-time for the Town of Milton as a sports instructor, monitor, and event planner/organizer. I love teaching kids and helping them develop skills they can use within sports and in the real world. I have been volunteering for a year and a half and working for the town of Milton for 1 year.
2. How did you become interested in computer engineering and coding?
I have always had an interest in computer science and coding. I got a taste of it when I was in grade 8. But once I entered high school I took my first coding class with Mr. Berardi. Ever since then I loved coding. I went down to Boston, Massachusetts to advance my skills by entering a coding camp. In this two-week camp, I learned the language of C++ while using it in game development with AI and algorithms. I also joined SHSM for the computer engineering department which allows students to experience engineering career focused opportunities towards their high school diploma. In the program, there are many reach ahead opportunities as well as certificates that you receive during the program. A couple of things that the engineer SHSM has done is we have been to a software technology workplace and completed the responsive consulting technology introductory course. We then received a software technology certification. Not only that but the SHSM students have also gone to Google in downtown Toronto and experienced how the company Google works and specifically what a google employee does. The courses required to take for the computer engineering schism are computer science, computer engineering, any science course, I will be taking all three, biology chemistry and physics. I also need to take math as well as English and since I do attend a Catholic school I need to take a religion course as well.
3. You are pursuing a specialized high school program that allows you to pursue your interest in computer engineering. How did you discover that this subject really interested you?
In grade 10, our school had a presentation on SHSM. I did not know what the program was about so I decided to see if it was something I was interested in. I then saw how the program was set up, and it caught my attention as it offered the computer science/engineering program. I decided to enroll in the program and ever since that I have loved it very much. I've been on a couple of field trips, and I enjoyed them all very much. My favourite field trip was in downtown Toronto at Google. In this field trip, the students learned about how the company runs, the roles of a computer scientist and software developer, as well as how to get a job at Google. Throughout these field trips, I have learned a lot about AI, machine learning, and coding, which are all my main interests.
Watch Schanze discuss her NASA Internship with Your TV Halton (It may take a few moments for the video to load from YouTube)
4. You are a Muslim woman who wears a hijab attending a Catholic High School. Could you discuss that experience with us? What advice would you give to other Muslim students who may be attending Catholic Schools?
As I live in a very diverse town, I have never felt an outsider at my Catholic High School. My school is very focused on education and the success of all their students which is why I am attending a Catholic high school. I also really like learning about the Catholic faith as it is also an Abrahamic Religion like Islam, it is just that we Muslims see Jesus, peace be upon him, as a prophet. For Muslim students who may be attending a Catholic School, I would advise them not to be afraid. There are many great opportunities to learn new things and set a common ground about our own religion. It will help you learn about the differences and similarities between Islam and Christianity.

5. How did you find out about the NASA Internship and what does it involve?
Ever since I went to MIT, I knew I wanted another amazing opportunity like this. I learned so much, that I wanted to develop my computer science skills even more. Then in December of 2019, I found that NASA was offering an Internship, and it involved some computer science aspects in it. I have always been very fond of NASA as I do love astronomy very much. I also saw that NASA uses many advanced AI technology, which is something I want to learn more about as the world and societies are relying more on AI. AI relates to many things, like machine learning, which allows us to use algorithms to sort things faster than humans can. So I know this kind of experience will not only develop my computer science skills but also learn more about how computer science plays a role in space research. I want to learn how to analyze various types of real data and what they translate to. I also want to learn how Machine Learning and Artificial Intelligence are being applied as tools to make NASA discoveries. In this internship over 600 + students applied and only 45 students get in. The internship starts at home, but then I would go to the University of Texas in Austin, for two weeks. This would be to continue our final project with my co-interns and present our final project to the NASA scientist and engineer. I was selected for the Astronomy team where I would learn about the solar system, small bodies, and the hazards these bodies could pose to the earth. It has been almost a month since I have started my internship. I first did some background reading and had to complete our required quizzes which were on Mars. I learned about the risks and challenges of going to mars, Martian weather, and how a Mars mission is going to be successful. After that, we received two individual projects. The first project is to determine our latitude. The second project was getting acquainted with the astronomical coordinate system. This is very important because you want to observe anything that is not visible to the naked eye. You also need to know where to aim your telescope. Now that we have completed our projects we were just assigned our astronomy team projects. I selected the clumpy galaxy project. In this project, we will be learning about different clumpy galaxies, spirals, Ellipticals, irregular systems and much more. Our team will also learn more about The Sloan Digital Sky Survey. (SDSS)
6. You had an opportunity to participate in a program at MIT last year that focused on artificial intelligence. You were the only female in the program. What barriers do you feel young women face in pursuing STEM-related fields and activities? How have you overcome these barriers?
As I take STEM classes, I don't see many girls in them. I believe due to a lack of encouragement, influence, and awareness more women haven't explored a STEM major and career. And to see a change, you have to be the change. Therefore, I have given presentations at school to my female peers about my experiences in STEM. I have given presentations about my experience being the only girl to take a Machine Learning course in Artificial Intelligence at the Massachusetts Institute of Technology (MIT) in Summer 2019. I have also talked about the different codes I have created to automate processes in different fields. I want to be the change that I want to see in the world. I have overcome these barriers because I was exposed to these classes and this all comes from the amazing school I attend and by encouraging teachers.
7. What advice would you give to young Muslim women who are interested in pursuing careers in STEM? What advice would you give to their parents on how best to support their daughters' interests?
Advice to young Muslim women is you should not be afraid to pursue your dreams, because the only person stopping you from achieving your dream is yourself. The reason why I have made it this far is because of the support my teachers have given me. They have always provided the students with a great learning environment, making us eager to learn. There are so many exceptional opportunities now for female students in the STEM field because many are looking for more diversity that I advise students to go out and find them because the amount of effort you put in will reflect the number of rewards you receive.
8. What type of work do you hope to do in the future?
Inshallah, I hope to land a job in the field with AI and work at a company like NASA, Tesla, Apple, etc.
Follow Schanze Sial on LinkedIn
To learn more about the NASA's High School Summer Intern Program, click here
This article was produced exclusively for Muslim Link and should not be copied without prior permission from the site. For permission, please write to info@muslimlink.ca.